Creating your own colored sugar is fun, easy, and simple. It's a great way to add your own beautiful colors to cookies, cupcakes, and more.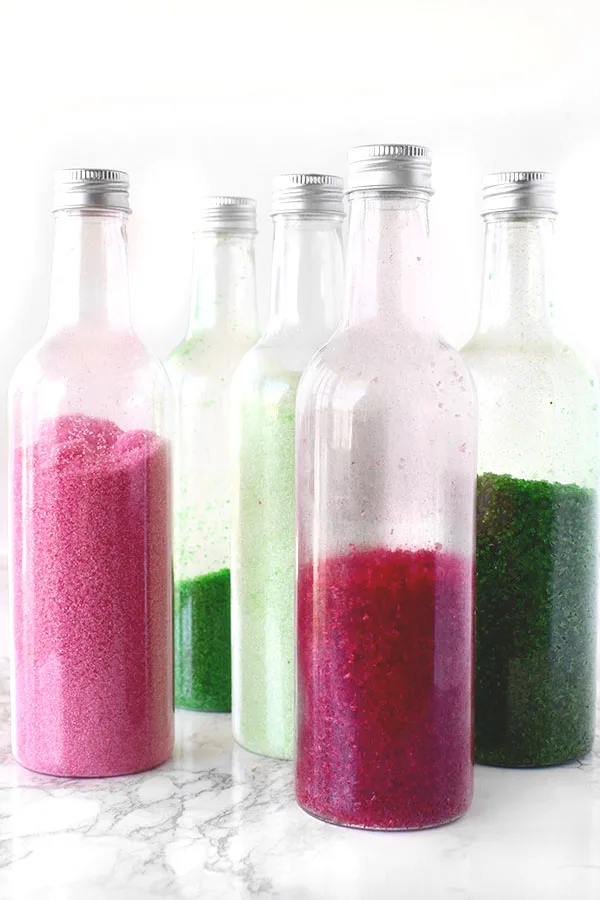 Making colored sugar at home gives you a lot of control so you get exactly the color you want.
Just a drop of gel food coloring can give you a light pastel like colors where a few drops can give you deep vibrant colors.
You can also mix colors to create orange, purple, and green, or even tertiary colors like aqua, teal, blood orange, and more.
Colored sugar can be a really nice touch to many things. Most commonly it is used to decorate cookies and cupcakes.
However, you can also add it as a nice touch flavored sugars like making yellow lemon sugar.
Some of the links below are affiliate links, which means that if you choose to make a purchase, I will earn a small commission at no additional cost to you. 10% of all profits are donated to charity.
What you need
Measuring cup
Resealable bags
Baking sheet
Parchment Paper
Gel VS Liquid Food Coloring
Gel food coloring is more concentrated than liquid food coloring which is watered down.
So, while liquid food coloring has its place – though I can't think of one right now – generally I prefer using gel food coloring.
A bottle of gel food coloring is technically more expensive than a bottle of liquid food coloring.
However, since with gel a little goes a long way, the price is not all that different.
The benefit of gel food coloring, is that it allows you to get a wider range of colors and deeper ones if desired.
It also won't change the texture of your recipes since you aren't adding liquid so things are less likely to go wrong.
For colored sugar you can get away with using liquid food coloring I recommend using gel food coloring.
The reason I like most like using gel coloring here is because it helps keep the sugar dry rather than melting it.
How Much Food Coloring to Use
That really depends on if you're using liquid or gel food coloring and what shade you want your sugar to be.
With gel food coloring one drop can be enough for a pastel color. A few drops may be enough for a deep rich color.
If you would rather use liquid food coloring, use 1/2-1 teaspoon of your desired color.
More will give you deeper colors where for deeper colors. Using less will result in pastels colors.
Types of Sugar
Caster Sugar
Caster Sugar is sugar that is ground to a consistency between granulated and powdered sugar in coarseness.
It is often also called superfine sugar, baker's sugar, or bar sugar.
Granulated Sugar
This is regular white sugar also known as table sugar. This is the most commonly found type of sugar.
While its granules are larger than caster sugar, it still works and I've seen colored sugar this size in stores.
Demerara Sugar
Demerara Sugar is a raw sugar and is probably the least common in the States. However, is common in other countries such as Israel.
Out of the three, it has the largest sugar crystals. Depending on your needs Demerara Sugar and can create really beautiful colored sugar.
Powdered Sugar
While powdered sugar is too fine to make proper powdered sugar, you can make colored powdered sugar.
This would could be very pretty over pastries, especially in the spring time.
If you choose to make colored powdered sugar, do not use liquid food coloring. It will melt it. Instead, make sure to use gel food coloring.
Also, you can skip the baking step in this recipe.
WHY BAKE
Technically you can likely get away without baking the sugar if you really didn't want to.
However, baking gives it the sugar classic glass look found in store bought colored sugar.