These dairy free crepes made without butter or milk, but are so good you won't even notice. Serve as a dessert with jam or dairy free cream.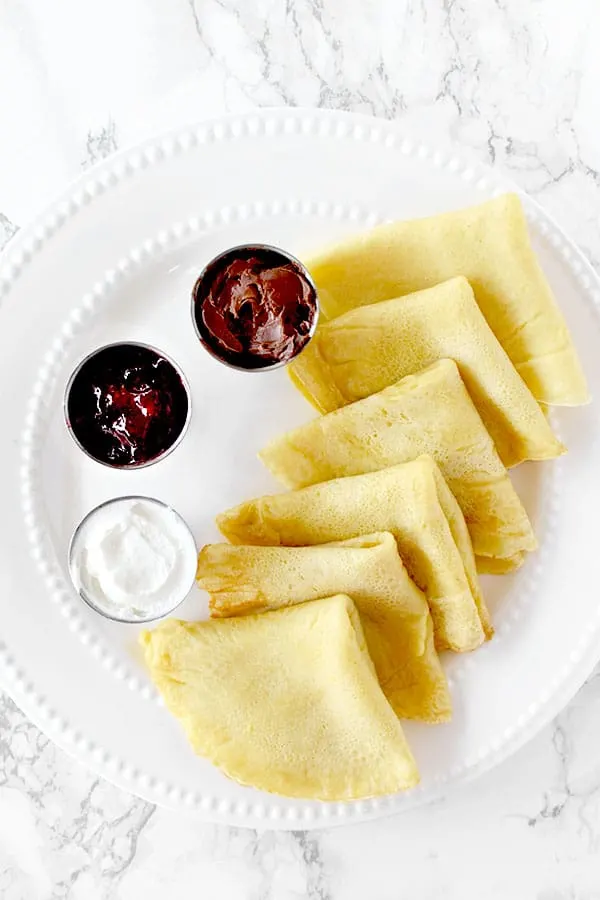 While crepes are French, they are beloved internationally. Crepes translates to pancakes in English, but if you've ever had an American pancake, you know they are not the same thing.
Crepes are very thin and can be made either sweet or savory.
This recipe is for classic sweet crepes – made dairy free – which is usually eaten for dessert.
The first time I ever had a crepe was shortly after I moved to Israel. I was living in an absorption center with people from 34 other countries.
I've always been very interested in other cultures, so for me this was incredible.
One of my favorite groups to spend time with were the French, and one night I was invited to join a crepe party in one of the rooms.
I wasn't surprised to see that I was the only non-French person there.
We ate crepes with jam and Nutella, listened to French music, and later the three of us watched a French film.
I felt like I was in Paris in one of my friends' apartments and to this day, that night is one of my favorite memories.
Since then, I've loved crepes and make these dairy free crepes often.
This recipe is easy to make and completely authentic, except that I made it dairy free. Though, honestly, I don't miss the milk at all.
Some of the links below are affiliate links, which means that if you choose to make a purchase, I will earn a small commission. This commission comes at no additional cost to you.
WHAT YOU NEED
Dry measuring cups and spoons
Liquid measuring cup
Whisk
Ladle
Mixing bowl
Griddle pan
HOW TO MEASURE FLOUR AND OTHER DRY INGREDIENTS
Using a dry measuring cup, scoop ingredients from the bag or spoon them into the cup.
Next, level off the ingredient by removing the excess with an upside-down butter knife.
The one exception to this is brown sugar. Brown sugar should be packed down, and then any excess should be scraped off as well.
DRY VS LIQUID MEASURING CUP
Ever wonder why measuring spoons often come with a set of measuring cups? I used to. I didn't see why we needed a set when we could have one large measuring cup.
After a quick search, I had my answer. I discovered that the large measuring cup is used for liquids, whereas the set is used for dry ingredients.
As it turns out, if you try to measure dry ingredients with a liquid cup, the measurements get messed up.
First, you pour the flour or cocoa in, next you shake it around to get it level, and then you add more.
By shaking it, you are causing the powder to settle, and when you add more, you end up using more than called for.
WHY SIFT FLOUR and Other Powder Ingredients
There are a number of benefits to sifting flour and other ingredients like cocoa:
It removes any unwanted debris and you can get a more accurate measurement than when packed tightly in a bag.
It also removes any lumps that can get into the batter and be hard to break up later, or be missed altogether before baking.
If you sift the powdered ingredients together, it helps combine them and mix more evenly with other dry ingredients like sugar.
WHICH TYPE OF OIL TO USE
I use neutral oils like canola oil, safflower oil, and vegetable oil. However, if preferred, oils with stronger flavors like coconut oil or olive oil can be used.
If using olive oil, I recommend using pure olive oil for its more mild flavor and higher smoking point.
Understanding Sugar
Sugar may seem very basic if you've baked before, but I've been asked about it in the past – so I'll explain.
There are many different types of sugar, including white sugar, brown sugar, vanilla sugar, powdered sugar, turbinado sugar, and demerara sugar.
When a recipe (any recipe, not just mine) says "sugar" without specifying anything else, it is regular white sugar.
White Sugar
White sugar (sometimes called granulated sugar, table sugar, or white granulated sugar) is made of either beet sugar or cane sugar, which has undergone a refining process.
It is the easiest to find and most commonly used.
Brown Sugar
Brown sugar is white sugar with molasses added to it.
It is commonly used in chocolate chip cookie recipes, and it's rare for a recipe that calls for brown sugar not to also call for white sugar as well.
When a recipe calls for "brown sugar" but doesn't specify what type (light or dark), it is referring to light brown sugar.
In my recipes, you can use whatever type of brown sugar you have on hand, whether it is dark brown sugar, light brown sugar, or demerara sugar – which is very common in Israel.
Just keep in mind that the flavor and color will be slightly different, depending on what you choose to use.
Turbinado Sugar
Turbinado sugar is better known as "raw sugar". But, despite this name, the sugar is not really "raw."
Instead, it's partially refined sugar that retains some of the original molasses.
The term "raw sugar" may also give off the impression that it is somehow healthier.
In reality, turbinado sugar is nutritionally similar to white sugar.
Demerara Sugar
Demerara sugar is very popular in Israel and is especially delicious in tea, but is also used for baking.
Unlike white sugar, demerara sugar undergoes minimal processing and retains some vitamins and mineral.
However, it is still not much healthier than white sugar.
Vanilla Sugar
Vanilla sugar is not very common in the States. However, it is common in Israel and parts of Europe.
This is sugar that sat for an extended period of time with vanilla beans, giving it a vanilla flavor.
Caster Sugar
This type of sugar is common in the United Kingdom.
It has a grain finer than white (granulated) sugar and larger than powdered sugar.
Caster sugar is often called for in recipes for delicate baked goods like meringues, souffles, and sponge cakes.
You can use a 1:1 conversion rate between caster sugar and white (granulated) sugar.
Powdered sugar
Powdered sugar, sometimes known as confectioners' sugar, is a sugar with a powdered texture.
This sugar is rarely, if ever, used for baking. Instead, it is used for dusting desserts and making frosting and icings.
In some countries, you can also find powdered vanilla sugar.
It is made the exact same way regular vanilla sugar is made. However, the sugar used is powdered instead of granulated.
Vanilla Extract vs Vanilla sugar
In my recipes, I don't specify what kind of vanilla to use.
The reason for this is that in the States, vanilla extract is exclusively used.
Meanwhile in Israel, along with many European countries, vanilla sugar is common.
In most, if not all recipes, both vanilla extract and vanilla sugar can be used.
In recipes where vanilla sugar can be used instead of extract, you can replace them 1:1.
Replacing Sugar with Honey
If you'd prefer to use honey instead of sugar, you can do so with pretty good results.
Honey can be two or even three times as sweet depending on the honey, so for every 1 cup of sugar, you can use 1/2 to 2/3 cup honey.
Since honey adds liquid, you need to remove some to balance it out. For every cup of honey, remove a 1/4 cup of liquid.
Also, it burns faster than granulated sugar, so you want to lower the baking temperature by 25 F or 14 C. In addition, check it early and often to avoid burning or overbaking.
Types of Vanilla
Vanilla comes from a pod commonly known as a "vanilla bean", which comes from the vanilla orchids.
Vanilla pod has been used for flavoring since the Aztecs, and was introduced to Europe by a Spanish conquistador, along with cocoa.
Vanilla Extract
Vanilla extract is created by soaking vanilla beans in alcohol for some time. This is the most commonly used type of vanilla.
Vanilla Sugar
Vanilla sugar is common in Europe and some parts of the Middle East, like Israel.
It is made from vanilla beans sitting in sugar, vanilla bean powder mixed with sugar, or sugar mixed with vanilla extract.
In some countries, like Italy, you can also find vanilla powdered sugar, which is used for confections.
Vanilla Paste
Vanilla paste is generally a specialty item. It is a thick paste that contains a blend of the scraped-out vanilla pod seeds and vanilla extract.
You can use it as you do vanilla extract and it will leave flakes of vanilla bean like you see in vanilla bean ice cream.
Imitation Vanilla
Imitation Vanilla, otherwise known as artificial vanilla or vanilla essence, is made from synthetic vanilla.
This is the compound that naturally occurs in vanilla beans and gives it its flavor.
Can I use imitation vanilla?
Many will tell you that you should use high quality vanilla, just like they say you should use the best cocoa.
However, most of us will probably not be willing to pay the hefty price that comes with exceptionally high-quality ingredients.
Overall, vanilla is very expensive, so the extract is as well.
So, if you're not going to get regular quality vanilla extract, you might as well use imitation vanilla.
Do crepes contain dairy?
Yes, crepes are made with dairy products like milk and butter unless specifically stated otherwise.
However, you can make your own crepes without milk or butter.
All you have to do is replace the milk with another liquid like dairy free milk like almond milk or oat milk, water, or even orange juice.
MAKE AHEAD
Crepes are actually perfect to make ahead because the batter always cooks more evenly when it has rested overnight. Then, remove and let sit for an hour at room temperature for a lighter-than-air texture.
If you only want to make it a few hours ahead, that's fine too, but still make sure to let it sit for at least an hour at room temperature before cooking.
HOW TO STORE
Layer the crepes between parchment to avoid sticking. Then, store them in a resealable plastic bag. Keep in the fridge for up to five days.
HOW TO FREEZE
Layer the crepes between parchment to avoid sticking. Then, store them in a resealable freezer bag. Freeze for up to 2 months.