This Mexican Rice is an authentic recipe which calls for only a handful of ingredients. It is simple to make and is a great side to many Mexican dishes. Serve with meat, chicken, or fish.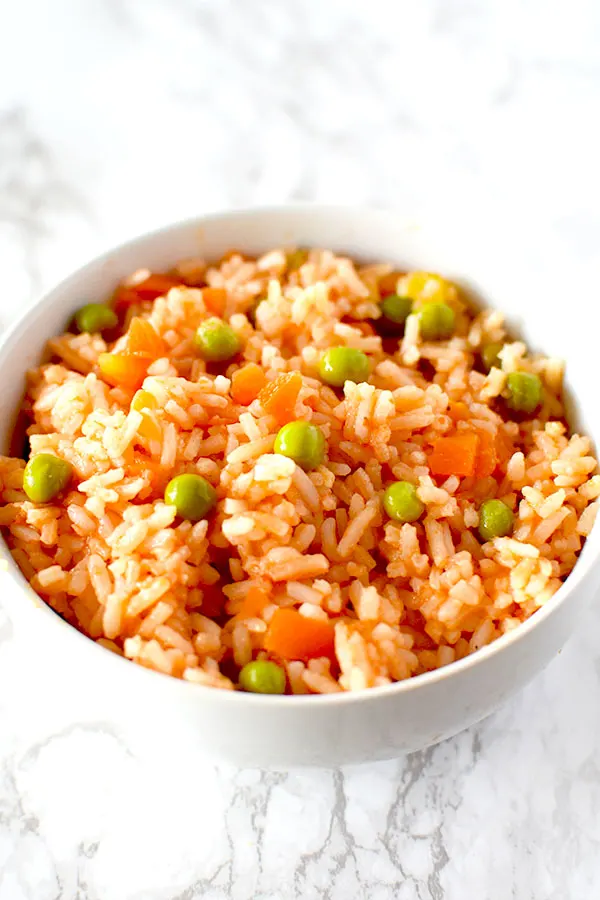 Mexican rice or arroz Mexicano is very similar to arroz rojo (red rice), sometimes called Spanish rice. In fact, they are so similar, I wasn't sure they weren't the same dish.
They both originated in Mexico (despite arroz rojo being called Spanish rice) and the ingredients are almost identical.
However, after reading quite a few Mexican recipes and seeing both side dishes listed separately and under different names, I've come to the conclusion they are in fact two different – albeit similar – dishes.
The one notable difference between arroz Mexicano and arroz rojo seems to be the addition of vegetables.
Arroz rojo is pretty much just rice cooked in salsa roja (red sauce), whereas Mexican rice also calls for peas and carrots.
It is worth noting that both side dishes are very popular in Mexico and Mexican restaurants. If you are making a Mexican themed dinner, you can choose between the two or use both.
By the way, one of my favorite things about this recipe is that it is a waste not want not recipe.
If you have soft tomatoes, they are perfectly fine to use here. Also, if you have leftover restaurant style salsa you can use it here instead of the sauce.
However, make sure that it is only mildly spicy, if spicy at all.
WHY SORT RICE
Sorting rice is useful because I've actually found bugs in rice before, especially with already opened bags of rice.
To be sure the rice is clean, measure out how much rice you need, then pour some of it out onto a white plate.
Sift through the rice to make sure there are no bugs – some of which look like small worms.
When done, pour the sorted rice into a pot and repeat with the remaining rice.
As a secondary step, I then fill the pot with water and agitate the rice with my fingers. This helps get anything that may have been missed to float to the top.
Pour out the water, and if you found anything, repeat until nothing comes up.
HOW TO STORE REMAINING DRY RICE
Store the remaining dry rice by placing it in an airtight container or a resealable plastic bag.
Doing so will protect the rice from bugs.
WHY WASH RICE
There are two benefits to rinsing rice. Firstly, it removes any debris.
Secondly, and most importantly, it is to remove surface starch. If the starch is not removed, it can cause rice to clump together and get gummy as it cooks.
Some say to rinse the rice repeatedly until the water runs clear. This isn't necessary.
Instead, rinse the rice thoroughly a few times. After that, most of the starch should be removed and the water should be only slightly cloudy.
The way I like to wash rice is by putting it in a large bowl or a pot and filling it with water. Then, I shape my hand into a claw and use it to agitate the rice.
This brings up both debris and bugs that may have been missed during sorting.
WHY TOAST RICE
Toasting rice is a step some recipes require where you first lightly fry the uncooked rice. This step is usually done with rice that has not been rinsed.
As with toasting spices and nuts, toasting grains before cooking can enhance their flavor.
Rice is no exception, as it gains a nutty depth which adds an extra layer of flavor to a final dish.
Another benefit is that by toasting the rice first, you are cooking the starches.
This, like washing rice, helps prevent the rice from being sticky. Instead, each grain cooks separately.
RATIO WATER TO RICE
There are many different types of rice. The most popular types require two cups of water for one cup of rice. Some, however, need less water:
Short Grained Rice needs 1 and 1/8 cups water.
Basmati Rice needs 1 and 1/4 cups water
American Long Grained Rice needs 1 and 1/2 cups water
Jasmine Rice needs 1 and 3/4 cups water.
Also, when multiplying the recipe, rice often needs less water than you'd think. For example, with American long grain rice:
1 cup rice needs 1 and 1/2 cups water
2 cups rice need 2 and 3/4 cups water
3 cups rice need 3 and 1/2 cups water
HOW TO STORE
Transfer the cooled, cooked rice into an airtight storage container or a resealable plastic bag. Make sure to remove as much air from the bag as possible before sealing it.
Store in the refrigerator for 3 to 5 days.
HOW TO FREEZE
Transfer the cooled, cooked rice into a resealable freezer bag making sure to remove as much air from the bag as possible before sealing.
Store for up to 3 months. After that, it is still safe to eat but the quality begins to degrade.
REHEATING
FRIDGE
When reheating, place the rice in a pot, sprinkle a teaspoon of water over the top to help loosen stuck, dried grains, then place.
Heat over medium heat, stirring constantly to keep the grains moving, but be careful not to mash them.
FREEZER
Frozen grains can be added directly to hot dishes like stir-fries. If you're planning on eating it on its own, follow the steps above.