Chicken wing broth is the perfect base for chicken soup. It is easy to make, relatively cheap to make, and is full of delicious flavor!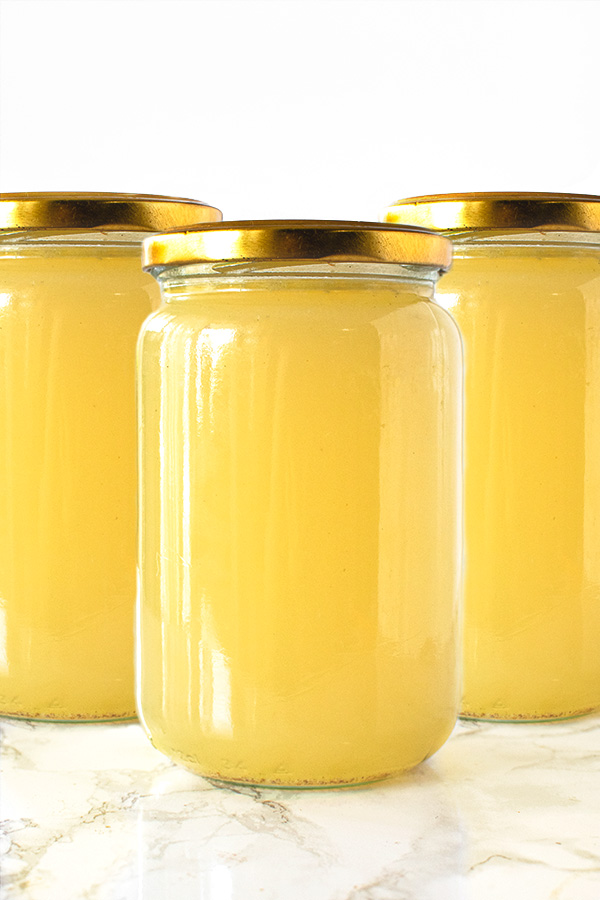 I've seen chicken soup recipes that call for cooking a whole chicken for hours, getting rid of it, and then adding fresh chicken. This seems like an expensive big waste to me.
Instead, I use homemade chicken stock which upcycles chicken scraps or this chicken wing broth.
When the weather turns cold I usually keep some broth on hand, in the fridge or freezer, so I can quickly whip up some hot chicken soup whenever I want it.
Chicken broth made from chicken wings is the perfect base chicken soup.
White meat provides the most flavorful broth most flavorful broth, and unlike chicken breast, wings give the broth good body.
Since wings have many joints add a generous amounts of collagen seep into the broth creating a silky texture.
If you have any saved-up freezer necks and backs from whole chickens, or other odd bits that you don't know how to use, toss them in with the wings.
Don't worry about the fat content of wing-based broth but once the broth is chilled can easily be removed.
Chicken Stock vs. Chicken Broth
Broth is usually thinner and made from chicken meat, while chicken stock is made from simmering bones for a long time.
Chicken stock is usually thicker and has a richer mouth feel from the gelatin releases from the long-simmered bones.
Adding onions, carrots, celery, bay leaves, and other herbs add to the flavor of the stock.
What About Store-Bought Stocks and Broths?
Commercial brands tend to use the terms "stock" and "broth" interchangeably and store-bought stocks and broths are usually more both then stock.
They tend to be lightly flavored and lack the body of a homemade stock and they result in a more less flavorful dish.
How Stocks and Broths Are Made
Broths and stocks are also made differently.
Stocks are typically made from meaty raw bones, leftover carcasses, and meat and vegetable scraps. In the case of vegetable stock, only vegetables are used.
Stocks are simmered for several hours (unless you make pressure cooker stocks) to extract as much of the flavor from the ingredients as possible. This also extracts collagen from the bones and cartilage, which adds body and silkiness to the stock.
Broths are usually much lighter and have less body than stocks.
They're most often made from poaching meat, vegetables, and seasonings in water for as long as it takes for the meat to cook or the broth to pick up some flavor.
How Stocks and Broths Are Used
In classic French cuisine, stocks are considered to be an ingredient that's used to make other things.
Also, they're typically left unseasoned or only minimally seasoned so that they can be used in as wide a variety of ways as possible.
Stocks can be used to make soup, reduced into a sauce or a glaze, or as an ingredient in many recipes.
Broths on the other hand have been salted which restricts the ways they can be used.
For the most part, broths are consumed on its own or used as a base for soups like chicken soup.
This definition of stocks as an ingredient and broths as a food product is the way classically trained chefs tend to think about such things in their restaurant kitchens.
Pressure Cooker Broth
If you are using an electric pressure cooker like an Instant Pot, all you have to do is throw everything in and program it.
Unlike stocks cooked on the stove, with a pressure cooker there's no evaporation. In fact, you'll likely wind up with more liquid than you started off with, because some of it will cook out of the bones and meat.
On the stove top the clock starts once the pressure cooker is fully pressurized.
How Long to Cook Stock in the Pressure Broth
Broth cooked for 30 minutes is lighter in color but still has a gelatinous body. The flavor is chicken-y but clean and straightforward.
Broth cooked for 60 minutes gives you a stock that's darker and not as clear. It has more of that slightly fatty "boiled chicken meat" taste and smell but is also more chicken-y.
Broth cooked 45 minutes is a good compromise. This stock has good color, body, and flavor without tasting so boiled.
Experiment with cooking times, and see what you like best.
How to Store Broth
Let the stock cool completely before refrigerating. When you are ready, pour into glass jars and refrigerate.
Stock should last a week or so in the fridge.
How to Freeze Broth
Let the stock cool completely before freezing and ladle off some of the excess fat on the surface.
Pour into freezer safe container well sealing lids. Leave at least an inch of head space, allowing enough room for the liquid stock to expand as it freezes
Stock should last several months in the freezer.