These dairy free Franks in a Blanket are super easy to make and a perfect party and Thanksgiving appetizer! Better yet, they are only two ingredients.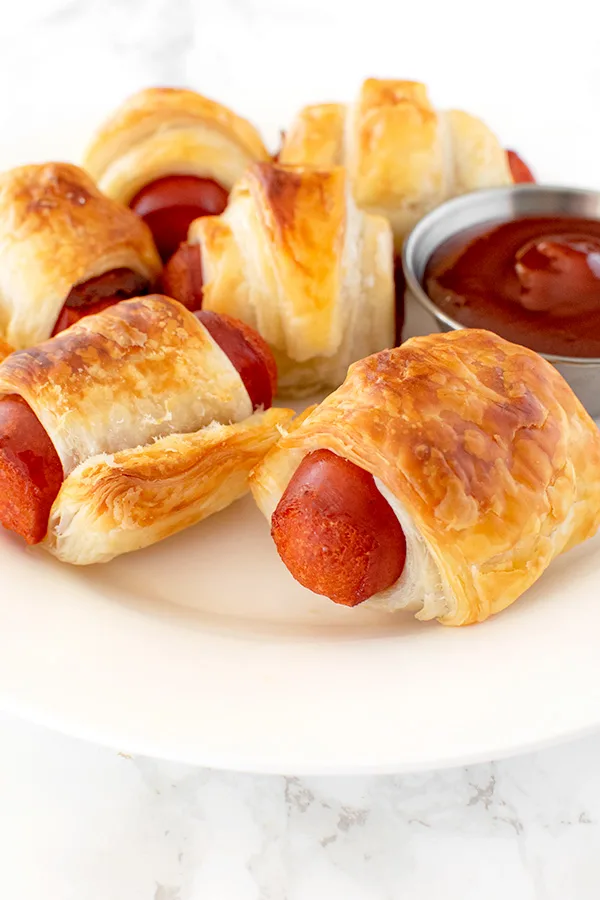 While many families serve deviled eggs as their go-to appetizers, for my family, dairy free franks in a blanket are it.
This is especially true as part of our dairy free Thanksgiving menu.
One of my favorite parts about it is just how easy it is to make, even if it can be a tiny bit time consuming.
However, it is an appetizer loved by both children and adults and are simple enough that you can enlist little hands to help you make them.
Franks in a blanket are often made with crescent roll dough, but I've always had them with puff pastry dough, so that is what I prefer.
Adjusting for a Convection Oven
An ordinary oven cooks by enveloping food in hot, dry air. This air heats the outside of the food, and then slowly penetrates to the inside of the food until it's cooked all the way.
Now, in a convection oven, the fan produces extra energy. It takes the hot air and blows it around, producing around 25 to 30 percent more energy, depending on the fan's power.
Regular ovens also can have hot spots, but the fan in a convection oven will circulate the air to help even out the temperature variances.
Since convection ovens produce more heat, you need either lowering the temperature or shortening the cooking time to compensate.
When recipes specify temperatures and cooking times, it's for conventional ovens. Of course, this is unless the recipe is specifically for convection ovens.
The simplest method is to set the oven 25ºF to 50ºF lower than the recipe says.
A simple rule to follow is to lower the temperature by 25ºF when baking cookies and pies, but 50ºF when roasting meats. Some convection ovens offer separate settings for baking and for roasting.
You can also leave the temperature the same and instead shorten the cooking time by 25 percent. For example, if your recipe calls for 60 minutes in the oven, check the food after 45 minutes instead.
However, keep in mind, some convection ovens actually make a heat adjustment for you. That is, if you set a convection oven for 350ºF, it might actually set itself to 325ºF to compensate. So, check your manual before making adjustments.