These dairy free deviled eggs are quick and easy to make and are great appetizers for parties and Thanksgiving!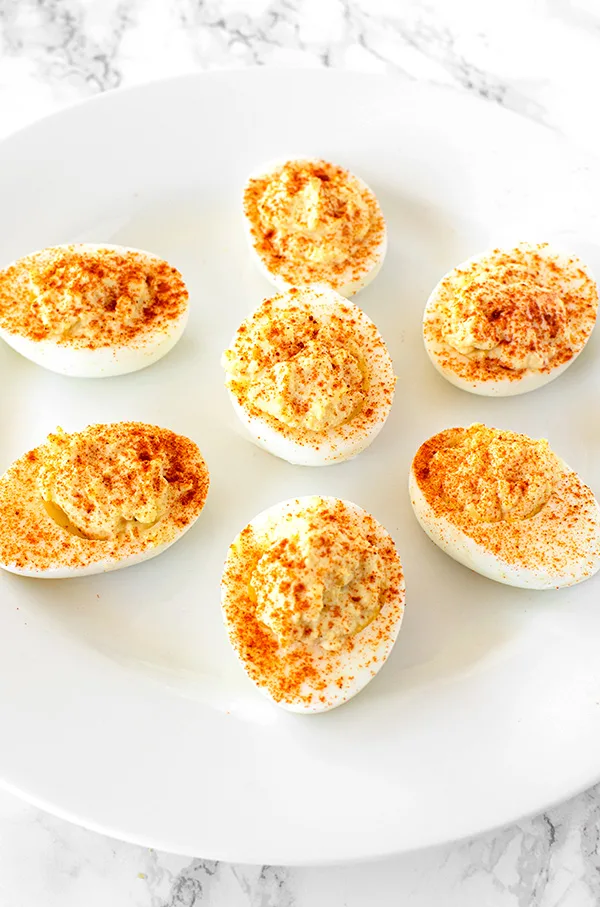 The deviled egg can be traced back to ancient Rome, where boiled eggs were seasoned with spicy sauces and served as a starter meal during gatherings and feasts.
Recipes for hard-boiled eggs stuffed with herbs, cheese, and raisins can be found in the cookery texts of medieval European cuisine.
The earliest known recipe for stuffed eggs that most closely resembles the modern-day deviled egg, is believed to have been written in the Andalusian region of Spain during the 13th century.
According to the English translation of a recipe, boiled egg yolks were mixed with cilantro, pepper, coriander, and onion juice, then beat with murri, oil, and salt. It was then stuffed into the hollowed-out egg whites, and the two halves of the egg were fastened back together with a small stick and topped with pepper.
The earliest known American recipe for deviled eggs was printed in the Montgomery Advertiser, a news publication in Montgomery, Alabama, in 1877.
Later, in the 1896 version of an American cookbook named The Boston Cooking School Cookbook, the first known recipe to use mayonnaise as an ingredient in deviled eggs was printed. The mayonnaise was recommended as a binding agent for the yolk mixture.
Deviled eggs have been a popular dish in the States since the 1920s. By the 1940s, deviled eggs had become a staple food at picnics, parties and gatherings.
Today, it is still one of the most popular recipes searched on Google for Thanksgiving.
For ease, you can just spoon the egg yolk mixture into the hole in the egg white, or for particularly pretty ones, pipe them in.
ARE EGGS DAIRY?
No, eggs are not dairy. Dairy is milk and any food products made from milk, including cheese, cream, butter, and yogurt.
So, while eggs are an animal product, they are not dairy. In fact, eggs fall under the protein food group.
Is Mayonnaise Dairy?
Many people think mayonnaise is dairy because it contains eggs. However, since eggs are not dairy, neither is mayonnaise.
Why use mayonnaise?
Mayonnaise is a binder. It helps hold all the ingredients together so they can be turned into a paste to fill the egg whites.
Is it better to use older eggs for deviled eggs?
If you are using farm fresh eggs, then yes, older eggs are less likely to have the shell stick.
However, if you are using store bought eggs, then no. They are old enough once they get on the shelves that it doesn't matter.
Why Boil water first?
Boiling the water first helps the shells not stick.
Why use an ice bath?
The ice bath has two benefits. First, it stops the cooking process in tracks. Second, it helps loosen the shell so that it comes off more easily.