This dairy free pesto recipe hales from Italy, is made without nutritional yeast, and is so good you'll be hard-pressed to tell that it is vegan! Serve over pasta for an Italian flavor so good, you won't be able to stop at one plate.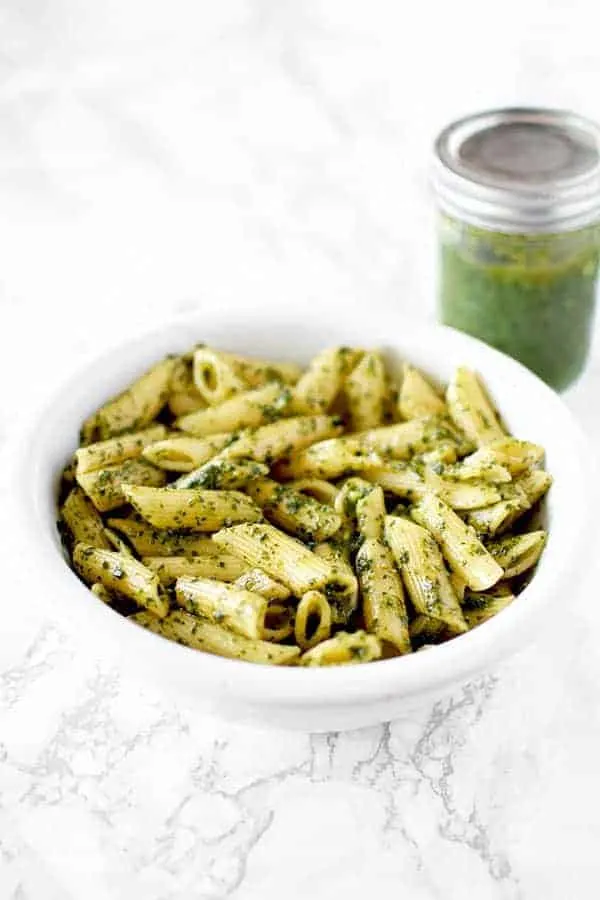 The first time I had pesto was when I was visiting my friend Karen and her family in Massachusetts.
Karen's grandparents were from Naples and on my second night we made pesto for dinner.
Under Karen's direction, I chopped the garlic and basil, added oil, and seasoned heavily with salt.
She chose to leave out the nuts but came with the cheese – something I never before realized was in pesto.
However, it turned out that the cheese wasn't kosher (Karen and her family are Catholic) so we left it out.
So, we coated the spaghetti in the pesto and cheese was put on individual plates. Needless to say, mine was dairy free.
The food smelled amazing and I couldn't wait to taste it.
I twisted the green tinted pasta on my fork and lifted it to my mouth.
It was love at first bite!
I had plate after plate of the spaghetti until I was so stuffed I could not take another bite.
While I still make my dairy free pesto the way I had in Massachusetts as a lighter calorie version, this recipe isn't that.
This recipe is an Italian vegan recipe that uses macadamia nuts instead of cheese. You'll be hard-pressed to tell that it isn't traditional pesto!
Another Italian favorite of mine that I've made dairy free is Pasta al Limone, otherwise known as Pasta with Lemon.
What can I use instead of cheese in pesto?
You can use nutritional yeast or certain kinds of nuts, like cashews or almonds. This recipe uses macadamia nuts.
Recipe Tip:
I make this recipe in a blender because it is what I have. However, if you have a mortar and pestle, I highly recommend making this recipe the traditional way.
Also, see the recipe notes at the bottom of the card for my dairy free, nut free version.