Spaghetti al limone, or spaghetti with lemon, is a classic Italian dish with bright lemon flavors. It's light sauce and fresh flavor makes this dish perfect for a summer meal.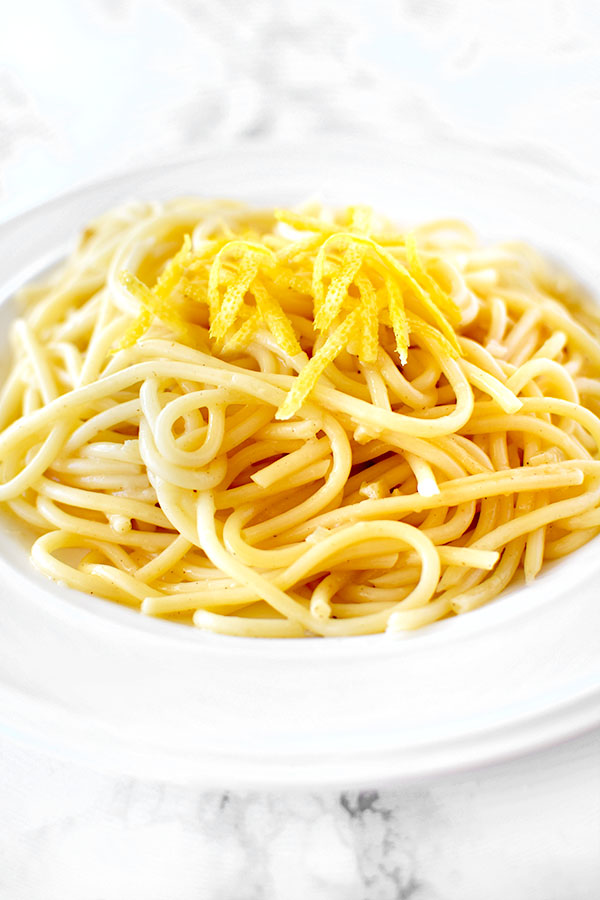 While not nearly as popular both in Italy and abroad as pasta with pesto. This is still an authentic Italian dish enjoyed in the summer.
I have a weird relationship with this dish.
I cannot eat it in cold weather. When I do, I find the lemon to be over powering.
In the spring, and even more so in the summer, I can't get enough of tit.
However, maybe I'm not alone, because one Italian recipe I read said that this dish is extremely popular in the summer.
Citrus, especially fresh and sunny lemons, just feel perfect then.
That's when I start making lemon bars, lemon meringue pie, and of course lemonade and Israeli limonana.
Now, there are many ways to make spaghetti al limone.
Some recipes call for cream, others call for cheese, and there are those that call for both.
My favorite are the ones that call for none.
Cream overpowers the lemon and I find cheese to be too heavy for hot summer days.
So, in my humble opinion, the best version uses only a combination of butter and olive oil for a light sauce.
If you're familiar with my blog you may be saying "but this blog is dairy free!" actually, it's almost dairy free… and that is why I'm giving a dairy free alternative where you only use olive oil.
Sure, I could have just given that version to begin with but I didn't for two reasons.
First, I don't like it as much, and more importantly, just about every Italian recipe I read called for both butter and olive oil.