Moroccan Fish is a classic Israeli dish that comes from the Israeli-Moroccan community. This authentic recipe poaches tilapia in a spicy tomato sauce, using both dry and fresh peppers.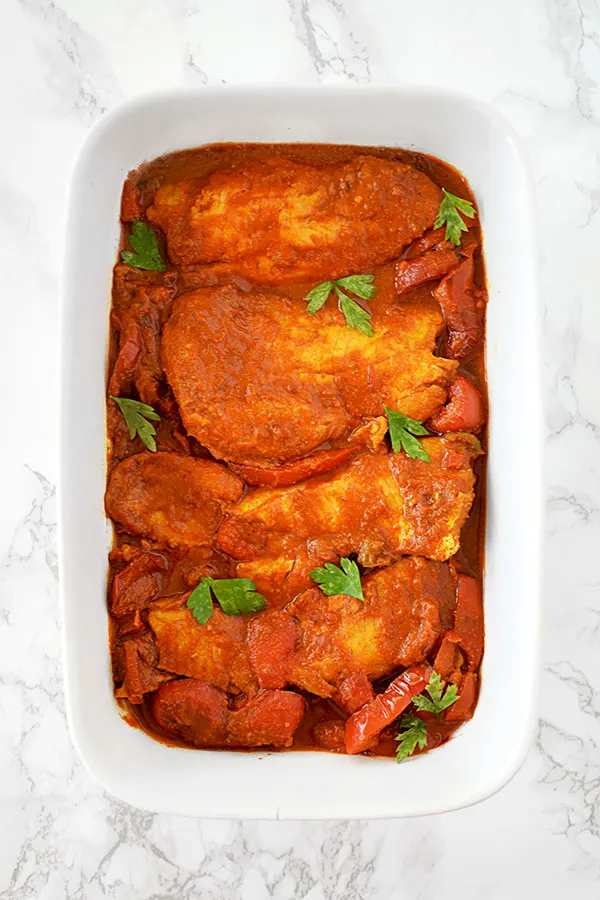 The first time I ever tasted Moroccan fish was in Haifa, at the house of an old friend of the family.
When she served the fish, she told me it was sweet fish from the KinNeret (Sea of Galilee).
It took me a minute to realize sweet water fish was fresh water fish.
It took me much longer to realize that this fish was Galilean tilapia, one of the three main types of fish caught in the Kinneret since in Biblical times.
The next time I had it was at my aunt's house.
It became my brother Aaron's favorite type of fish, but my aunt refused to give my Mom the recipe. Instead, it became a bribe to get us to travel to her more often for Shabbos.
We didn't know what the fish was called, my aunt just called it tilapia. I assumed my aunt had made it up, not remembering that I had eaten it years before.
My mom tried to replicate the flavor, but with no luck.
That is, until we were talking and one of us got the idea to google it. Lo and behold, I found the name and a recipe to go along with it!
Traditionally, Moroccan fish uses a lot of oil, but as an American, I just cannot imagine cooking with so much oil.
So, I've adapted this Moraccon fish recipe, which keeps the great flavor but cuts the calories.
If you're interested in some authentic Moroccan recipes, you should try Moroccan Meatballs with Olives and Moroccan Chicken with Olives.
Recipe Tip:
While this recipe is traditionally made with tilapia, it is delicious with cod, salmon, and pretty much anything else.
Also, if you don't have dried red pepper on hand, you can use pepper flakes.
I've also used extra tomato paste when I didn't have tomatoes on hand and it came out great.