Meatballs with olives is a classic Moroccan dish brought to Israel by Moroccan Jews. It is well loved in Israel. However, you won't find it on a menu. Instead, its served poured over rice at family dinner tables all over the country.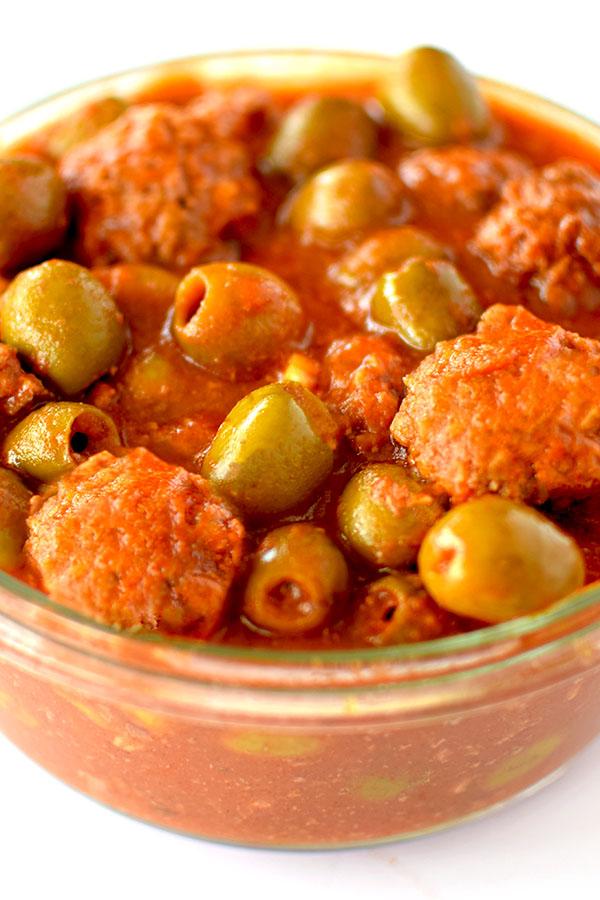 As Jews were expelled from all over the Middle East and made their way to Israel, they brought their food cultures with them.
This had such a heavy influence on Israeli cuisine that some go as far as to say there is no such thing as "Israeli food."
Unlike with other countries, Moroccan Jews fled rather than being expelled.
The ancient community spread their culture as hundreds of thousands made their way to Israel as well as other countries.
Since then, their rich food culture has influenced Israeli kitchens all over the country.
Growing up, Moroccan Meatballs with Olives was one of my favorite foods. Whenever it was served, I would ignore everything else at the table.
Greedily, I would spoon as many meatballs with olives over my Israeli white rice as I could.
Every family has their own variation of this, and this one is my family's version.
It was passed down to my mother by my Israeli-Syrian grandmother, who may have gotten the recipe from my Moroccan aunt.
This is the simplest recipe I've seen and it doesn't sacrifice a bit of flavor!
Other Moroccan recipes to try are Moroccan Fish and Moroccan Chicken with Olives.
Recipe Tip:
Other ingredients that are commonly added include onions, garlic, sweet paprika, and crushed tomatoes.
Also, if you are using lean meat, add a little bit of olive oil while making the meatballs to enhance the flavor.