Shepherd's pie and cottage pie are classic comfort foods that are healthy and filling. This recipe is not only easy but also dairy free making it kosher as well.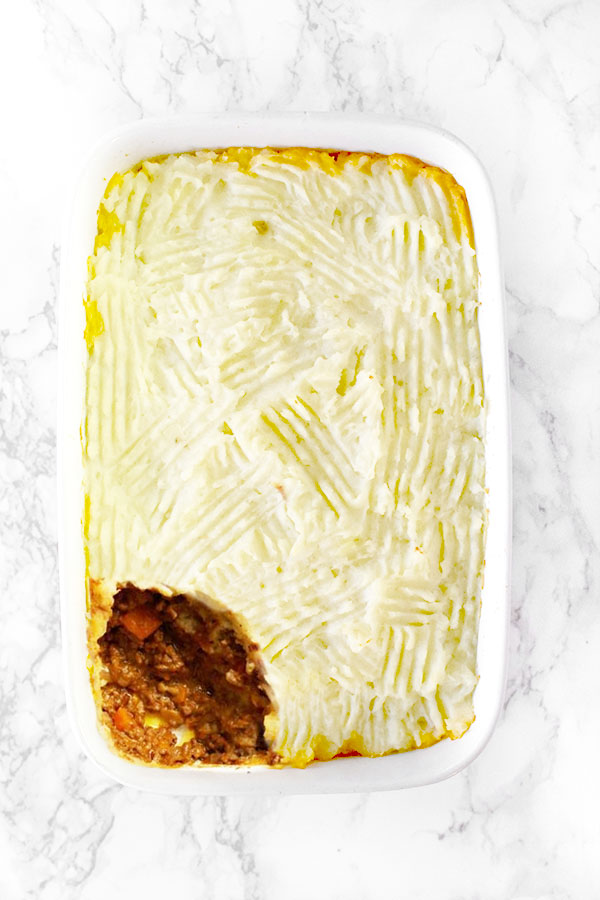 Shepherd's pie (ground lamb) or cottage pie (ground beef) is a meat pie topped with mashed potato.
It originated in the United Kingdom, however it is up for debate if it comes from England or Ireland.
Given Ireland's great love for potatoes, I think it's a safe bet to call it an Irish food. In fact, in Irish this dish is called pióg an aoire.
There are a number of variations to this meat pie, but the defining ingredients are ground red meat cooked in a sauce with onions.
Sometimes other vegetables, such as peas, celery, or carrots are added.
Meat pies have been made since ancient times until today. Since the Ancient Greeks meat pies were topped with a type of pastry like chicken pot pie.
However, topping meat pies with became popular with the British peasants when potatoes were brought over from the New World.
This is because it was a cheap edible crop affordable for the poor.
Due to this the pie was originally called cottage pie implying that it was a peasant food. The name shepherd's pie only started being used over 60 years after the term cottage pie was coined.
To begin with shepherd's pie and cottage pie were used interchangeably.
However, in the 1900's the term shepherd's pie became used only if the pie was filled with ground lamb and cottage pie if it was filled with ground beef.
WHICH TYPE OF OIL TO USE
I use neutral oils like canola oil, safflower oil, and vegetable oil. However, oils with stronger flavors like olive oil to be used.
If using olive oil, I recommend using pure olive oil higher smoking point.
Why Mayonnaise
Mayonnaise is a great dairy free way to make creamy mashed potatoes. You can skip it if you'd like or make mashed potatoes you're favorite way.
Why Soy Sauce
I am usually a strong advocate for authentic recipes.
I'm not sure how long Worcestershire sauce has been an ingredient in shepherd's pie, I suspect it's been a more recent addition for extra umami (savory flavor), however it is native to England.
Soy sauce on the other hand originated in China and is used in Asian cuisine.
So, needless to say, it doesn't belong in an British recipe.
The reason I use it is because Worcestershire sauce is a fish sauce and cannot be added to meat in kosher cooking.
Therefor, since they have very similar flavors, I use soy sauce. Vegan Worcestershire sauce is fine too.
Why a sauté pan
You can technically use a sauce pot or a frying pan. However, I find sauté pan's the best because they are sort of a combination between the two.
They are wide and short like a frying pan which lets the liquids evaporate relatively quickly.
However, unlike a frying pans it has high straight edges similar to a pot making for easier mixing.
IS KOSHER MEAT BETTER?
Yes and no. It is not necessarily healthier as far as bacteria is concerned, since bacteria can only safely be killed with heat. What is better is the quality of the meat.
The salting process used to remove blood, as part of the koshering process, is believed to provide better quality meat. It creates a sort of quick dry brine.
Also, kosher animals are kept in better conditions than not kosher animals due to strict kosher heath requirements of the animals. They are also killed in arguably more humane conditions.
While I've only eaten kosher meat (so I cannot compare), I've been told by non-Jews who do not keep kosher that they've noticed that kosher meat is of superior quality to cook with.
SHOULD YOU WASH MEAT?
According to the USDA you should not wash chicken or meat because washing it spreads bacteria throughout the kitchen.
Water can splash bacteria up to 3 feet surrounding your sink, including onto counter tops, other food, towels and you (i.e. cross contamination).
A study done by Drexel University shows that it is best to move meat and poultry directly from package to pan. The heat from cooking will kill any bacteria that may be present.
One exception would be if there are bone fragments or residue from giblets, as in a roasting chicken. In that case, feel free to rinse if you like. However, make sure you wipe down your sink afterwards.
HOW CAN I CLEAN MY MEAT WITHOUT WASHING IT?
If you want to clean your meat without washing it, wipe it down with a wet paper towel. This will remove anything other than bacteria.
Just make sure the paper towel doesn't touch anything else and to toss the paper towel right away.
HOW TO DEFROST MEAT
IN THE FRIDGE
This method is the most highly recommended. Meat typically takes at least a full day to thaw. Once thawed, the poultry can remain in the refrigerator for a day or two before cooking.
IN COLD WATER
This should take two to three hours. Submerge your sealed meat in a pot or bowl full of cold water. Change out the water every 30 minutes or so.
Do not use warm or hot water. It is unhealthy to do so, can start cooking your meat, and doesn't do so evenly.
COOK IT FROZEN
According to the USDA, you can cook frozen meat. It will take 50% longer to cook, but it's an option. You should also cook it on a roasting rack or over vegetables so the heat can circulate around the meat.
IS IT SAFE TO REFREEZE RAW MEAT
If you have extra raw meat that you didn't use but want to refreeze, you can as long as it was thawed in the fridge.
According to the USDA "food thawed in the refrigerator is safe to refreeze without cooking." However, you do lose quality when refreezing previously defrosted meat.
Every time you defrost meat, it loses moisture through thawing which also leads to a loss in flavor. To compensate for this, marinate the meat to add more flavor and juice."
The USDA also says not to "refreeze any foods left outside the refrigerator longer than 2 hours; 1 hour in temperatures above 90 °F."
Make Ahead
After the pie has been put together but before it is baked it can be refrigerated for up to a few days or frozen for up to a month.
To bake from frozen, cook at 285°F or 140°C for 1 hr-1 hr 20 mins until hot in the center.
HOW TO STORE
Once cooled, place in an air tight container and refrigerate. Store for 3 to 4 days.
HOW TO FREEZE
Freeze leftovers within 3-4 days. Place in an air tight container or resealable freezer bag.
Freeze for up to 6 months. After that it is safe to eat however the quality begins to degrade.