This classic broccoli salad has dried cranberries, sunflower seeds, and creamy dressing. It is perfect to serve at the table or as a picnic perfect salad.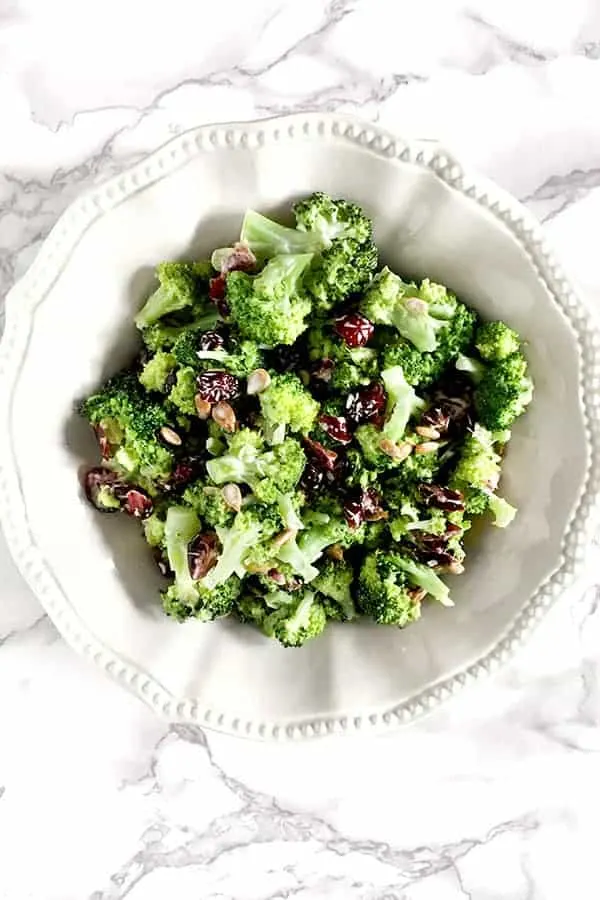 Growing up in New York, I saw this salad a lot and it was my favorite.
It was at any event with spreads and in the counter section of supermarkets where you can buy premade foods.
It wasn't unusual to see it set out as a salad for Shabbos meals either.
I can't speak for all of New York, or the whole of the United States.
Wikipedia doesn't even have a page about this salad.
However, there are many different recipes out there on the internet, so I'm assuming it wasn't just from my part of Queens and Long Island.
While many recipes I've seen call for raisins, bacon, apples, grapes, and more, this is the version I grew up on.
It is simple, vegetarian, creamy, and sweet – but not too sweet.
What is Blanching?
Blanching keeps broccoli fresh, crispy, and bright green. It's particularly nice in a broccoli salad, which is how every place I've seen it does it.
This cooking process is when food, usually a vegetable or fruit, is submerged in boiling water, removed after a short time, and then plunged into iced water to stop the cooking process.
This helps reduce quality loss of food over time.
How to Blanch Broccoli
Blanching is very easy. Simply bring a pot of water to a boil and have a bowl of ice water right next to it.
Then, carefully lower the broccoli florets into the boiling water and cook for 2 to 3 minutes.
Next, remove the broccoli from the boiling water and submerge it in the ice water for about a minute or two.
The broccoli should be bright green and just barely tender.
What type of vinegar to use?
You can use pretty much anything you have on hand. Apple cider vinegar and wine vinegar are nice. If you only have white vinegar or rice vinegar, you can use those too.