Dairy free potato salad makes a great side dish for picnics, deli sandwiches, cookouts, barbecue, and more. Serve chilled or at room temperature.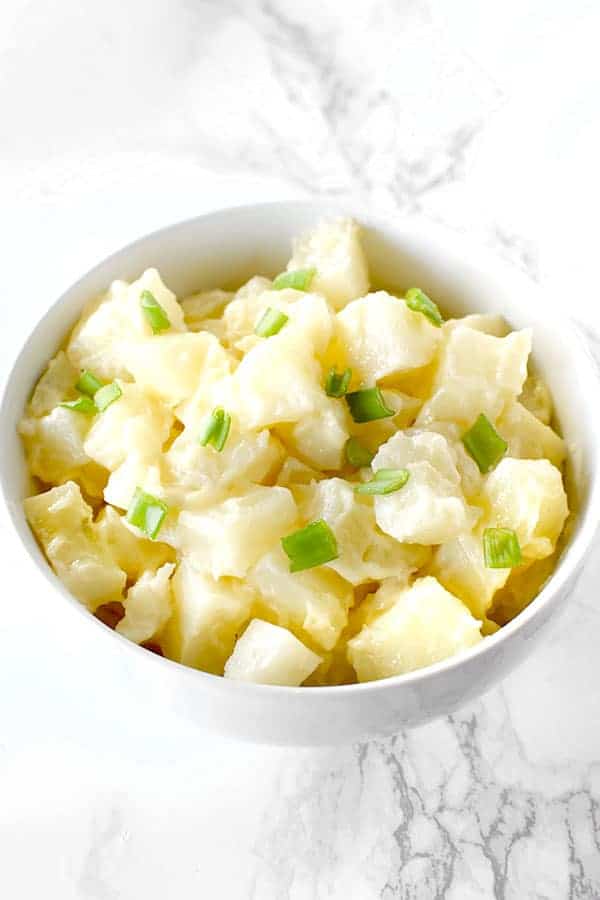 This dairy free potato salad is easy to make potato salad is easy to make and very customizable.
You can make it sweet or vinegary, with eggs or without, and keep or leave out the veggies to taste.
My family makes a really simple potato salad. It's pretty much just potatoes and mayo.
However, I've had many different versions of over the years.
Some versions were on the sweeter side and others that were more vinegary.
They also may or my not have had onions, celery, peas, carrots, and/or eggs.
Basically, there are a bunch of different ways to make it.
In fact, different countries make potato salad differently.
Over the years I've also had Russian Salad, Israeli potato salad, and French potato salad (which isn't actually French).
Potato salad is widely believed to have originated in Germany.
From there it spread widely throughout Europe and later to the Americas.
American potato salad is believed to have originated from recipes brought over by way of German and other European immigrants during the 1800s.
This style is said to be a simplified form of Olivier salad also known as Russian Salad.
Oliver salad which is common in Israel where it is called mayonnaise salad.
How to Customize
This version is easily customizable to taste. Any of the ingredients aside from potatoes and mayonnaise can be left out if desired.
I personally just use potatoes and mayonnaise as shown in the picture.
TYPES OF POTATOES
There are generally three types of potatoes: waxy, starchy, and those in between.
WAXY
Waxy potatoes, such as Red Bliss and fingerlings, have a smooth skin and creamy, almost shiny flesh.
Because waxy potatoes are relatively low in starch and high in moisture, they stay intact when they're cooked.
These potatoes have a nice potato flavor and hold up when boiled or baked even if sliced or cubed.
STARCHY AKA FLOURY
The most common example of starchy potato are russets aka Idaho potatoes.
As you may have guessed by their name, they're higher in starch and lower in moisture than waxy potatoes. They have matte-skinned and fall apart when boiled.
Starchy potatoes are ideal for adding creaminess to puréed soups or providing the airy, whipped texture to a mash. They are also good for roasting and frying.
IN-BETWEEN
These fall somewhere between the waxy and floury making them the "all-purpose" potatoes. The most commonly known of them are Yukon Golds.
Because they hold their shape when boiled, grated, or fried and yield to mashing, they're very versatile.
Best For Potato Salad
Waxy and the in-between types of potatoes are best for potato salad.
The starchy potatoes can be used if that is all you have on hand but they have more trouble keeping their shape.
WHAT TYPE OF VINEGAR TO USE?
You can use pretty much anything you have on hand.
Apple cider vinegar and wine vinegar are nice. If you only have white vinegar or rice vinegar you can use those too.
Water Temperature
Believe it or not, it's best to begin cooking potatoes in cold water. It doesn't have to be chilled, just the cold side from the tap.
While this may sound counter intuitive, cold water helps the potatoes cook more evenly.
Also, if it's better that way, why waste the gas and cooking time by boiling the water?