If you hate the taste of kosher for Passover mayonnaise as much as I do, you're going to love this recipe! This tastes just as good as good as regular mayo because it is regular mayo only with better grade oil.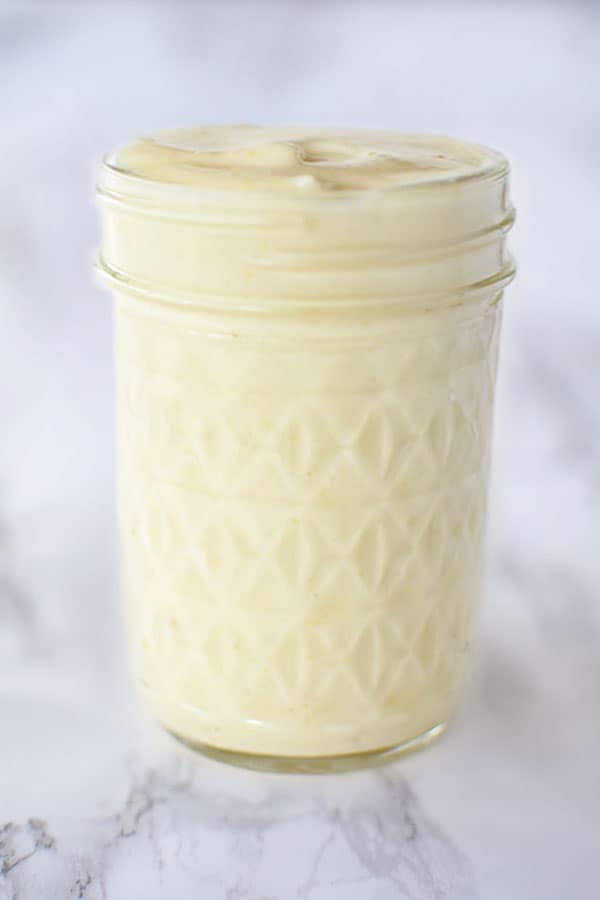 I've always wanted to make mayonnaise. I love doing things from scratch and knowing exactly what is in the food I eat.
Maybe it's the farm girl in me passed down from my great-grandmother who grew up on a Michigan farm.
Either way I was super excited to make this recipe and share it with you!
I decided to finally try making homemade mayonnaise on Passover because, frankly, I hate the taste of kosher for Passover mayo.
I'll admit, I was a little intimidated at first… okay very intimidated.
I was worried this recipe would be a total flop and that it would all end up in the trash.
While I hate all kinds of waste, food waste is at the top of the list. Luckily it didn't, my worries were for nothing, and the mayonnaise came out great!
There is a belief that using olive oil will cause your mayo to be bitter, but that's just a myth.
It actually comes from when people add garlic and over-blend causing it to become bitter. If you're interested in the science behind it read more here.
You can make this recipe using a blender, immersion blender with a jar just slightly larger than the head of the immersion blender, or even a hand mixer if you use a small bowl and a double recipe.
Homemade Mayonnaise Tip:
You can also use olive oil with this recipe but do not use extra virgin olive oil. Extra virgin olive oil cannot handle the emulsification process and will become bitter.