This dairy free ranch dressing is creamy, tangy, and oh so delicious! It's perfect as a dressing on salads, wraps, burgers, or as a dip for veggies, fries, chicken wings, onion rings, chicken fingers, hushpuppies, and more.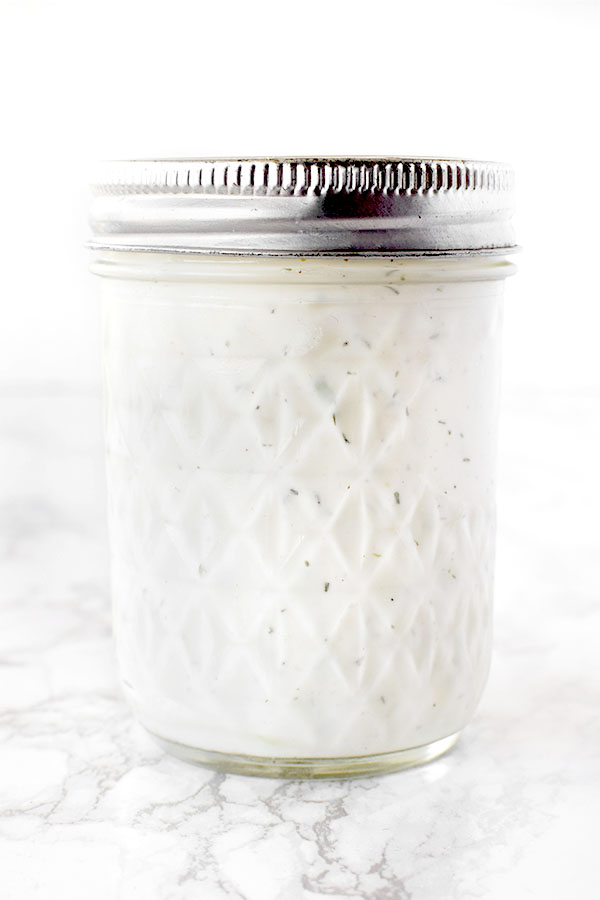 I love ranch dressing! Ranch dressing and poppy seed dressing are hands down my favorite dressings.
However, as much as I love poppy seed dressing, ranch dressing definitely gets the "most versatile" award.
It's perfect as a dressing on salads, wraps, burgers, or as a dip for veggies, fries, chicken wings, onion rings, chicken fingers, hushpuppies, and more.
This dairy free ranch dressing is just as delicious and creamy as any other ranch dressing too.
Most recipes for ranch dressing call for buttermilk and sour cream.
In this recipe, you make your own dairy free buttermilk, which is quick and easy.
Instead of sour cream, we use mayonnaise, which is what the original ranch dressing recipe used for creaminess.
History of Ranch Dressing
Ranch dressing was originally created by a man named Steve Henson while spending a few years in Alaska.
Then, in 1954, he and his wife opened a dude ranch in California named Hidden Valley Ranch.
There they served it to customers and it became so popular, they began selling the dressing and seasoning mix for customers to take home and add their own buttermilk and mayonnaise.
Eventually, they began mass producing their dressing, and by the early 1990's it was America's best selling dressing.
What is buttermilk anyway?
Originally, buttermilk was the liquid left behind after churning butter out of cultured cream.
Traditionally, the milk was left to sit to allow the cream and milk to separate. During this time, naturally occurring lactic acid-producing bacteria in the milk fermented it. This facilitates the butter churning process.
Modern buttermilk is made by adding lactic acid bacteria to milk, which ferments it, making it tangier and thicker than regular milk. It is often used to make biscuits, pancakes, waffles, muffins, and cakes.
Seeing buttermilk called for in recipes can seem like a problem if you are dairy free. Not to worry, though, it is actually easy enough to make at home.
How do You make dairy free buttermilk?
Making dairy free buttermilk is easy.
All you need is 1 cup of dairy free milk and 1 tablespoon vinegar or lemon juice. Then let it sit for 5 to 10 minutes while the milk sours and curdles a bit.
Voilà dairy free buttermilk!
You can make buttermilk with almond milk, buttermilk with coconut milk, and buttermilk with oat milk.
Which dairy free milk should I use?
Honestly, it's whatever your have on hand or prefer.
My go is a neutral flavored full fat oat milk like Oatly or Alpro have. Thin oat milks don't have enough fat to work well, and I don't like a strong oat flavor in my recipes. Not even in my overnight oats.
Almond milk works well here, too. I personally like using an unsweetened barista almond milk, but whatever you have will work.
You can also use coconut milk, though it may have a subtle coconut flavor if you do.
I've never used soy milk, so I don't have any opinions on it, but you can use that as well.
Does the mayonnaise change the flavor?
Nope! Not at all.
First of all, the original ranch dressing included mayonnaise in it, so if anything, this is actually more authentic than using sour cream.
Also, I've used mayonnaise in all kinds of recipes including for grilling and I've never found it to give a taste.