This oat milk buttermilk is easy to make at home using two simple ingredients, and is a perfect dairy free and vegan substitute for buttermilk in any recipe.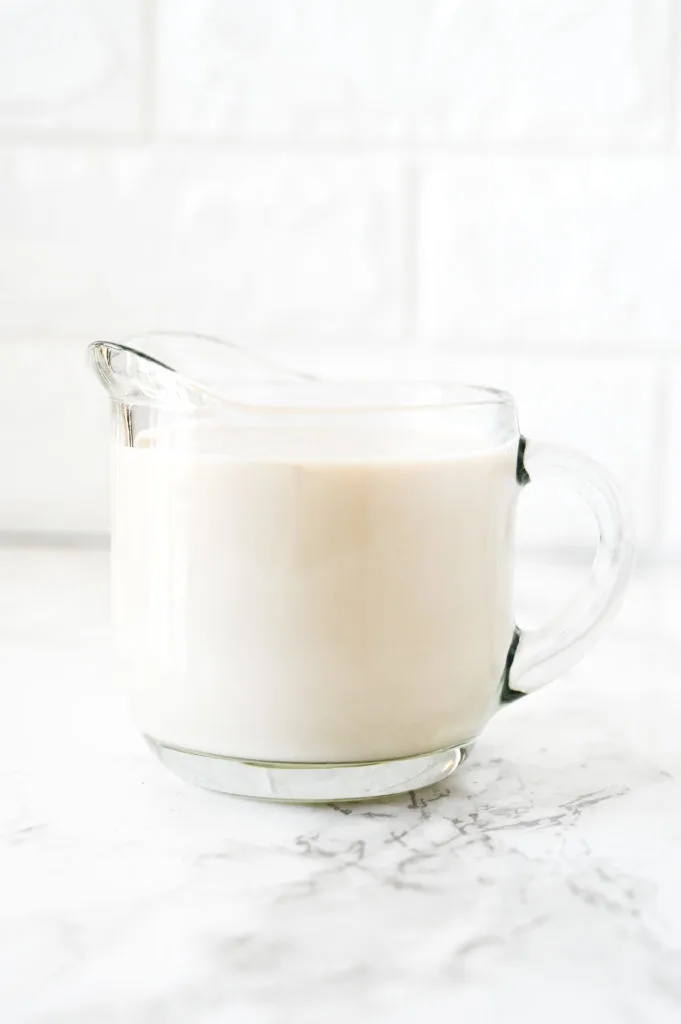 Originally, buttermilk was the liquid left behind after churning butter out of cultured cream.
Traditionally, the milk was left to sit to allow the cream and milk to separate. During this time, naturally occurring lactic acid-producing bacteria in the milk fermented it. This facilitates the butter churning process.
Modern buttermilk is made by adding lactic acid bacteria to milk, which ferments it, making it tangier and thicker than regular milk.
It is often used to make biscuits, pancakes, waffles, muffins, and cakes, because it makes for a slightly more tender crumb and slightly higher rise.
I personally use oat milk buttermilk to make buttermilk biscuits without buttermilk and Irish Soda bread without buttermilk.
I also like using this to make dairy free buttermilk pancakes and dairy free buttermilk fried chicken.
If you like this dairy free buttermilk made with oat milk, you may also like my buttermilk made with almond milk.
What Kind of Oat Milk should I use to make buttermilk?
Some oat milks can be too thin to get a good buttermilk out of them. For this reason, use a full fat oat milk like Oatly and Alpro.
Can you freeze buttermilk?
Yes, you can freeze this buttermilk made from oat milk.
For ease, you can freeze buttermilk in ice cube trays until frozen, about an hour.
Once frozen, remove the cubes from the trays and place them in resealable freezer bag or freezer-safe container.
The easiest way to do this is to measure 1-2 tablespoons (depending on the size of your ice cube trays) of buttermilk into each ice cube well.
Make sure to note whether the cubes are 1 or 2 tablespoons each, so you can know how many to defrost for a recipe.
When ready to bake, let the buttermilk cubes defrost in the fridge, or melt them on the lowest power setting in your microwave.
Freeze for up to 3 months. After that, the buttermilk is still safe to use, but the quality begins to degrade.