This cinnamon roll icing is made without cream cheese and is incredibly easy to make! If you're avoiding cream cheese, I realize there is a good chance that you are avoiding dairy as well, so this recipe is made with that in mind.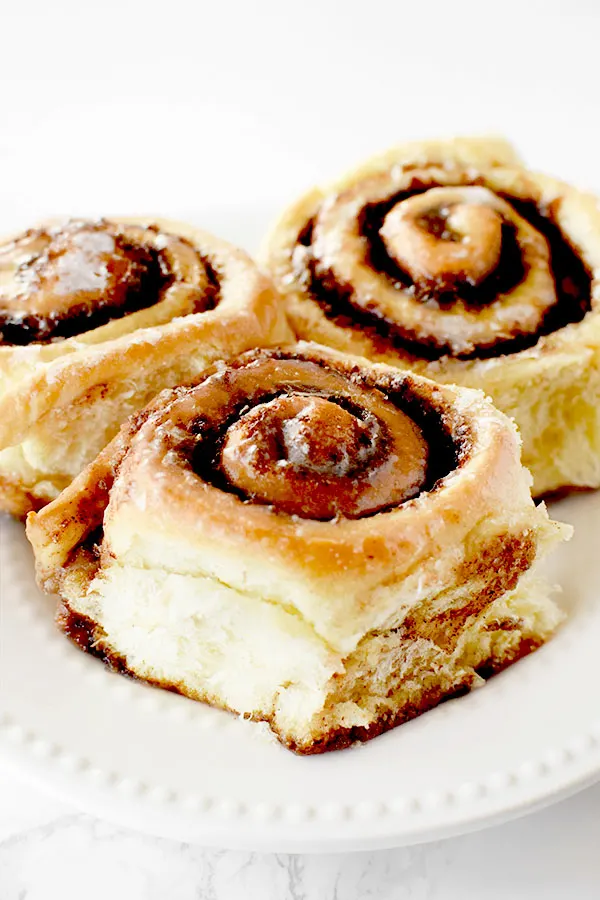 If I have one guilty pleasure, it is cinnamon rolls.
I may love them almost as much as my mom's incredible dairy free pumpkin pie, but that is a guilt free pleasure because I love it too much to feel guilt about indulging in it.
The one thing I don't love about cinnamon rolls is the icing.
Don't get me wrong, cream cheese frosting is delicious! But I don't enjoy having to make it.
Not to mention, it is not dairy free, and just about all my desserts are dairy free, and how's a girl to make dairy free cinnamon rolls with cream cheese?
So, I made this cinnamon roll icing without cream cheese and it couldn't be more perfect on the cinnamon rolls!
Is this recipe dairy free?
Yup, as long as you use dairy free milk or water.
However, if you are not dairy free, you can use regular milk.
What Kind of Dairy Free Milk should I use?
Honestly, any kind you'd like. Almond milk, oat milk, and even coconut milk all work fine here.
However, some oat milks have a strong oat flavor, so those I'd maybe recommend not using in case they give an oaty taste to your icing.
Why is water an option?
The truth is, the main thing is to have some sort of liquid to turn the powdered sugar into a syrup of sorts.
The benefit of milk is that it can lend a little opacity to make the glaze even whiter.
Why should the liquid be warm?
Warm liquid is easier to use with powdered sugar than cool liquid. It makes it smoother and more bendable and therefore requires less liquid.
Why should I wait to use the icing until the cinnamon rolls are completely cool?
The icing will react to the heat and melt it. This will give you a glaze instead of an icing.