This almond milk hot chocolate is dairy free and is perfect for when the weather turns cold and rainy or crisp and snowy. This recipe is very simple and uses cocoa instead of melted chocolate for ease.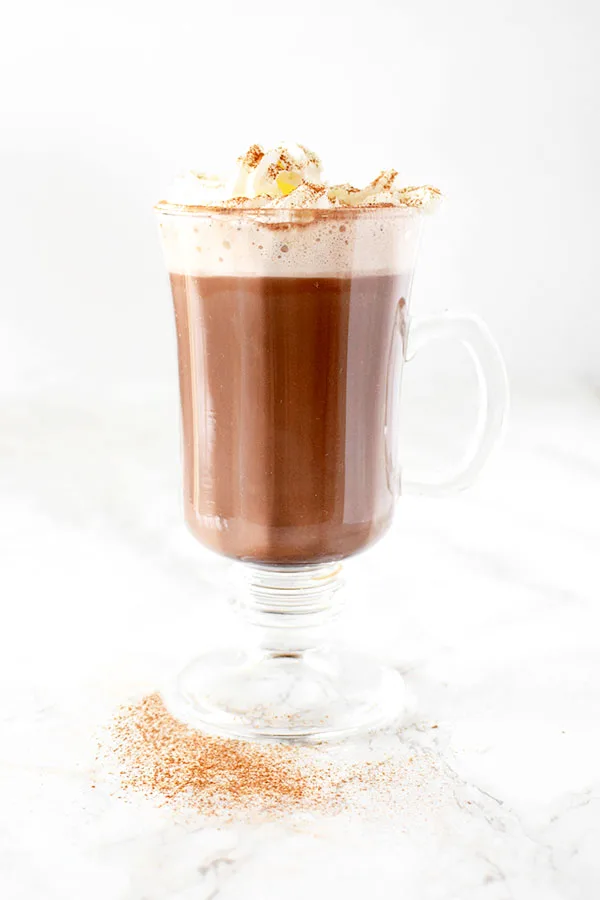 Nothing warms me up in the cold weather like a glass of hot chocolate!
Whether it is snowing in New York or raining in Israel, when the temperature drops and the weather makes me grateful to be in a nice warm house, I crave hot chocolate.
What I love about almond milk hot chocolate is that I feel less guilty about indulging in it because almond milk is very low in calories.
My first time having hot chocolate with almond milk was honestly not great. I was by a friend and the almond milk she had was thin and I found the hot chocolate tasted better cold than not.
This made me prefer my dairy free hot chocolate and hot chocolate made with oat milk.
Then, I discovered barista versions of almond milk and I fell in love!
Now, my almond milk hot chocolate is creamy and delicious while being lighter in calories, so I can indulge more often in a less guilty pleasure.
HISTORY OF HOT CHOCOLATE
The first chocolate drink was created by the Mayans around 2,500–3,000 years ago. It was served cold and made of cocoa seeds ground into a paste, then mixed with water, cornmeal, chili peppers, and more.
The Aztecs used a cocoa drink as an essential part of their culture. This version was also served cold and was said to be flavored with vanilla and other spices.
Europeans' first recorded contact with chocolate wasn't until 1502, on Columbus's fourth voyage.
Later, Spaniards came the New World in what is now Mexico where they were introduced to the chocolate drink. They brought the drink back to Europe where it became extremely popular with the upper class.
At the time, chocolate was very expensive because the beans were grown in South America and imported to Europe.
In fact, it was so expensive that cocoa was even given as a dowry when members of the Spanish Royal Family married other European aristocrats.
By the 1600s, sugar was added and cocoa was considered a luxury item among the nobility throughout Europe. At the time, spices were still a common addition to the drink and they soon found adding milk made it more palatable.
The aristocratic nature of the drink led to chocolate being referred to as "the drink of the gods." Even when it became a little more accessible to the masses when the first Chocolate House was opened in 1657, chocolate was still very expensive.
Hot chocolate has even been used as medicine until the 1800s.
They may have been onto something though, since today, there is discussion about its abundance of antioxidants.
WHAT TYPE OF COCOA TO USE
For most other recipes, including this one, always use unsweetened cocoa powder. This allows you to have better control of the sweetness of what you're making. There are three basic forms of unsweetened cocoa powder.
NATURAL COCOA POWDER
Natural powder is your regular cocoa powder found in stores. It comes from from roasted cocoa beans and is acidic and bitter, with a very strong and concentrated chocolate flavor.
DUTCH-PROCESS COCOA POWDER
Dutch-process cocoa powder starts with cocoa beans that have been washed in potassium carbonate which neutralizes their acidity. It can also be used in place of natural cocoa powder in hot chocolate, sauces, frostings, ice cream, pudding, etc.
RAW CACAO POWDER
Raw cacao powder is different from natural and Dutch-process unsweetened cocoa powder. It is pure powder from the cacao bean and is not nearly as processed as both natural and Dutch-process.
You can use raw cacao powder in this recipe. However, raw cacao powder and natural cocoa powder two taste very different and will change the flavor of the recipes.
TYPES OF SUGAR
There are many different types of sugar, including white sugar, brown sugar, vanilla sugar, powdered sugar, and demerara sugar.
When a recipe (any recipe, not just mine) says "sugar" without specifying anything else, it is regular white sugar.
WHITE SUGAR
White sugar (sometimes called granulated sugar, table sugar, or white granulated sugar) is made of either beet sugar or cane sugar, which has undergone a refining process. It is the easiest to find and
most commonly used.
BROWN SUGAR
Brown sugar is white sugar with molasses added to it. It is commonly used in chocolate chip cookie recipes, and it's rare for a recipe that calls for brown sugar not to also call for white sugar as well.
When a recipe calls for "brown sugar" but doesn't specify what type (light or dark), it is referring to light brown sugar.
In my recipes, you can use whatever type of brown sugar you have on hand whether it is dark brown sugar, light brown sugar, or demerara sugar – which is very common in Israel. Just keep in mind that the flavor and color will be slightly different, depending on what you choose to use.
VANILLA SUGAR
Vanilla sugar is not very common in the States. However, it is common in Israel and parts of Europe. This is sugar that sat for an extended period of time with vanilla beans, giving it a vanilla flavor.
POWDERED SUGAR
Powdered sugar, sometimes known as confectioners' sugar, is a sugar with a powdered texture. This sugar is rarely, if ever, used for baking. Instead, it is used for dusting desserts and making frosting and icings.
In some countries, you can also find powdered vanilla sugar. It is made the exact same way regular vanilla sugar is made. However, the sugar used is powdered instead of granulated.
VANILLA EXTRACT VS VANILLA SUGAR
In my recipes, I don't specify what kind of vanilla to use. The reason for this is that in the States, vanilla extract is exclusively used while in Israel along with many European countries, vanilla sugar is common.
Why is there salt?
Salt really brings out the flavor in other things, such as sugar. If you're on a no sodium diet, you can leave it out. However, if not, it's best to add it.