These biscuits and gravy with almond milk are the classic Southern dish, and you'll never know they are dairy free! Serve for breakfast for a traditional Southern experience.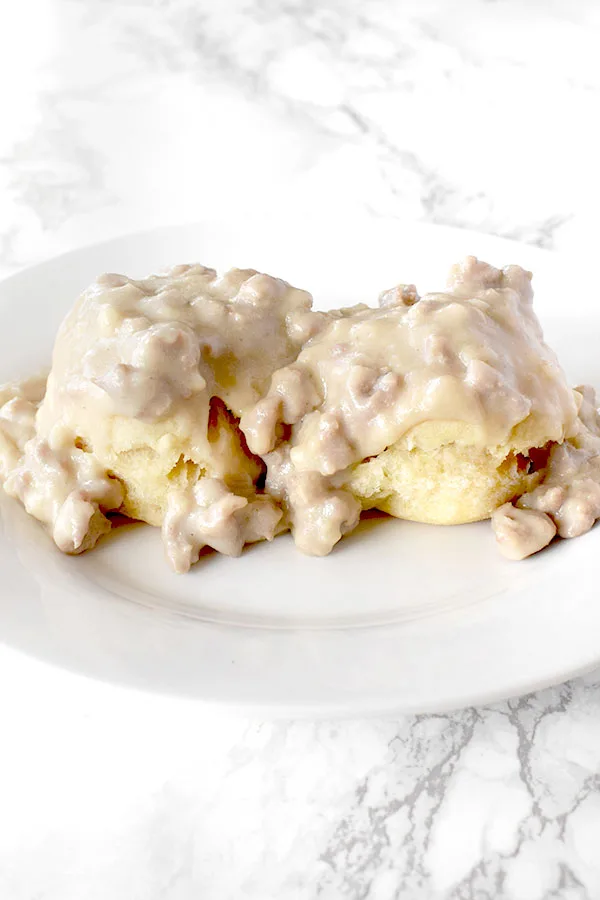 These biscuits and gravy with almond milk tastes just like regular biscuits and gravy.
In fact, the roux does a pretty good job removing any almond flavor.
Biscuits and gravy are made with either sausage or ground beef. Personally, I always make it with ground beef because it is what I always have on hand, but you can use either.
History of Biscuits and Gravy
Early European settlers in the United States brought with them a simple, easy style of cooking. It was usually based on ground wheat and warmed with gravy as a source of cheap nutrition. This was the foundation for biscuits.
The biscuit emerged as its own food in the early 1800s as a cheap addition to meals. It had the benefit of not requiring yeast.
At this point in time, bread was made only once a week. Also, yeast was a byproduct of making beer, commonly known as emptins.
So, if you lived in a city and close to a brewery you had relatively easy access to it. However, if you were not so lucky, it was either difficult to attain or you had to try to make some version of it at home.
Even once panned yeast was created by the turn of the century, it was still not easy to acquire.
Due to the lack of yeast, beaten biscuits, or sea biscuits as they are known in New England, were developed. They were similar to hardtack.
These biscuits were beaten and folded to incorporate air into the dough which expanded when heated in the oven, causing the biscuit to rise.
They were beaten for anywhere from 15 minutes to 45 minutes using a rolling pin, hammer, side of an ax, or handle of a musket.
These biscuits were eaten with gravy, and it wasn't long before Biscuits and Gravy was created. The advantage of the biscuit over a slice of bread was that biscuits are firmer, and therefore better for wiping up gravy.
Then, after the Civil War, biscuits and gravy became an actual dish because food was in short supply.
Also, a lack of money meant it had to be cheap and nutritious.
This was not unlike the early European settlers in the United States who ate ground wheat and warmed it with gravy because it was a source of cheap nutrition.
Breakfast was literally the most important meal of the day in the South for anyone facing a day of work on the plantations.
Then, with commercial baking powder becoming available in the middle of the century, it made the fluffy biscuit we know today possible. This, in turn, changed the face of biscuits and gravy to the delicious dish eaten all over the country.
WHAT IS A ROUX
A roux is equal parts flour and fat cooked together until it reaches a specific color.
It is used as a thickening agent for gravy, sauces, soups and stews and have been used in French cooking for hundreds of years to thicken sauce.
The flour is added to the melted fat or oil on the stove top, blended until smooth, and cooked to the desired color.
A roux can be white and used for country gravy, blond for classic gravies, or brown, which is used in gumbo and jambalaya.
The lighter the roux, the more thickening power it has.
Once the roux is the desired color, liquids like stock are added.
WHY USE FLOUR TO THICKEN GRAVY
I use flour to thicken gravy because it gives the gravy that classic opaque, slightly pale look.
Many people don't like using flour because if it isn't cooked long enough, it can give a floury flavor to the gravy. Also, if not made properly, it can become clumpy.
The good news is, making a smooth creamy gravy is a snap if you turn it into a roux first.
Another benefit some people see with gravy made with flour is that it keeps better in the fridge. This means it can be made ahead of time or use up leftovers.