Kasha varnishkes, or kasha varnishka is my family calls them, is a staple in Jewish-Ashkenazi cuisine.
This dish is one of the many Jewish comfort foods that exist in both Ashkenazi and Sphardic cuisine.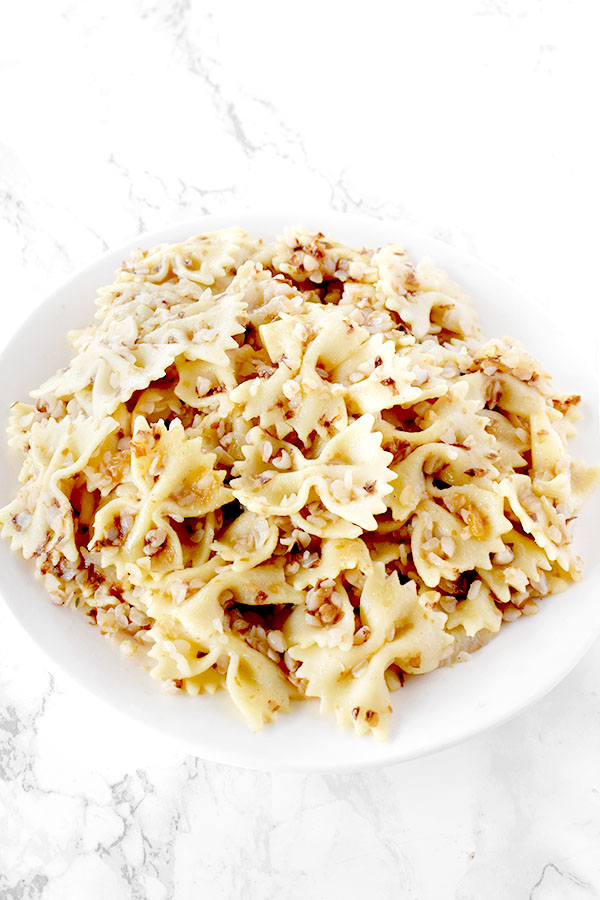 Originally, kasha varnishkes was made with homemade egg noodles and may have been stuffed with kasha (buckwheat groats).
In fact, varnishkes may be a Yiddish adaptation of the Ukrainian vareniki which are stuffed dumplings often filled with buckwheat.
When Jews from Eastern Europe brought the dish with them to America, packaged bow-tie noodles became popular.
To this day, Kasha varnishkes is very popular in the American Jewish community.
Honesty, I saw it so much that I thought it was an American dish that everyone in the States ate.
Traditionally, this dish is made using schmaltz. I am all in favor for this option, except when I want to make the dish parve.
So I've given both a fleishigs and parve options.
Mostly, water and not chicken stock is used in making kasha varnishkes, and that is how my family and have always made it as well.
However, I gave this option as well for people who'd like to use chicken stock.