These dairy free mashed potatoes are made with almond milk and olive oil. They make the perfect side to steak, fried chicken, and more.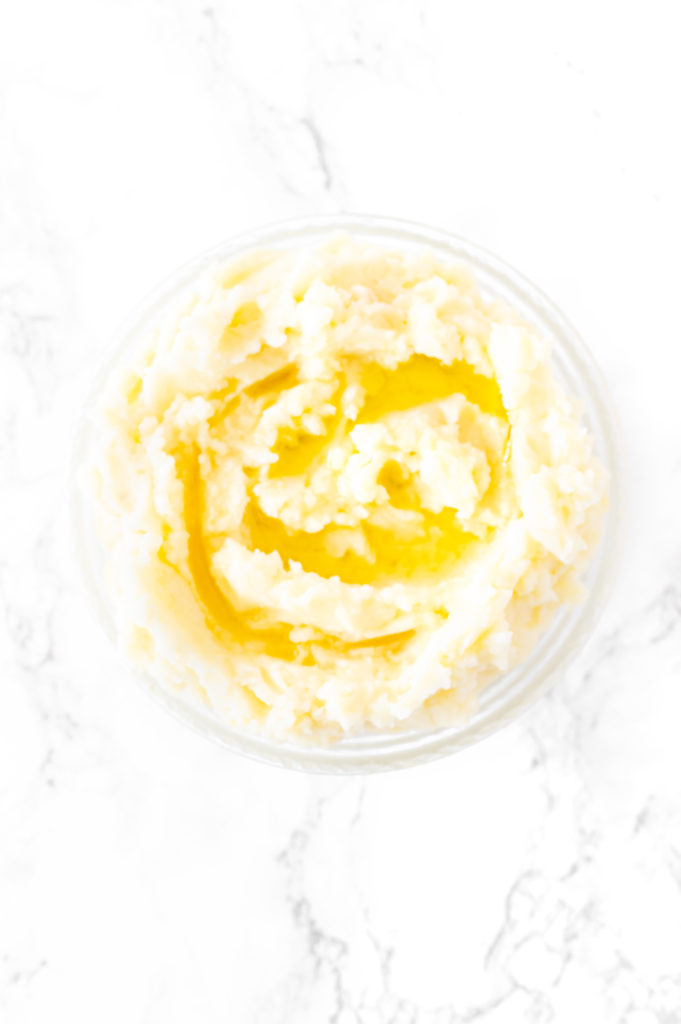 These dairy free mashed potatoes are made without milk and without butter.
Instead they use almond milk and olive oil.
Mashed potatoes go great with many dishes and are especially popular with southern dishes like fried chicken, chicken fried stead, and chicken fried chicken.
These mashed potatoes are good by themselves or with gravy or country gravy poured over them.
You can use any almond milk for these mashed potatoes but I recommend unsweetened barista styled almond milk so they are creamier.
History of Mashed Potatoes
While rice was imported into Europe since ancient times, brought from Asia by returning soldiers from Alexander the Great's military and later imported from Egypt.
Potatoes however, while commonly associated with Ireland, were brought to Europe by the Spanish the second half of the 1500's.
Potatoes became an international staple because they were cheap to grow and high in nutrition.
The first recipe for mashed potatoes first appeared in The Art of Cookery by Hannah Glasse in 1747.
Boil your Potatoes, peel them, and put them into a Sauce-pan, math them well: To two Pounds of Potatoes put a Pint of Milk, a little Salt, stir them well together, take care they don't stick to the Bottom, then take a quarter of a Pound of Butter, stir in and serve it up.
While the Art of Cookery originated in England, it was very popular in the Thirteen Colonies as well in America after the War of Independence.
In fact, Benjamin Franklin, Thomas Jefferson and George Washington all with owned copies of it.
Do Mashed Potatoes have Dairy?
They don't have to but mashed potato recipes almost always do. Most mashed potato recipes include milk, cream, butter, sour cream, and/or cheese.
Can you make mashed potatoes without milk?
Yes, you can make mashed potatoes without milk. Milk is not necessary in mashed potatoes.
You do not need milk specifically for mashed potatoes, what you really need isn't milk but a liquid.
This liquid can be a dairy free milk, starchy water from boiling the potatoes, chicken stock, or vegetable stock.
What can substitute for Milk in Mashed Potatoes?
You can substitute milk in mashed potatoes with water, coconut milk, almond milk, chicken stock, vegetable stock, and more.
How to make mashed potatoes without milk?
Making mashed potatoes without milk is easy.
Once the potatoes are cooked, simply add water, dairy free milk, or stock and mash until smooth.
Can I use almond milk in mashed potatoes?
Yes, almond milk can be used in mashed potatoes. Unsweetened barista styled almond milk is best because it is most similar to milk.
How do you make mashed potatoes without butter?
To make mashed potatoes without butter you need to substitute the fat in butter with another form of fat.
What is a substitute for butter in mashed potatoes?
Olive oil is a good substitute for butter in mashed potatoes.
Mayonnaise is also a surprisingly good substitute for butter in mashed potatoes.
Do You Peal Potatoes Before Boiling for Mashed Potatoes?
You can but you don't have to. Potatoes that have clean skin can be washed and left on.
I like leaving the skins on but I choose which way to do it based on the preferences of whoever else will be eating it.
Types of Potatoes
There are generally three types of potatoes: waxy, starchy, and those in between.
Waxy
Waxy potatoes, such as Red Bliss and fingerlings, have a smooth skin and creamy, almost shiny flesh.
Because waxy potatoes are relatively low in starch and high in moisture, they stay intact when they're cooked.
These potatoes have a nice potato flavor and hold up when boiled or baked even if sliced or cubed.
Starchy aka Floury
The most common example of starchy potato are russets aka Idaho potatoes.
As you may have guessed by their name, they're higher in starch and lower in moisture than waxy potatoes. They have matte-skinned and fall apart when boiled.
Starchy potatoes are ideal for adding creaminess to puréed soups or providing the airy, whipped texture to a mash. They are also good for roasting and frying.
In-between
These fall somewhere between the waxy and floury making them the "all-purpose" potatoes. The most commonly known of them are Yukon Golds.
Because they hold their shape when boiled, grated, or fried and yield to mashing, they're very versatile.
Best For Mashed Potatoes
Since the waxy are most flavorful but the starchy are airiest, for the ideal mashed potatoes use half and half. This is a tip I picked up from the New York Times.
However, if you could only choose one, choose the in between option like Yukon Gold.
Or if where you live you don't have any clear way to know what type of potato you have available, use whatever you have.
Water Temperature
Believe it or not, it's best to begin cooking potatoes in cold water. It doesn't have to be chilled, just the cold side from the tap.
While this may sound counter intuitive, cold water helps the potatoes cook more evenly.
Also, if it's better that way, why waste the gas and cooking time by boiling the water?
How To Store
Place in an airtight container or leave in a bowl and wrap in plastic wrap and refrigerate.