This dairy free banana smoothie with almond milk is oh so creamy and delicious! It is also super versatile if you want to add in things like peanut butter or almond butter and oats.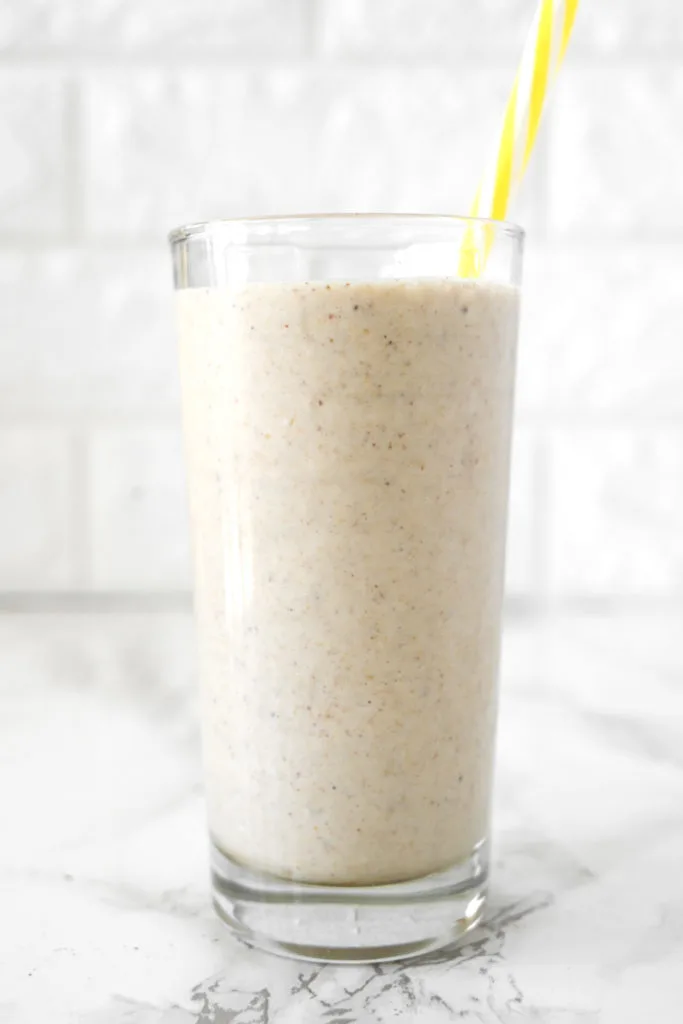 This banana smoothie with almond milk is so creamy and oh so perfect for hot summer days!
I love how refreshing and adaptable this smoothie is!
This smoothie is great just as a basic banana smoothie, but I really enjoy putting in the optional additions.
If you choose to add oats, voila! You have a breakfast banana smoothie with almond milk.
If you add peanut butter to your banana smoothie, you have a peanut butter banana smoothie.
If you add both peanut butter and oats, you'll get a peanut butter banana breakfast smoothie.
You can also always trade out the peanut butter for almond butter if you want a more pronounced almond flavor.
If you like this banana smoothie with almond milk, you may also like my strawberry smoothie with almond milk and my strawberry banana smoothie with almond milk.
You may also like my banana smoothie with oat milk.
Do Smoothies have Dairy?
Smoothies don't have to, but they usually contain dairy because they usually are made with milk and/or yogurt.
What Type of Almond Milk should I use?
Any almond milk will work. I personally prefer unsweetened barista almond milks, but really anything will work just fine.
What Type of Dairy Free Yogurt Should I use?
You should use a neutral or vanilla flavored dairy free yogurt.
Yogurt made from soy, almonds, coconut, and oats all will work fine here.
What if I don't have or want yogurt in my smoothie?
The yogurt makes the smoothie creamy, but it can easily be left out if you prefer.
All you have to do is switch the yogurt out for more almond milk.
How To Freeze Fruit For Smoothies
To make smoothies even easier, freeze fresh fruit into portions.
To freeze bananas for smoothies, peel the bananas and cut them into round disks.
Arrange, in one layer, on a parchment paper-lined baking sheet. Slide the baking sheet into the freezer and freeze until hard (two to three hours).
When the bananas are hard, divide it between freezer-safe bags and keep it in the freezer for your next smoothie.
If you'd prefer the lazy way, I often just stick a full banana into a freezer safe bag and blend it whole.
Banana Smoothie Variations
If you're looking for a plain banana smoothie, this recipe alone is delicious. However, I've given a list of optional additions if you'd like.
Add the listed amount of peanut butter for a peanut butter banana smoothie.
Add oats to make this banana smoothie a breakfast banana smoothie.
Or, you can add both oats and peanut butter to make a peanut butter banana breakfast smoothie.
If you don't use extremely ripe bananas (or over ripe bananas), you may not find it sweet enough, which is where the honey comes in.
Oh, and if you prefer to use almond butter to go with your almond milk, no problem! Just use the same amount as is instructed with the peanut butter.
Make Ahead of Time
You can easily make this recipe ahead of time.
All you have to do is put the bananas, yogurt, and anything else you want in the blender – except oats, if you plan on using them.
Blend it up until it is nice and smooth. Then, pour the smoothie into a freezer safe resealable bag.
Once you're ready to use the smoothie, let it sit out until it's defrosted enough to put into the blender.
Place the smoothie in the blender, add the milk and oats, if desired, then blend until smooth again. Once it has a nice pourable consistency, put it in a cup, and serve.