Dairy Free Chocolate ganache is easy to make and is perfect for frosting or glaze for dairy free cakes and dairy free cupcakes.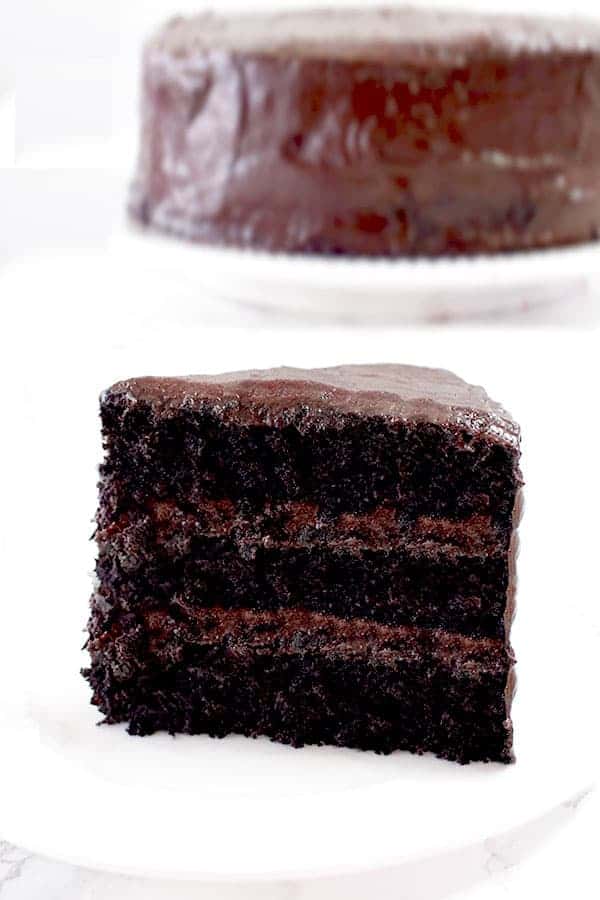 Chocolate ganache is used for decorating cakes, the chocolate on top of eclairs, and Boston cream pie or donuts.
While it may seem intimidating, chocolate ganache is actually very easy to make.
You have four types of chocolate ganache depending on your need.
Chocolate ganache for Truffles
Chocolate ganache for truffles is much thicker than what you'd use for frosting.
You make this type by using a 2:1 ratio of chocolate and heavy cream.
So, 2 parts chocolate, one part heavy cream. Meaning, 8 ounces of chocolate and 4 ounces of heavy cream.
Chocolate Ganache for a Glaze
A chocolate ganache frosting is a thick rich ganache that can be used for layered cakes or cupcakes.
This is 1:1 ratio chocolate and heavy cream. So, 4 ounces of chocolate and ounces of heavy cream.
Chocolate Ganache for Pouring or Dipping
This is commonly used on Boston Cream Pie and Boston cream doughnuts.
It is a 1:2 ratio of chocolate to cream. So, 1 part chocolate, and two parts cream or 4 ounces of chocolate and 8 ounces of cream.
Whipped Chocolate Ganache
Whipped chocolage ganache is wonderful for a frosting or filling to a cake or cupcakes.
You make this by letting the chocolate ganache cool to room temperature, which can take a couple of hours. Then, you whip it up until it's light and airy.
At this point it can be spread or piped.
Other Liquids
You don't have to use coconut cream (in place of heavy cream). You can really use any type of liquid including dairy free milks and even coffee.
What you need to keep in mind is that the ratio of liquid to chocolate will be different. You'll need to eyeball this.
How to Fix Chocolate Ganache that is too Liquidy
This is a really easy fix. Just add more chocolate to balance out the liquid.
How to Fix Under Melted chocolate
Just pop it in the microwave for 10 or 15 seconds. Then remove and mix.
Can I make Chocolate Ganache In the Microwave?
Yes. All you need to do is pour the cream over the chocolate and pop it into the microwave for a minute at a time.
Mix in between each time it is put back into the microwave for a minute. This should take only a few minutes.
SNAFU
The first time I tried to make dairy free whipped chocolate ganache, I didn't let it cool enough and then couldn't get it to whip up.
To fix this I added dairy free pudding mix until it was stable and turned it into a frosting.