Yerushalmi kugel, also known as Jerusalem kugel, is a classic Israeli Shabbos dish. It is noodle pudding made with caramelized sugar and seasoned with black pepper, making it both sweet and spicy.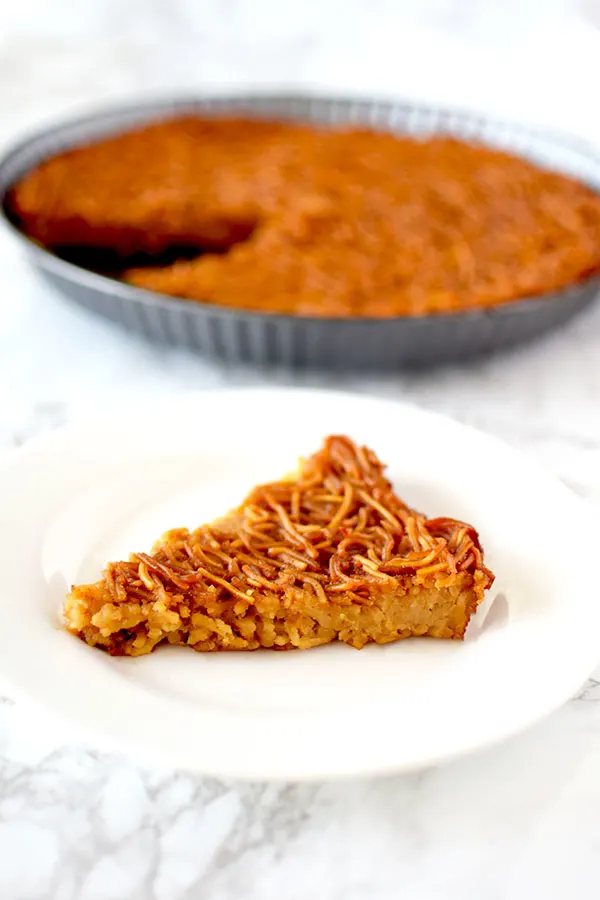 Yerushalmi kugel is a very popular Israeli Shabbos dish.
This noodle kugel originated in Jerusalem in the late 19th century, but nowadays you can find it anywhere in the country.
It is not uncommon to see it sold Friday mornings in Israeli bakeries along side rugelach, babka, and other goodies.
Like other kugels, Yerushalmi kugel is typically served Shabbos or holiday mornings at kiddushes.
It's often found on family tables and I've never been to an Israeli community kiddush where there weren't plates of it.
To be honest, I am not much of a kugel fan, but I love Yerushalmi kugel!
It has been my favorite kiddush food since I was a child; and now as an adult, it takes all my willpower to only eat one or two pieces.
I just love the caramel sweetness and the spiciness brought by the pepper.
What are other kugels I can serve with this?
Potato is the next most popular in Israel, but I am partial to my mom's broccoli kugel.
Can I use other noodles?
Yes. It is becoming increasingly popular to make these with spaghetti.
Understanding Sugar
Sugar may seem very basic if you've baked before, but I've been asked about it in the past – so I'll explain.
There are many different types of sugar, including white sugar, brown sugar, vanilla sugar, powdered sugar, turbinado sugar, and demerara sugar.
When a recipe (any recipe, not just mine) says "sugar" without specifying anything else, it is regular white sugar.
White Sugar
White sugar (sometimes called granulated sugar, table sugar, or white granulated sugar) is made of either beet sugar or cane sugar, which has undergone a refining process.
It is the easiest to find and most commonly used.
Brown Sugar
Brown sugar is white sugar with molasses added to it.
It is commonly used in chocolate chip cookie recipes, and it's rare for a recipe that calls for brown sugar not to also call for white sugar as well.
When a recipe calls for "brown sugar" but doesn't specify what type (light or dark), it is referring to light brown sugar.
In my recipes, you can use whatever type of brown sugar you have on hand, whether it is dark brown sugar, light brown sugar, or demerara sugar – which is very common in Israel.
Just keep in mind that the flavor and color will be slightly different, depending on what you choose to use.
Turbinado Sugar
Turbinado sugar is better known as "raw sugar". But, despite this name, the sugar is not really "raw."
Instead, it's partially refined sugar that retains some of the original molasses.
The term "raw sugar" may also give off the impression that it is somehow healthier.
In reality, turbinado sugar is nutritionally similar to white sugar.
Demerara Sugar
Demerara sugar is very popular in Israel and is especially delicious in tea, but is also used for baking.
Unlike white sugar, demerara sugar undergoes minimal processing and retains some vitamins and mineral.
However, it is still not much healthier than white sugar.
Vanilla Sugar
Vanilla sugar is not very common in the States. However, it is common in Israel and parts of Europe.
This is sugar that sat for an extended period of time with vanilla beans, giving it a vanilla flavor.
Caster Sugar
This type of sugar is common in the United Kingdom.
It has a grain finer than white (granulated) sugar and larger than powdered sugar.
Caster sugar is often called for in recipes for delicate baked goods like meringues, souffles, and sponge cakes.
You can use a 1:1 conversion rate between caster sugar and white (granulated) sugar.
Powdered sugar
Powdered sugar, sometimes known as confectioners' sugar, is a sugar with a powdered texture.
This sugar is rarely, if ever, used for baking. Instead, it is used for dusting desserts and making frosting and icings.
In some countries, you can also find powdered vanilla sugar.
It is made the exact same way regular vanilla sugar is made. However, the sugar used is powdered instead of granulated.
Vanilla Extract vs Vanilla sugar
In my recipes, I don't specify what kind of vanilla to use.
The reason for this is that in the States, vanilla extract is exclusively used.
Meanwhile in Israel, along with many European countries, vanilla sugar is common.
In most, if not all recipes, both vanilla extract and vanilla sugar can be used.
In recipes where vanilla sugar can be used instead of extract, you can replace them 1:1.
Replacing Sugar with Honey
If you'd prefer to use honey instead of sugar, you can do so with pretty good results.
Honey can be two or even three times as sweet depending on the honey, so for every 1 cup of sugar, you can use 1/2 to 2/3 cup honey.
Since honey adds liquid, you need to remove some to balance it out. For every cup of honey, remove a 1/4 cup of liquid.
Also, it burns faster than granulated sugar, so you want to lower the baking temperature by 25 F or 14 C. In addition, check it early and often to avoid burning or overbaking.
How to Store
Let cool completely. Wrap with plastic wrap or foil, or place in an airtight container or resealable plastic bag. Refrigerate for 3 to 5 days.
TROUBLESHOOTING
WHY IS IT TAKING LONGER THAN DESCRIBED TO BAKE?
Over time, the thermostat on ovens gets a little off, causing some ovens to run hot and others to run cool. This is why recipes tend to say things like "10 to 15 minutes or until golden brown." So, if it takes you longer than expected that's fine, don't worry about it. Just keep baking until ready.
WHY DID MY RECIPE COME OUT TOO DRY?
Just like some ovens run cool, others run hot. If your oven runs hot, bake these at a lower temperature. Ideally, you should get an oven thermometer to know what temperature you're really baking at.
Recipe Tip:
Do not use cool or mushy noodles, it will make this recipe much harder to make.