Broccoli Kugel is a traditional Jewish casserole which is popularly served on Shabbos and holidays. This dish is inherently dairy free, since it uses broccoli and eggs as its main ingredients.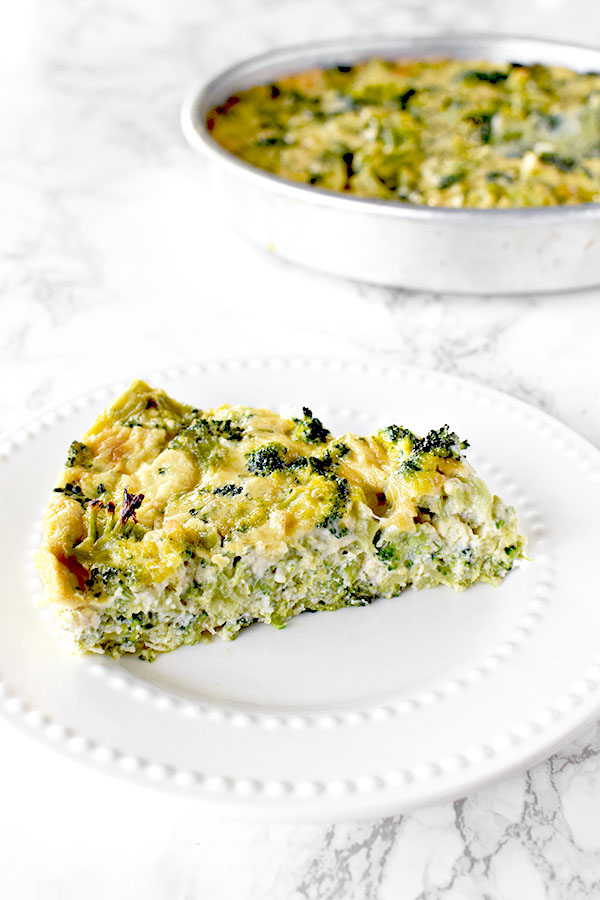 Broccoli kugel is essentially a broccoli casserole.
Like other kugels, it is served on Shabbos and religious holidays as a sort of side.
Personally, I've most often seen it served at kaddishes hosted in Shul – a sort of brunch held on Shabbos and holidays.
Kugels as a whole originated with Ashkenazi Jewish.
Ashkenazi Jews, generally speaking, are Jews who originated in Europe rather than the Middle East who are known as Sfardi.
Like the Ashkenazi tradition itself, Kugel originated in Germany hundreds of years ago and spread across Europe and eventually into the Americas.
This recipe was given to me by my mom.
Her broccoli kugel is the best I've ever tasted and is the only one I'll even eat.
I find most kugels to be lacking in flavor so I avoid them.
Honestly, I just don't see most of kugels as worth the calories.
My mom's, on the other hand, is filled with an incredible savory flavor which I can't seem to get enough of.
Types of Kugel
There are many different types of kugel.
The three most popular kugels are potato kugel, noodle (lokshen) kugel, and Yerushalmi (Jerusalem) kugel.
Personally, my favorite is Yerusalmi kugel. But, when I want something more savory, my go-to kugel is broccoli.
Kugel vs quiche and firttata
While Broccoli kugel may look like a broccoli quiche or a broccoli frittata, it isn't.
Unlike a quiche, kugel doesn't have a crust and broccoli kugel doesn't include cheese.
As for a frittata, kugels are baked rather than fried. Frittatas are actually more similar to an omlet than a kugel.
CAN FROZEN BROCCOLI BE USED?
Yup. When I don't have fresh broccoli on hand, I defrost a bag of frozen broccoli from the freezer and use that.
TROUBLESHOOTING
WHY IS IT TAKING LONGER THAN DESCRIBED TO BAKE?
Over time, the thermostat on ovens gets a little off, causing some ovens to run hot and others to run cool.
This is why recipes tend to say things like "10 to 15 minutes or until golden brown."
So, if it takes you longer than expected, that's fine, don't worry about it. Just keep baking until ready.
WHY DID MY RECIPE COME OUT TOO DRY?
Just like some ovens run cool, others run hot. If your oven runs hot, bake these at a lower temperature.
Ideally, you should get an oven thermometer to know what temperature you're really baking at.
How to store
Once it has cooled, cover well with tinfoil or plastic wrap. Store in the fridge for up to five days.
After that, it may still be good to eat, but the quality will begin to degrade.
How to freeze
Store in an airtight container or resealable freezer bag.
If you plan to eat it slice at a time, I recommend slicing it prior to freezing and store them in individual bags.
Store for up to 3 months in the freezer.
how to reheat
Remove from freezer and allow for thaw.
Reheat in the microwave or the oven.
The microwave is faster, but it may come out a bit soggy so I recommend using the oven.
Equipment
Frying pan
Mixing bowl
Spatula
Baking pan – 9 inch round