These overnight oats with almond milk are absolutely delicious and a great, easy, healthy, and customizable make ahead breakfast!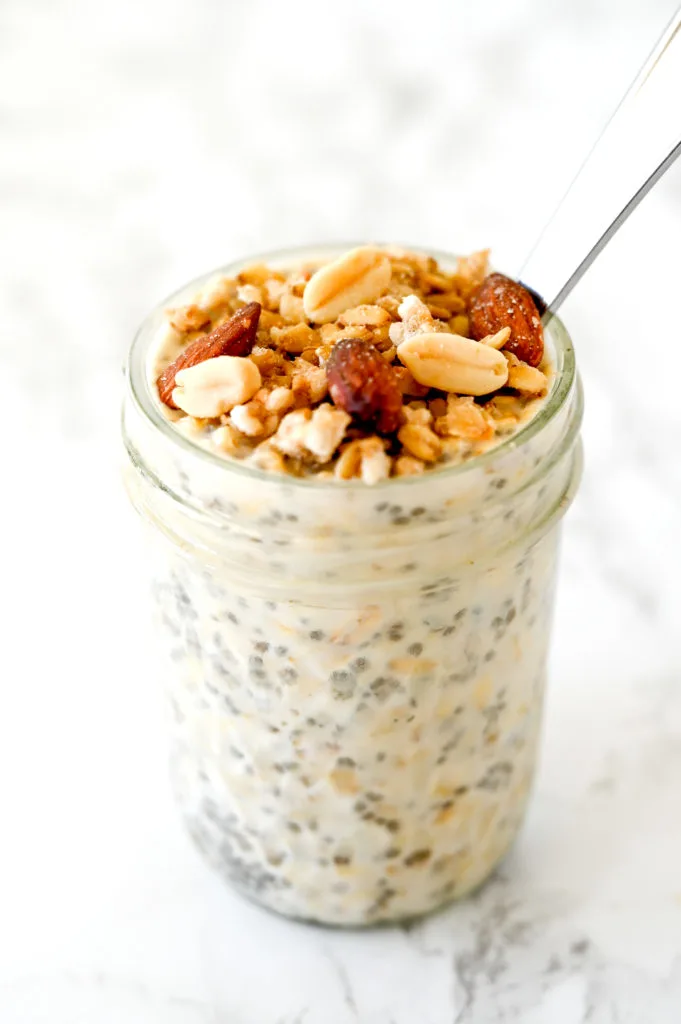 Overnight oats are one of my favorite go to healthy breakfasts. I love that you can make it the night before and just grab it and go in the morning.
Personally, I like them even better than chia pudding with almond milk, which is also pretty darn good if you ask me – especially chocolate chia pudding with almond milk… mmmm!
If you've never had overnight oats before, it's basically a no cook method of making oatmeal.
Instead of cooking oatmeal, you soak the raw oats with milk. This allows the oats to absorb the liquid and soften them enough to eat uncooked.
You only need to let the oats soak and rest in the fridge for 2 hours, but ideally you let them soak overnight. Hence the name.
The next morning you have an easy convenient breakfast that has a creamier texture than regular oatmeal.
The creamy texture is in large part due to the chia seeds, which is probably why they are called for in every recipe I've ever seen.
However, the yogurt also adds a lot of creaminess to the overnight oats, so I wouldn't skip it unless you don't have it on hand – which has happened to me before and it was still delicious without it.
I do enjoy this basic recipe for overnight oats with almond milk and adding some granola or muesli just before I eat it so there is a variety of texture and flavor.
However, you can mix in all kinds of things. Fresh fruit, dried fruits, nuts, chocolate, and more. Really, anything you want.
Are overnight oats dairy free?
Typically, no. Overnight oats usually are made with milk or yogurt and is therefore dairy. This recipe is dairy free since it uses almond milk and dairy free yogurt.
What Almond milk should I use?
Whatever almond milk you prefer would work, though I'd recommend an unsweetened almond milk.
Personally, I prefer unsweetened barista almond milk to add extra creaminess. This is extra necessary if you are leaving out the yogurt.
What kind of dairy free yogurt should I use?
A regular or vanilla flavored yogurt works best here, unless you want to add a mild fruit flavor to your overnight oats.
Yogurts made from almond milk, oat milk, coconut milk, and soy milk all work fine. The yogurt is to add creaminess to the overnight oats.
Do I have to use yogurt?
Nope. I leave it out when I'm out of yogurt but still want overnight oats.
However, it is going to be less creamy.
Do I have to use chia seeds?
You don't, but they add a pudding-like texture.
This may be less noticeable if you have the yogurt, but it will be very noticeable if you don't have yogurt or chia seeds.
Can I leave out the yogurt and chia seeds?
Only if you don't mind the idea of oats sitting in almond milk. Personally, I wouldn't.
Make Ahead
I like making overnight oats the night before, as the name indicates. However, you can also make overnight oats up to a few days before you're going to eat it. This is great for meal prep.
How to Store
Overnight oats will keep for up to 4 days in the fridge.
If you have fruit toppings or fruit mix-ins, eat within 3 days, as the fruit is likely to go bad first.
For Freezing
Yes, you can freeze overnight oats.
Place in a freezer safe container. You can keep overnight oats for several months in the freezer.