This kosher for passover pudding is the perfect dessert or snack since it is easy to make from scratch at home and absolutely rich and delicious!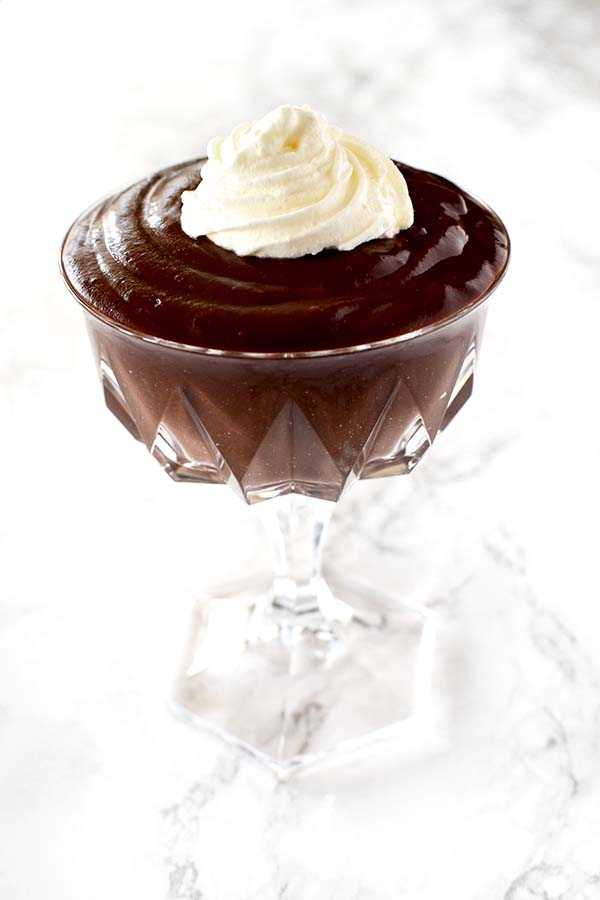 When I was creating this recipe I was pleasantly surprised how much it tasted like an Israeli Milky.
If you've never had a milky you're missing you! It is a rich chocolaty pudding cup topped with whipped cream.
So, if you're looking for a kosher for passover chocolate pudding, look no further!
Can I Make it with water?
Technically speaking yes, however please don't.
When creating this recipe I tested making it with water and I didn't love the results at all.
What dairy free milk should I use?
Since this recipe is kosher for Passover, it goes without saying that the dairy free milk has to be marked as such.
This excludes (mild flavored) oat milk which is my favorite dairy free alternative (in Israel this is only Oatly – which can be found at Yochananof).
That pretty much leaves coconut milk and almond milk (again, marked kosher for Passover – if you think reiterating this is unnecessary you'd be amazed at the emails I get!).
Almond milk has a very thin consistency so I prefer coconut milk.
And by coconut milk I mean, coconut milk not coconut drink.
You can use coconut cream too if that is what you have on hand, but you may want to thin it out a little with water first.