Southern fried chicken wings are the bite-sized snack or finger food version of classic southern fried chicken. This recipe originally comes from Georgia and is the best fried chicken I've ever had.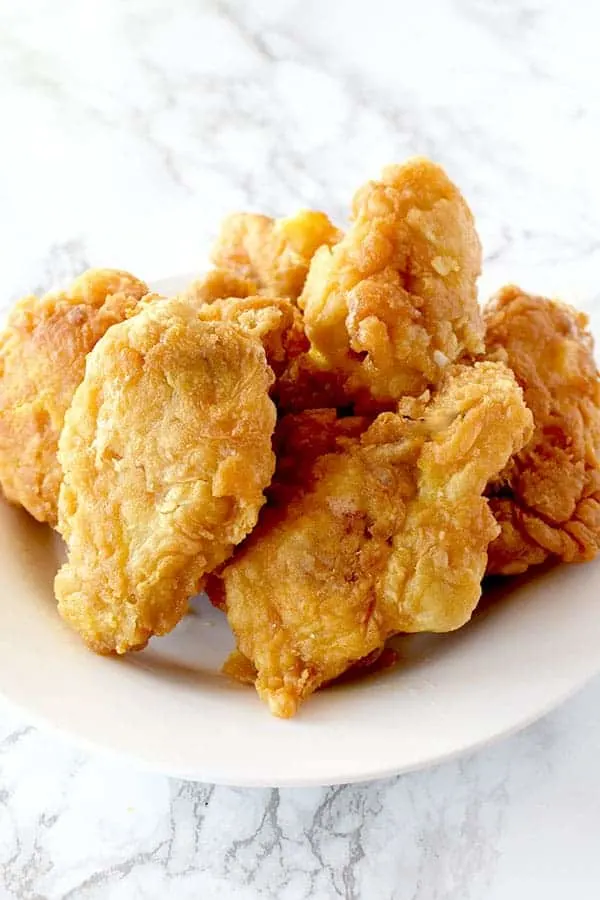 I've been obsessed with fried chicken since making my fried chicken without buttermilk recipe.
I've had fried chicken from restaurants before, but to be honest, it wasn't great.
Now I'll only eat homemade fried chicken and I have a long list of types to try like Maryland Fried Chicken.
The first one I tried was southern fried chicken wings.
I happened to have chicken wings around, and since I love southern fried chicken….
In general, I find wings a little annoying to eat, but these defied expectation.
As soon as they cooled enough to touch, I devoured them one after another.
By the time I was done, there was nothing left but a pile of bones I discreetly gave to the cat.
Needless to say, these chicken wings are my new favorite finger food!
It's also perfect as a southern inspired appetizer or a non-spicy snack for a Superbowl party.
Or, you know, just make a bunch and have it all for yourself [insert evil laugh and plotting hand gestures].
What's the difference between Southern fried chicken and fried chicken?
There is no difference – both fried chicken and Southern fried chicken refer to the same food.
HOW TO DREDGE CHICKEN
Double Handed
Use one hand to dip the chicken in the egg and the other to roll it in flour.
By using both hands, you avoid getting thick layers of batter on your fingers known as "club hand."
The worst part of it is that when you touch the chicken, it will pull off the flour, leaving bald spots.
Bag Technique
Place the flour in a bag. For the first layer, you can throw in a bunch of pieces together.
Then, shake them off and dip each piece in one by one.
Let the excess egg drip off and then recoat with flour one at a time in the bag.
Shake off any excess flour and fry.
A WORD ON OIL
When frying chicken, the temperature of the oil is important. If it's too cold, the chicken will be oily.
On the other hand, if the oil is too hot, the crust will fall off.
With a thermometer, it should be about 350°F or 175°C to 375°F or 190°C degrees.
If you don't have a thermometer, when the oil seems hot, drop a little flour into the oil. If the flour sizzles and floats on the top, it's hot enough.
To make sure it's not too hot, keep it around medium-low and adjust as needed.
Gluten Free Option
For a gluten free alternative, use corn starch or potato starch instead of flour. They both fry very nicely.
IS KOSHER CHICKEN BETTER?
Yes and no.
It is not necessarily healthier as far as bacteria is concerned, since bacteria can only safely be killed with heat.
What is better is the quality of the chicken.
The salting process used to remove blood, as part of the koshering process, is believed to provide better quality meat.
It creates a sort of quick dry brine.
Also, kosher animals are kept in better conditions than nonkosher animals, due to strict kosher health requirements of the animals. They are also killed in arguably more humane conditions.
While I've only eaten kosher meat (so I cannot compare), I've been told by non-Jews who do not keep kosher that they've noticed that kosher chicken is of superior quality to cook with.
SHOULD YOU WASH CHICKEN?
According to the USDA, you should not wash chicken or meat, because washing it spreads bacteria throughout the kitchen.
Water can splash bacteria up to 3 feet surrounding your sink, including onto counter tops, other food, towels, and you (i.e. cross contamination).
A study done by Drexel University shows that it is best to move meat and poultry directly from package to pan. The heat from cooking will kill any bacteria that may be present.
One exception would be if there are bone fragments or residue from giblets, as in a roasting chicken. In that case, feel free to rinse if you like. However, make sure you wipe down your sink afterwards.
HOW CAN I CLEAN MY CHICKEN WITHOUT WASHING IT?
If you want to clean your chicken without washing it, wipe it down with a wet paper towel. This will remove anything other than bacteria.
Just make sure the paper towel doesn't touch anything else and to toss the paper towel right away.
HOW TO DEFROST CHICKEN
IN THE FRIDGE
This method is the most highly recommended. Chicken typically takes a full day to thaw. Once thawed, the poultry can remain in the refrigerator for a day or two before cooking.
IN COLD WATER
This should take two to three hours. Submerge your sealed chicken in a pot or bowl full of cold water. Change out the water every 30 minutes or so.
Do not use warm or hot water. It is unhealthy to do so, can start cooking your chicken, and doesn't do so evenly.
COOK IT FROZEN
According to the USDA, you can cook frozen chicken. It will take 50% longer to cook, but it's an option. You should also cook it on a roasting rack or over vegetables, so the heat can circulate around the chicken.
IS IT SAFE TO REFREEZE RAW CHICKEN
If you have extra raw chicken that you didn't use but want to refreeze, you can, as long as it was thawed in the fridge.
According to the USDA, "food thawed in the refrigerator is safe to refreeze without cooking." However, you do lose quality when refreezing previously defrosted meat.
Every time you defrost meat, it loses moisture through thawing, which also leads to a loss in flavor. To compensate for this, marinate the meat to add more flavor and juice."
The USDA also says not to "refreeze any foods left outside the refrigerator longer than 2 hours; 1 hour in temperatures above 90 °F."
SHOULD YOU BRINE?
No. Brining actually doesn't do anything to help poultry. In fact, it makes it soggy rather than juicy, with watered down flavor.
Aromatic brines and stock don't help with flavor either. This is because the salt pulls water molecules in, leaving most of the flavor behind.
DRY BRINING
A dry brine loosens up muscle fibers, allowing them to retain more moisture without adding any excess liquid.
Initially, the salt draws moisture out, then it dissolves in this liquid, creating a concentrated brine, which eventually gets reabsorbed. This leads to more intensely flavored results.
An added benefit is that it also requires less space and mess than a water brine. Not to mention the fact that it allows for crispier skin.
CAN YOU DRY BRINE KOSHER POULTRY AND MEAT?
Yes. Food experts are often under the impression that kosher meat and poultry cannot be brined and dry brined.
This is because of the koshering process, which involves salting the meat to remove the blood. However, the process is not nearly as long as the dry brining process, and unlike a dry brine, the poultry is soaked to remove the salt.
So, since the process is quite different than a dry brine, it is fine and even recommended to dry brine kosher poultry and meat.
HOW TO STORE CHICKEN
Place cooled chicken in an airtight container or wrap in heavy-duty aluminum foil or plastic wrap. Store in the fridge for up to 4 days.
HOW TO FREEZE CHICKEN
Freeze leftovers within 3-4 days. Place cooled chicken in an airtight container or resealable freezer bag.
Freeze for up to 4 months. After that, it is safe to eat. However, the quality begins to degrade.
HOW TO REHEAT
For best results, heat in the oven or easy fryer. The fryer gives the best results, but it is also more likely to break the crust exterior.
SOUTHERN FRIED CHICKEN WINGS TIP:
Make sure that the oil you are cooking with is hot enough, but not crazy hot.
If it is not hot enough, the outside layer will be extra oily and fall off.
Likewise, if it is too hot, the outer layer will fall off, but instead of being too oily, it will burn.
Instead of dredging the pieces in flour, place them all in a gallon sized resealable bag and shake.