Sweet cornbread muffins are the Northern counterpart of Southern savory cornbread muffins. While not as popular as those in the South, these sweet cornbread muffins can still be enjoyed all year round.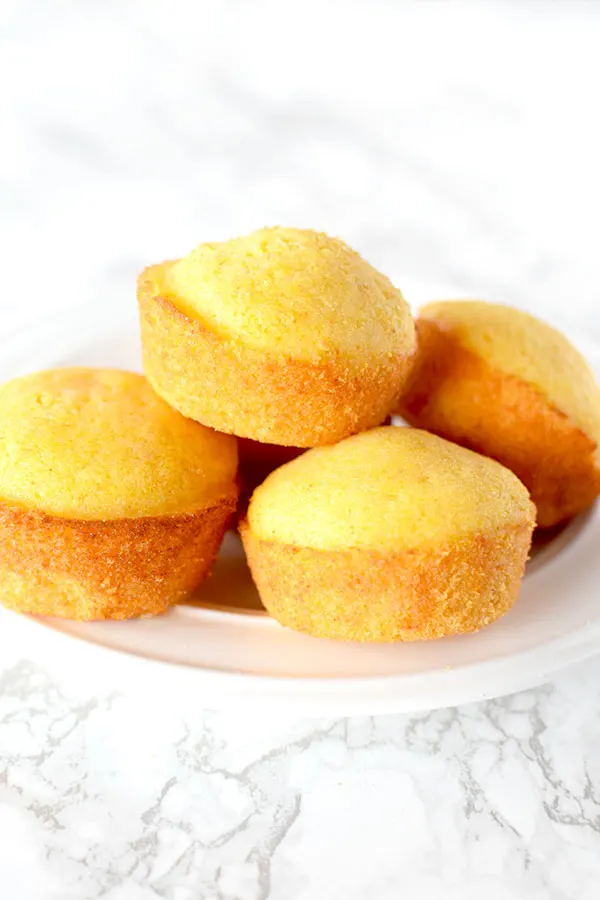 Sweet cornbread muffins are the state muffin of Massachusetts.
Since they are a staple of New England cooking, school children petitioned and the Legislature made it official on May 27, 1986.
I'm not from New England, so my family never had cornbread around much, but I've always liked it.
I discovered later that there was a difference between New England cornbread and Southern cornbread, which is savory and is eaten as a side dish in the South.
This made me start wondering how sweet cornbread was supposed to be eaten.
At least sweet cornbread muffins are a given, since muffins are a breakfast food.
However, Southern cornbread muffins are a side dish.
I also like to serve both sweet and southern cornbread muffins in a basket on my Thanksgiving table the same way I do dinner rolls.
Now, I wonder if I should only be serving Southern cornbread muffins that way… feel free to comment what you think.
Either way, what I like most about cornbread muffins is that they are already in individual servings.
This way, I don't need to cut them up and worry about crumbs getting everywhere.
I just pop them out of the muffin pan and they are ready to be served. This is the same reason I am a huge fan of cloverleaf rolls.
Really, I'm a fan of anything that makes big family gatherings like Thanksgiving easier.
Some of the links below are affiliate links, which means that if you choose to make a purchase, I will earn a small commission at no additional cost to you. 10% of all profits are donated to charity.
Dry measuring cups and spoons
Liquid measuring cup
Whisk
Rubber spatula
Ladle
Mixing bowl
Standard 12-cup muffin tin
Cooling rack
MUFFINS VS CUPCAKES
You may be surprised to learn that the difference between muffins and cupcakes is actually up for debate. In fact, every time I make muffins, my family argues about what makes a muffin a muffin and a cupcake a cupcake.
I used to think that muffins are very large and much denser than cupcakes, but I've also had muffins that weren't as big or heavy.
So, what makes a muffin a muffin and a cupcake a cupcake? Frosting. Yup, that is the only consistent difference. Cupcakes have frosting and muffins don't.
I also read that muffins have a quick bread type of batter, whereas cupcakes use cake batter. While this makes sense, I've seen all kinds of batters used for cupcakes, so I'm not sure I buy it.
QUICK BREADS VS YEAST BREADS
When I think of bread, I think of white bread, dinner rolls, and the like. You know, traditional yeast breads that have dough and you have to let rise twice.
Then I thought of banana bread, sweet potato bread, and pumpkin bread. So, I looked it up, and discovered that these are quick breads.
Quick bread originated in the States and uses baking soda or baking powder, allowing them to rise quickly.
These were not just breads that were made in a loaf pan though, but also things like biscuits and buttermilk biscuits.
Other surprising examples of these are cakes, muffins, cookies, and pancakes.
The Civil War brought quick breads into high demand because breadmakers were in short supply.
Naturally, quickly made foods became in high demand and it wasn't long before recipes were being adapted from yeast to baking soda.
THE DIFFERENCE BETWEEN QUICK BREAD AND CAKE
When I first started making quick breads, my mother questioned the difference between it and cake. My conclusion was, cake is fluffier whereas bread is denser. I still think that is a fair analysis of it.
I expect my chocolate cake to be light and fluffy, whereas I expect my banana chocolate chip bread to have weight to it. Both, however, when done right, should be moist with a good crumb.
The name "cornbread" can be a little confusing to some. I remember once reading a review left by an English woman on a cooking site who said it came out nothing like bread.
As far as classic yeast breads go, that is completely true. Instead, it's a quick bread and more of a cake than a bread. Still, it is not a dessert but most commonly used as a side dish.
There are a number of different types of cornbread. Among the most popular is sweet cornbread, which is popular in the North, and classic Southern cornbread which is light on sugar.
BREAD FLOUR VS ALL-PURPOSE FLOUR
Bread flour has a higher protein content than all-purpose, which helps with gluten development. This is great for challah and other breads.
Some recipes call for it if an especially chewy texture is desired. It will also produce a heavier and denser loaf.
All purpose flour has a lower protein content, but can generally be substituted for bread flour.
I almost never use anything other than all purpose flour, including in bread recipes. For quick breads, I only recommend using all purpose flour.
BAKING WITH OIL
In general, oil in baked goods makes for a superior texture than those made with butter.
Oil cakes tend to bake up taller with a better crumb. They also stay moist and tender far longer than recipes made with butter.
Furthermore, since oil is lighter than butter, the texture of oil cakes is lighter too.
Also, given that oil is 100% fat while most American butter is 15% water, it creates a more tender crumb.
This is due to the fact that the extra water strengthens the gluten, resulting in a crumb that's more dense.
Which Type Of Oil to Use
I use neutral oils like canola oil, safflower oil, and vegetable oil. However, it's not unheard of for oils with stronger flavors, like olive oil or coconut oil, to be used.
If using olive oil, I recommend using pure olive oil for its milder flavor and higher smoking point.
Baking with Oil Conversion Chart
If you want to convert your butter recipes to oil recipes, check out my baking with oil – butter to oil conversion chart.
DO EGGS NEED TO BE AT ROOM TEMPERATURE?
The short answer is "no." While a side-by-side comparison shows that baking with eggs at room temperature makes a better crumb, it's not otherwise noticeable.
What are Eggs used for?
Eggs do three things in most recipes: they help bind the ingredients together, act as a mild leavening agent, and they add moisture.
EGG FREE OPTION
Eggs can be substituted with 1/4 cup of unsweetened apple sauce per egg. This means for recipes calling for 2 eggs, you'd need 1/2 cup of unsweetened apple sauce.
The reason applesauce makes a good binder is that it's high in pectin. Pectin is a naturally occurring starch in fruits and berries that acts as a thickening agent and stabilizer in food.
This happens when combined with sugar and acid (if the fruit or berry isn't naturally acidic).
Just keep in mind that it may change the flavor slightly.
ARE EGGS DAIRY?
No, eggs are not dairy. Dairy is milk and any food products made from milk, including cheese, cream, butter, and yogurt.
So, while eggs are an animal product, they are not dairy. In fact, eggs fall under the protein food group.
HOW TO MEASURE FLOUR AND OTHER DRY INGREDIENTS
Using a dry measuring cup, scoop ingredients from the bag or spoon them into the cup.
Next, level off the ingredient by removing the excess with an upside-down butter knife.
The one exception to this is brown sugar. Brown sugar should be packed down, and then any excess should be scraped off as well.
DRY VS LIQUID MEASURING CUP
Ever wonder why measuring spoons often come with a set of measuring cups? I used to. I didn't see why we need a set when we could have one large measuring cup.
After a quick search, I had my answer. I discovered that the large measuring cup is used for liquids, whereas the set is used for dry ingredients.
As it turns out, if you try to measure dry ingredients with a liquid cup, the measurements get messed up.
First, you pour the flour or cocoa in, next you shake it around to get it level, and then you add more.
By shaking it, you are causing the powder to settle, and when you add more, you end up using more than called for.
WHY SIFT FLOUR and Other Powder Ingredients
There are a number of benefits to sifting flour and other ingredients like cocoa:
It removes any unwanted debris and you can get a more accurate measurement than when packed tightly in a bag.
It also removes any lumps that can get into the batter and be hard to break up later, or be missed altogether before baking.
If you sift the powdered ingredients together, it helps combine them and mix more evenly with other dry ingredients like sugar.
Understanding Sugar
Sugar may seem very basic if you've baked before, but I've been asked about it in the past – so I'll explain.
There are many different types of sugar, including white sugar, brown sugar, vanilla sugar, powdered sugar, turbinado sugar, and demerara sugar.
When a recipe (any recipe, not just mine) says "sugar" without specifying anything else, it is regular white sugar.
White Sugar
White sugar (sometimes called granulated sugar, table sugar, or white granulated sugar) is made of either beet sugar or cane sugar, which has undergone a refining process.
It is the easiest to find and most commonly used.
Brown Sugar
Brown sugar is white sugar with molasses added to it.
It is commonly used in chocolate chip cookie recipes, and it's rare for a recipe that calls for brown sugar not to also call for white sugar as well.
When a recipe calls for "brown sugar" but doesn't specify what type (light or dark), it is referring to light brown sugar.
In my recipes, you can use whatever type of brown sugar you have on hand, whether it is dark brown sugar, light brown sugar, or demerara sugar – which is very common in Israel.
Just keep in mind that the flavor and color will be slightly different, depending on what you choose to use.
Turbinado Sugar
Turbinado sugar is better known as "raw sugar." But, despite this name, the sugar is not really "raw."
Instead, it's partially refined sugar that retains some of the original molasses.
The term "raw sugar" may also give off the impression that it is somehow healthier.
In reality, turbinado sugar is nutritionally similar to white sugar.
Demerara Sugar
Demerara sugar is very popular in Israel and is especially delicious in tea, but is also used for baking.
Unlike white sugar, demerara sugar undergoes minimal processing and retains some vitamins and mineral.
However, it is still not much healthier than white sugar.
Vanilla Sugar
Vanilla sugar is not very common in the States. However, it is common in Israel and parts of Europe.
This is sugar that sat for an extended period of time with vanilla beans, giving it a vanilla flavor.
Caster Sugar
This type of sugar is common in the United Kingdom.
It has a grain finer than white (granulated) sugar and larger than powdered sugar.
Caster sugar is often called for in recipes for delicate baked goods like meringues, souffles, and sponge cakes.
You can use a 1:1 conversion rate between caster sugar and white (granulated) sugar.
Powdered sugar
Powdered sugar, sometimes known as confectioners' sugar, is a sugar with a powdered texture.
This sugar is rarely, if ever, used for baking. Instead, it is used for dusting desserts and making frosting and icings.
In some countries, you can also find powdered vanilla sugar.
It is made the exact same way regular vanilla sugar is made. However, the sugar used is powdered instead of granulated.
Vanilla Extract vs Vanilla sugar
In my recipes, I don't specify what kind of vanilla to use.
The reason for this is that in the States, vanilla extract is exclusively used.
Meanwhile in Israel, along with many European countries, vanilla sugar is common.
In most, if not all recipes, both vanilla extract and vanilla sugar can be used.
In recipes where vanilla sugar can be used instead of extract, you can replace them 1:1.
Replacing Sugar with Honey
If you'd prefer to use honey instead of sugar, you can do so with pretty good results.
Honey can be two or even three times as sweet depending on the honey, so for every 1 cup of sugar, you can use 1/2 to 2/3 cup honey.
Since honey adds liquid, you need to remove some to balance it out. For every cup of honey, remove a 1/4 cup of liquid.
Also, it burns faster than granulated sugar, so you want to lower the baking temperature by 25 F or 14 C. In addition, check it early and often to avoid burning or overbaking.
BAKING POWDER VS BAKING SODA
I've had a number of comments asking me questions about baking soda and baking powder.
I've also noticed that if the wrong one is used, things don't come out as they should.
Using baking soda instead of baking powder can give your recipe a terrible metallic taste, while using baking powder instead of baking soda leaves your baked goods looking flat.
BAKING SODA
Baking soda is a leavening agent, which means it helps things rise.
It does this by creating carbon dioxide when it reacts to an acid, such as cream of tartar, lemon juice, yogurt, buttermilk, cocoa, and vinegar.
When the carbon dioxide is released, it causes the familiar texture and crumb in pancakes, cakes, quick breads, soda bread, and other baked and fried foods.
Baking soda works well with sourdough because sourdough is acidic. When combined, it makes a lighter product with a less acidic taste, since baking soda is alkaline.
A good rule of thumb is to use around 1/4 teaspoon of baking soda per 1 cup of flour.
BAKING POWDER
Baking powder is also a leavening agent and it's a mixture of baking soda, cream of tartar, and sometimes cornstarch.
Most baking powder sold is double-acting. This means that the leavening occurs in two steps.
The first time it's activated is when baking powder gets wet, which is why you cannot prepare some batters ahead of time to bake later.
The second time is when the baking powder is exposed to heat. This happens when the batter is being baked or fried.
Since baking powder already contains an acid, it's most often used when a recipe does not call for an additional acidic ingredient or too little of one.
A good rule of thumb is to use around 1 teaspoon of baking powder per 1 cup of flour.
WHY SOME RECIPES CALL FOR BOTH
Some recipes call for both baking powder and baking soda when the carbon dioxide created from the acid and baking soda is not enough to leaven the volume of batter in the recipe.
Too much baking soda gives a terrible metallic taste, so baking powder is added to give it more lift.
WHICH ONE IS STRONGER?
You may have already guessed the answer since baking soda is used to make baking powder, and you need more baking powder per cup of flour. But I'll tell you anyway.
Baking soda is four times stronger than baking powder.
That's why you will more often than not see recipes that only call for baking soda rather than recipes that only call for baking powder.
HOW LONG DO THEY LAST?
BAKING SODA
Baking soda is good indefinitely past its best by date, although it can lose potency over time.
A rule of thumb is two years for an unopened package and six months for an opened package.
However, to be honest, I've used very old baking soda with good results.
BAKING POWDER
Like baking soda, baking powder is good indefinitely past its best by date, and can lose its potency over time.
For both opened and unopened, it's ideal to use it within nine months to a year.
While storing it, make sure to keep it in a dry place and away from humidity.
HOW TO TEST IF IT'S STILL GOOD
BAKING POWDER
To test baking powder, pour 3 tablespoons of warm water into a small bowl, add 1/2 teaspoon of baking powder, and stir.
If the baking powder is good to use, it should fizz a little.
BAKING SODA
To test baking soda, pour 3 tablespoons of white distilled vinegar into a small bowl, add 1/2 teaspoon of baking soda, and stir.
The mixture should rapidly bubble if the soda is fresh.
GLUTEN FREE OPTION
Gluten Free Flour
Substitute all-purpose gluten-free flour in place of all-purpose regular flour cup for cup.
BUCKWHEAT FLOUR
Buckwheat flour is easy to find compared to most other gluten-free flours, and it adds a nice earthy nutty taste.
The downside is that it has a distinct flavor, so the change will be noticeable.
It's also darker, so the color won't be the same. Substitute cup for cup.
RICE FLOUR
Rice flour can also be used and can be found in most Asian and health food stores.
White rice flour has a mild flavor and doesn't change the color of the muffin or quick bread.
Since it doesn't have much flavor, it's best to use it with ingredients that do. Substitute cup for cup.
OAT FLOUR
Oat flour is made from whole oats that have been ground into a powder, which can easily be done at home.
It gives more flavor and a chewier and crumblier texture than regular all-purpose flour.
Substitute 1 cup of all-purpose flour for 1 1/3 cup Oat Flour. To make 1 cup of oat flour, blend 1 1/4 cups of oats in a food processor until finely ground.
Note: oats must be marked gluten-free because they can get cross-contaminated in the factory.
BAKING AT HIGH ALTITUDES
The higher the altitude, the lower the air pressure, and the more difficult it is to bake recipes.
Increase 15 to 25°F. Since leavening and evaporation happen more quickly, the higher temperature helps set the structure of baked goods before they over-expand and dry out.
However, the baking at higher temperatures means products are done sooner, so decrease by 5-8 minutes per 30 minutes of baking time.
Adjustment for 3000 feet
Reduce baking powder: for each teaspoon, decrease 1/8 teaspoon.
Reduce sugar: for each cup, decrease 0 to 1 tablespoon.
Increase liquid: for each cup, add 1 to 2 tablespoons.
Adjustment for 5000 feet
Reduce baking powder: for each teaspoon, decrease 1/8 to 1/4 teaspoon.
Reduce sugar: for each cup, decrease 0 to 2 tablespoons.
Increase liquid: for each cup, add 2 to 4 tablespoons.
Adjustment for 7000+ feet
Reduce baking powder: for each teaspoon, decrease 1/4 teaspoon.
Reduce sugar: for each cup, decrease 1 to 3 tablespoons.
Increase liquid: for each cup, add 3 to 4 tablespoons.
Baking with Humidity
Humidity can have a big impact on how your baked goods come out.
This is because when humidity is extremely high (think 70 percent or more), baking ingredients like flour, sugar, salt, baking powder, and baking soda soak up moisture from the air.
This can negatively impact the outcome of your cakes, cookies, yeast breads, and quick breads.
There are some things you can do to try to save your baking.
Try to counterbalance the additional moisture
To help counterbalance the additional moisture your dry ingredients soak up from the air, try reducing the amount of liquid in the recipe by about one-quarter.
If the batter or dough looks too dry once all the ingredients are mixed together, add an additional liquid tablespoon at a time until you have the desired consistency.
This is not usually possible to do for cookies, but it does work for cakes and breads.
Store Ingredients in the Fridge
If flour and sugar are stored in the refrigerator or freezer rather than in a cupboard or pantry, they are better protected from humidity.
As an added benefit, keeping these ingredients cool also helps keep them fresher longer, in addition to helping them stay bug-free.
For the best results, let them warm to room temperature before using.
Bake for Longer
If you bake your goodies for a few extra minutes, it can help the liquid to cook off.
To avoid overbaking, continue testing for doneness every couple of minutes for breads, quick breads, cakes, cupcakes, and muffins. Cookies, on the other hand, need to be checked every minute.
Use Air Conditioning
To help lower humidity levels on humid summer days, air condition the room for at least an hour before you start baking.
Cooler air isn't able to hold as much moisture as warm air.
Store your baked goods in an airtight container
Humidity can also ruin your fresh-baked goods because when they are left out, they can absorb moisture.
To avoid this, store them in an airtight container or resealable bag.
TROUBLESHOOTING
WHY IS IT TAKING LONGER THAN DESCRIBED TO BAKE?
Overtime, the thermostat on ovens gets a little off, causing some ovens to run hot and others to run cool.
This is why recipes tend to say things like "10 to 15 minutes or until golden brown."
So, if it takes you longer than expected, that's fine. Just keep baking until ready.
WHY DID MY RECIPE COME OUT TOO DRY?
Just like some ovens run cool, others run hot. If your oven runs hot, bake these at a lower temperature.
Ideally, you should get an oven thermometer to know what temperature you're really baking at.
How to store muffins
Let muffins cool fully. Transfer the muffins to an airtight container lined with a paper towel. Place a second paper towel on top of the muffins before sealing.
If using a zip-top plastic bag, line both sides of the bag with paper towels and remove as much air as possible before sealing the top of the bag.
Store at room temperature for up to 4 days.
How to Freeze muffins
Let muffins cool fully. Wrap each muffin individually in plastic wrap, then place them in a zip-top bag.
Freeze for up to 2 months. They will still be safe to eat after two months, but their quality begins to degrade.
When ready to eat, let thaw at room temperature or rewarm gently in a counter top oven or microwave.