This pumpkin pie spice or pumpkin spice brings fall flavor to anything you add it to. Use it in baking, mix it into your coffee, or sprinkle it over nuts.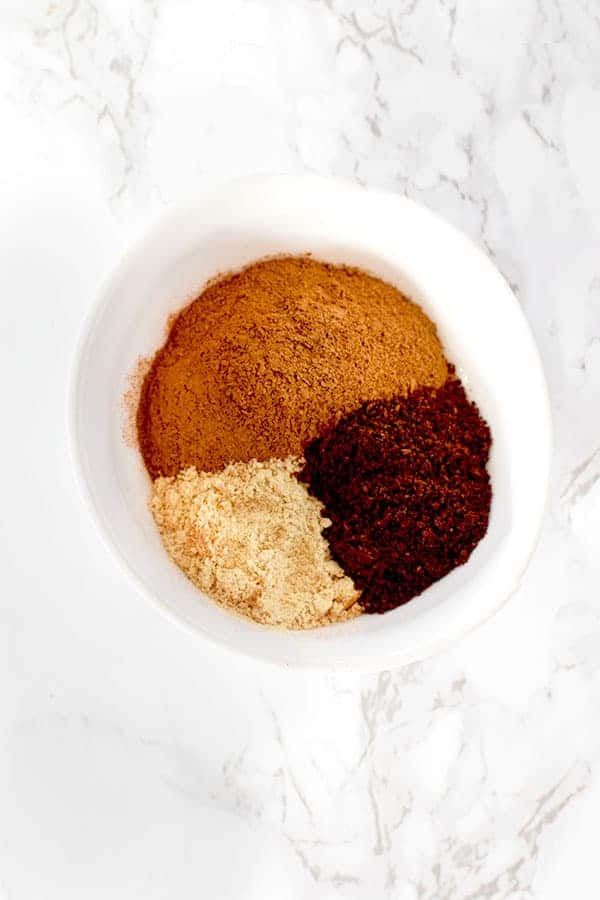 Pumpkin pie spice used to just be used for making pumpkin pie but now it is used in pumpkin muffins, pumpkin donuts, pumpkin bread, pumpkin spice lattes, and pumpkin spice coffee.
It can even be, and is, used to make butternut squash muffins, butternut squash bread, and really anything pumpkin or fall that you can think of.
For me, this spice has become indispensable since moving to Israel.
When the air turns crisp and the leaves begin to change I get terribly homesick.
Since I can't control the weather or make brown and yellow leaves turn beautiful shades of red and orange, the only thing I can do is make pumpkin spice everything.
However, pumpkin spice isn't really much of a thing outside of the United States so I have to make my own.
It's funny, people think the pumpkin pie flavor we all know and love comes from the pumpkin itself.
However, pumpkin really doesn't have lots of flavor to begin with and after mixing it with anything else it's pretty much gone.
Don't believe me? Pop open a can of pumpkin pie filling or pumpkin puree and taste it.
So what gives all the flavor? The spices of course.
Common blends include:
Cinnamon
Nutmeg
Cloves
Ginger
Allspice
I've tried making different blends but nothing stood up to this one.
The pumpkin pie recipe most of us are used to is the one printed on the back of a can of Libby's pumpkin pie filling.
Their recipe only calls for cinnamon, nutmeg, and cloves.
I really don't feel that the addition of allspice and nutmeg are helpful at all. If anything, I find the nutmeg extremely distracting from the other flavors.
While Dunkin Donuts uses nutmeg as their top note for pumpkin spice, I think cloves brings the real pumpkin flavor.
Any time I taste cloves in anything baked I can practically see the autumn foliage and breath in the cool fall air.