This cast iron cornbread is your classic Southern styled skillet cornbread with a perfect crust, but extra moist. Serve as a side dish.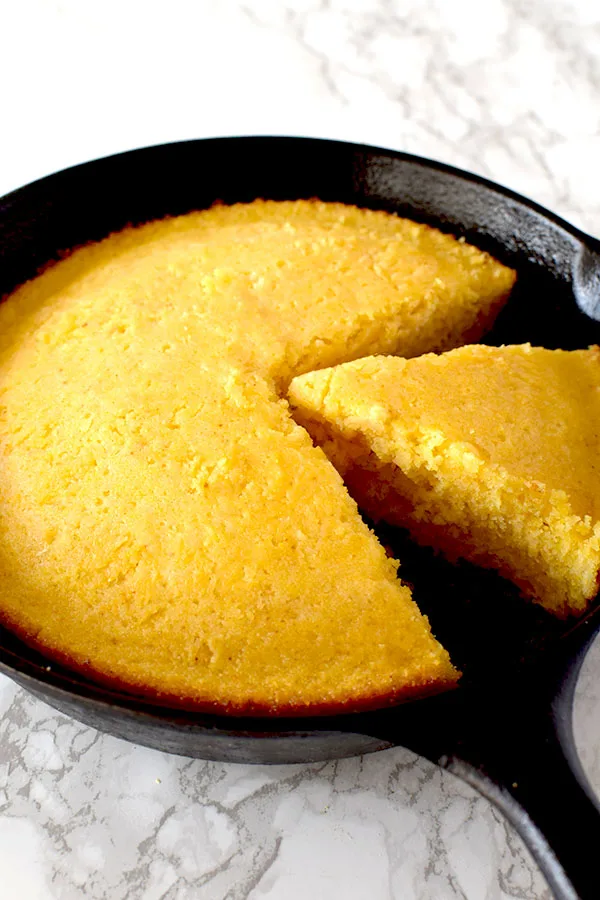 This cast iron cornbread is baked in a cast iron skillet. This is common practice in the South.
Southern cornbread is more savory than sweet cornbread, which is popular in the North.
This type of cornbread is usually eaten as a side dish and goes perfectly with fried chicken.
HOW TO EAT Cornbread
According to my friend from the great state of Georgia, "cornbread can be eaten with many things. Usually things like fried chicken, almost any veggie, barbecue, and so on"
He also said it can be topped with honey, jalapenos, or cheese.
A woman from Kentucky once told me: when she was a little girl, she would have her cornbread for dinner with a glass of milk and put cornbread crumbs in the milk.
Cornbread is generally served as a side dish. However, cornbread topped with honey can also be eaten as a dessert.
How is cast iron effective for cornbread?
Cast iron is particularly effective because it heats up and retains heat well, ensuring even cooking.
QUICK BREADS VS YEAST BREADS
When I think of bread, I think of white bread, dinner rolls, and the like. You know, traditional yeast breads that have dough and you have to let rise twice.
Then I thought of banana bread, sweet potato bread, and pumpkin bread. So, I looked it up, and discovered that these are quick breads.
Quick bread originated in the States and uses baking soda or baking powder, allowing them to rise quickly.
These were not just breads that were made in a loaf pan though, but also things like biscuits and buttermilk biscuits.
Other surprising examples of these are cakes, muffins, cookies, and pancakes.
The Civil War brought quick breads into high demand because breadmakers were in short supply.
Naturally, quickly made foods became in high demand and it wasn't long before recipes were being adapted from yeast to baking soda.
THE DIFFERENCE BETWEEN QUICK BREAD AND CAKE
When I first started making quick breads, my mother questioned the difference between it and cake. My conclusion was, cake is fluffier whereas bread is denser. I still think that is a fair analysis of it.
I expect my chocolate cake to be light and fluffy, whereas I expect my banana chocolate chip bread to have weight to it. Both, however, when done right, should be moist with a good crumb.
The name "cornbread" can be a little confusing to some. I remember once reading a review left by an English woman on a cooking site who said it came out nothing like bread.
As far as classic yeast breads go, that is completely true. Instead, it's a quick bread and more of a cake than a bread. Still, it is not a dessert but most commonly used as a side dish.
There are a number of different types of cornbread. Among the most popular is sweet cornbread, which is popular in the North, and classic Southern cornbread which is light on sugar.
BREAD FLOUR VS ALL-PURPOSE FLOUR
Bread flour has a higher protein content than all-purpose, which helps with gluten development. This is great for challah and other breads.
Some recipes call for it if an especially chewy texture is desired. It will also produce a heavier and denser loaf.
All purpose flour has a lower protein content, but can generally be substituted for bread flour.
I almost never use anything other than all purpose flour, including in bread recipes. For quick breads, I only recommend using all purpose flour.
WHY SIFT FLOUR
There are a number of benefits to sifting dry ingredients: First, it removes any unwanted debris and helps the flour combine with other dry ingredients like salt and baking powder.
Also, you can get a more accurate measurement than flour packed tightly in a bag. No less importantly, it removes any lumps that can get into the batter and be hard to break up later, or be missed altogether before baking.
HOW TO MEASURE FLOUR AND OTHER DRY INGREDIENTS
Using a dry measuring cup, scoop ingredients from the bag or spoon them into the cup.
Next, level off the ingredient by removing the excess with an upside-down butter knife.
The one exception to this is brown sugar. Brown sugar should be packed down, and then any excess should be scraped off as well.
DRY VS LIQUID MEASURING CUP
Ever wonder why measuring spoons often come with a set of measuring cups? I used to. I didn't see why we need a set when we could have one large measuring cup.
After a quick search, I had my answer. I discovered that the large measuring cup is used for liquids, whereas the set is used for dry ingredients.
As it turns out, if you try to measure dry ingredients with a liquid cup, the measurements get messed up.
First, you pour the flour or cocoa in, next you shake it around to get it level, and then you add more.
By shaking it, you are causing the powder to settle, and when you add more, you end up using more than called for.
WHY SIFT FLOUR and Other Powder Ingredients
There are a number of benefits to sifting flour and other ingredients like cocoa:
It removes any unwanted debris and you can get a more accurate measurement than when packed tightly in a bag.
It also removes any lumps that can get into the batter and be hard to break up later, or be missed altogether before baking.
If you sift the powdered ingredients together, it helps combine them and mix more evenly with other dry ingredients like sugar.
BAKING WITH OIL
In general, oil in baked goods makes for a superior texture than those made with butter.
Oil cakes tend to bake up taller with a better crumb. They also stay moist and tender far longer than recipes made with butter.
Furthermore, since oil is lighter than butter, the texture of oil cakes is lighter too.
Also, given that oil is 100% fat while most American butter is 15% water, it creates a more tender crumb.
This is due to the fact that the extra water strengthens the gluten, resulting in a crumb that's more dense.
Which Type Of Oil to Use
I use neutral oils like canola oil, safflower oil, and vegetable oil. However, it's not unheard of for oils with stronger flavors, like olive oil or coconut oil, to be used.
If using olive oil, I recommend using pure olive oil for its milder flavor and higher smoking point.
Is it better to use canola oil or olive oil?
Canola oil is relatively cheap and, due to its lack of flavor and high smoke point is very versatile. This means it can be used in many different forms of cooking that require very high heat (such as baking, frying, grilling, etc.) without it smoking or burning and is ideal to use in baked goods which require a fat to make them moist while not affecting the flavor.
Olive oil, on the other hand, is known to be healthier and its stronger flavor makes it preferable in recipes such as focaccia which require its distinct taste. However, keep in mind its smoke point isn't as high as canola oil's and will burn more easily.
Baking with Oil Conversion Chart
If you want to convert your butter recipes to oil recipes, check out my baking with oil – butter to oil conversion chart.
DO EGGS NEED TO BE AT ROOM TEMPERATURE?
The short answer is "no." While a side-by-side comparison shows that baking with eggs at room temperature makes a better crumb, it's not otherwise noticeable.
What are Eggs used for?
Eggs do three things in most recipes: they help bind the ingredients together, act as a mild leavening agent, and they add moisture.
EGG FREE OPTION
Eggs can be substituted with 1/4 cup of unsweetened apple sauce per egg. This means for recipes calling for 2 eggs, you'd need 1/2 cup of unsweetened apple sauce.
The reason applesauce makes a good binder is that it's high in pectin. Pectin is a naturally occurring starch in fruits and berries that acts as a thickening agent and stabilizer in food.
This happens when combined with sugar and acid (if the fruit or berry isn't naturally acidic).
Just keep in mind that it may change the flavor slightly.
ARE EGGS DAIRY?
No, eggs are not dairy. Dairy is milk and any food products made from milk, including cheese, cream, butter, and yogurt.
So, while eggs are an animal product, they are not dairy. In fact, eggs fall under the protein food group.
BAKING POWDER VS BAKING SODA
I've had a number of comments asking me questions about baking soda and baking powder.
I've also noticed that if the wrong one is used, things don't come out as they should.
Using baking soda instead of baking powder can give your recipe a terrible metallic taste, while using baking powder instead of baking soda leaves your baked goods looking flat.
BAKING SODA
Baking soda is a leavening agent, which means it helps things rise.
It does this by creating carbon dioxide when it reacts to an acid, such as cream of tartar, lemon juice, yogurt, buttermilk, cocoa, and vinegar.
When the carbon dioxide is released, it causes the familiar texture and crumb in pancakes, cakes, quick breads, soda bread, and other baked and fried foods.
Baking soda works well with sourdough because sourdough is acidic. When combined, it makes a lighter product with a less acidic taste, since baking soda is alkaline.
A good rule of thumb is to use around 1/4 teaspoon of baking soda per 1 cup of flour.
BAKING POWDER
Baking powder is also a leavening agent and it's a mixture of baking soda, cream of tartar, and sometimes cornstarch.
Most baking powder sold is double-acting. This means that the leavening occurs in two steps.
The first time it's activated is when baking powder gets wet, which is why you cannot prepare some batters ahead of time to bake later.
The second time is when the baking powder is exposed to heat. This happens when the batter is being baked or fried.
Since baking powder already contains an acid, it's most often used when a recipe does not call for an additional acidic ingredient or too little of one.
A good rule of thumb is to use around 1 teaspoon of baking powder per 1 cup of flour.
WHY SOME RECIPES CALL FOR BOTH
Some recipes call for both baking powder and baking soda when the carbon dioxide created from the acid and baking soda is not enough to leaven the volume of batter in the recipe.
Too much baking soda gives a terrible metallic taste, so baking powder is added to give it more lift.
WHICH ONE IS STRONGER?
You may have already guessed the answer since baking soda is used to make baking powder, and you need more baking powder per cup of flour. But I'll tell you anyway.
Baking soda is four times stronger than baking powder.
That's why you will more often than not see recipes that only call for baking soda rather than recipes that only call for baking powder.
HOW LONG DO THEY LAST?
BAKING SODA
Baking soda is good indefinitely past its best by date, although it can lose potency over time.
A rule of thumb is two years for an unopened package and six months for an opened package.
However, to be honest, I've used very old baking soda with good results.
BAKING POWDER
Like baking soda, baking powder is good indefinitely past its best by date, and can lose its potency over time.
For both opened and unopened, it's ideal to use it within nine months to a year.
While storing it, make sure to keep it in a dry place and away from humidity.
HOW TO TEST IF IT'S STILL GOOD
BAKING POWDER
To test baking powder, pour 3 tablespoons of warm water into a small bowl, add 1/2 teaspoon of baking powder, and stir.
If the baking powder is good to use, it should fizz a little.
BAKING SODA
To test baking soda, pour 3 tablespoons of white distilled vinegar into a small bowl, add 1/2 teaspoon of baking soda, and stir.
The mixture should rapidly bubble if the soda is fresh.
HOW TO STORE
Let the bread cool fully. Transfer the bread to an airtight container lined with a paper towel. Place another paper towel on top of the bread before sealing.
If using a zip-top plastic bag, line both sides of the bag with paper towels and remove as much air as possible before sealing the top of the bag.
Store at room temperature for up to 4 days.
HOW TO FREEZE
Let the bread cool fully.
Wrap in plastic wrap, then place in a resealable freezer bag. Freeze for up to 3 months.
They will still be safe to eat after 2 to 3 months but their quality begins to degrade.
When ready to eat, let thaw at room temperature or rewarm gently in an oven.
CORNBREAD SNAFU:
The first time I tried to make this recipe was for Thanksgiving Dinner.
I was feeling so rushed, I accidentally added a tablespoon of salt instead of a teaspoon.
Needless to say, it was extremely salty and not much of a hit.
In fact, I was worried my family wouldn't give this recipe a second chance.
However, after a little convincing, they are glad they did.