This dairy free Alfredo sauce is made without cream, without milk, without butter, and without cheese. Instead, it uses coconut milk and almond cooking milk to get its creaminess.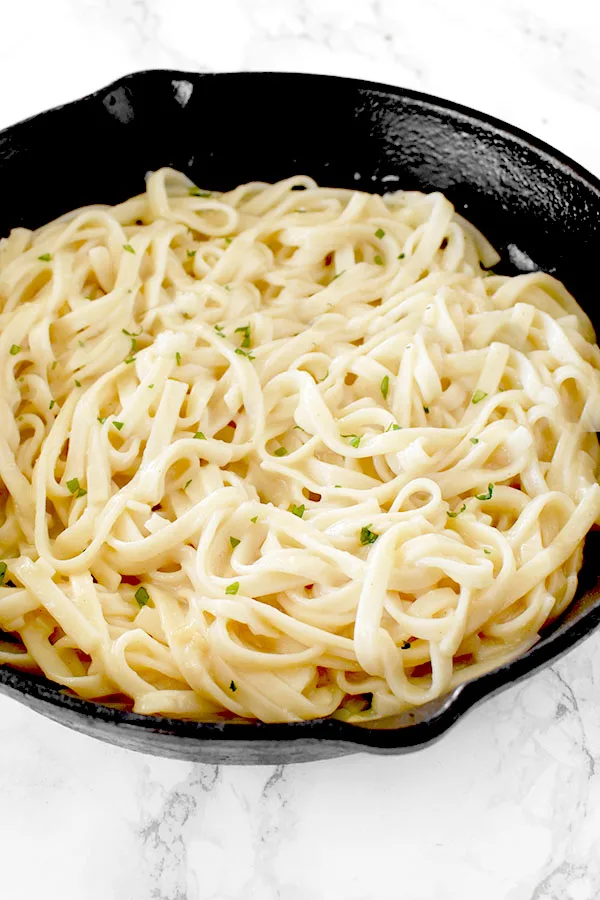 Fettuccine Alfredo is a beloved Italian-American dish. It's actually a richer version of the Italian fettuccine al burro.
Fettuccine al burro, meaning fettuccine with butter, is fresh fettuccine tossed with sauce made of just butter and Parmesan cheese.
The dish was created by Alfredo di Lelio in Rome in the 1800s and became very popular.
By the 1900s, the dish made its away to America, where it became known exclusively by the name of its creator, Alfredo.
Heavy cream and garlic were added, making it heavier and richer, and eventually it also became common to add other things like chicken or broccoli to the dish.
Today, fettuccine al burro is generally considered home cooking while fettuccine Alfredo can be found in pizzerias and Italian-American restaurants.
Still, the dish is easy enough to make at home.
This dairy free Alfredo sauce is made without cream and doesn't use butter or cheese either.
However, the almond cooking milk and coconut milk make it luxuriously creamy and the optional nutritional yeast give it a cheese-like flavor.
You may also want to check out my dairy free pesto sauce.
What can replace cream in Alfredo sauce?
Cream in Alfredo sauce can be replaced with a dairy free milk. This recipe uses almond cooking milk and coconut milk.