These fluffy matzo balls are just like the ones you get out of the box, but made from scratch.
These matzo balls are also very simple to make and can be thrown together easily.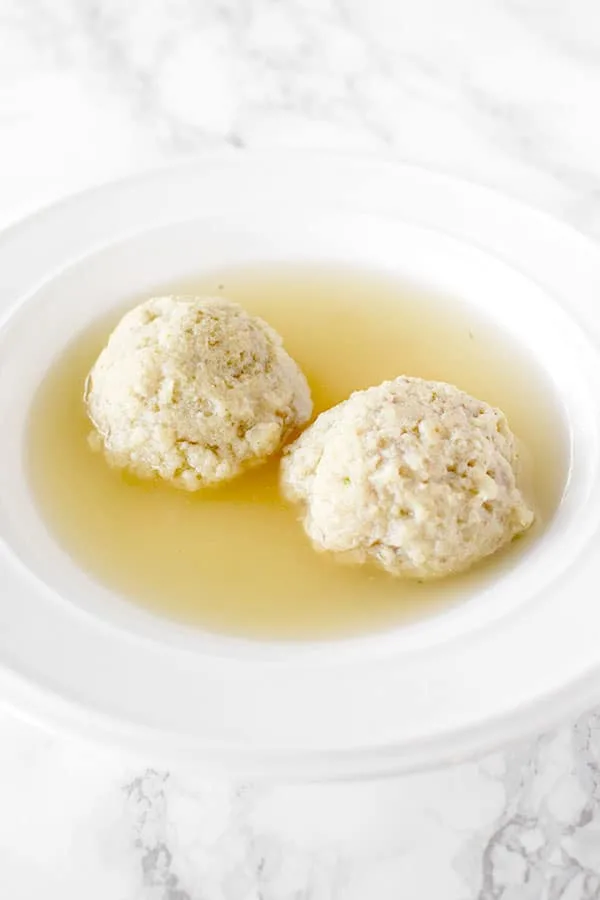 My family is pretty big on soups, and matzo ball soup is one of our favorites.
Growing up, my mom used to make the perfect matzo balls that were fluffy on the outside and a little firm on the inside.
I think I was a teenager or in my early 20s when I found out that she made it from packaged matzo ball mix.
Then, when I was 25, I moved to Israel and gone were the days where I had those perfect matzo balls.
Around Pesach, I did find the boxed stuff in the stores but I refuse to pay like $5 a box. No way, no how.
So, it became my goal to figure out how to make it myself.
All the recipes I tried that claimed to be fluffy were only fluffy enough to barely float – if even that.
Then, after some trial and error, I created my perfect matzo balls that are similar to what you'll get in Jewish delis.
They were great, but as my family pointed out, they weren't like the ones my mom used to make from the box.
So, my mom and I experimented until we got it just right, and these are them!
CAN YOU USE BAKING POWDER ON PASSOVER?
Absolutely! As long as the box is marked kosher for Passover with a "P" next to the kosher symbol.
I get this question a lot because of the fact that it is a leavener.
The truth is though, while laws regarding Passover are complex, the focus is on wheat flour rather than the leavener itself.
In fact, there wasn't anything to leaven bread in ancient times except wild yeast.
So, the bread they were making was something of a sour dough bread.
This is the reason it took so long to rise.
THE BOX DOESN'T HAVE LIQUID IN THE RECIPE. WHY DOES YOURS?
I tried making it without the liquid, but it came out way too dry.
I think it's because the box matzo mix meal is very fine, whereas regular matzo meal is coarse.
My guess is, the fine matzo meal doesn't need as much liquid.
SCHMALTZ VS OIL
Schmaltz is the traditional fat used in matzo balls. However, in recent decades, oil has become at least as common.
While I usually use oil for convenience, many say that schmaltz elevates the flavor of the matzo ball.
CHILLING
You can chill the matzo balls for anywhere between 15 minutes and overnight.
The main purpose of chilling the mix is to make it a little less sticky and easier to work with.
MAKE AHEAD
Matzo balls can be made ahead of time.
Just cook them, remove them from the liquid, and refrigerate them in a resealable plastic bag or airtight container.
Refrigerate for 3 to 5 days.
FREEZE
You can freeze matzo balls on a tray and then move them to a resealable plastic bag or airtight container.
Freeze for up to 3 months.
After three months they are still safe to eat, but their quality begins to degrade.