These perfect matzo balls are simple to make and come out light and fluffy. They are everything one dreams of from "floater matzo balls" and more.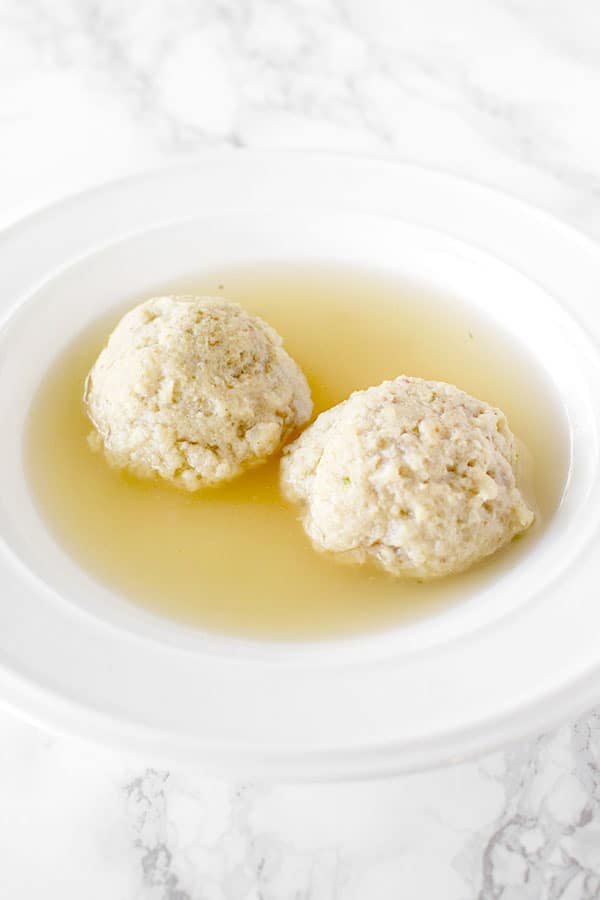 I don't think there is any more iconic Jewish or Passover (Pesach) food than matzo ball soup.
My whole family waits all year for it and have started making it on occasion when it isn't Pesach.
When my brother was spending his gap year in Israel the hardest part for him was missing the matzo ball soup.
He even made my Mom promise she'd make it when he got back in the summer and she did.
This was many years ago, but to this day it is still his favorite food.
In fact, since moving to Israel, our Mom now promises to make it for him when he comes to visit from the States where he chose to stay.
Since the rest of the family moved to Israel, my mom decided to start making matzo ball soup herself because she didn't like the prices on the packages.
We tried a number of popular recipes but none compared to the box stuff we used in the States.
This caused every Pesach meal to start out disappointing with grumbles and comments from my younger brothers.
So, after a while, I became determined to create the perfect recipe.
I looked at the recipes we had tried and gotten disappointing results from to see where I could improve.
I decided to keep everything the same except the leavener.
Trail and Error
First, I raised the baking powder to one teaspoon. It wasn't much better than before.
Next, I tried ½ a teaspoon of baking soda. I did this because while every recipe I saw used baking powder, baking soda was listed in the ingredients on the box.
This gave me matzo balls that were fluffy on the outside and firm on the inside.
I liked them, but my goal was to get the fluffy box stuff so I kept on.
Finally, I tried 2 teaspoons of baking powder. These came out perfect!
However… they were a little boring since they didn't have any seasoning.
So, looking at the box again, I saw that it included onion powder and garlic powder.
This made all the difference.
CAN YOU USE BAKING POWDER ON PASSOVER?
Absolutely! As long as the box is marked kosher for Passover with a "P" next to the kosher symbol.
I get this question a lot because of the fact that it is a leavener.
The truth is though, while laws regarding Passover are complex, the focus is on wheat flour rather than the leavener itself.
In fact, the there wasn't anything to leaven bread in ancient times except wild yeast.
So, the bread they were making was something of a sour dough bread.
This is the reason it took so long to rise.
The box doesn't have liquid in the recipe. Why does yours?
I tried making it without the liquid but it came out way too dry.
I think it's because the box matzo mix meal is very fine where regular matzo meal is coarse.
My guess is, the fine matzo meal doesn't need as much liquid.
Schmaltz vs Oil
Schmaltz is the traditional fat used in matzo balls. However, in recent decades oil has become at least as common.
While I usually use oil for continence, many say that schmaltz elevates the flavor of the matzo ball.
Chilling
You can chill the matzo balls for anywhere between 15 minutes and overnight.
The main purpose of chilling the mix is to make it a little less sticky and easier to work with.
Make Ahead
Matzo balls can be made ahead of time.
Just cook them, remove them from the liquid, and refrigerate them in a resealable plastic bag or air tight container.
Refrigerate for 3 to 5 days.
Freeze
You can freeze matzo balls on a tray and then move them to a resealable plastic bag or air tight container.
Freeze for up to 3 months.
After three months they are still safe to eat but their quality begins to degrade.