This dairy free hot chocolate mix is easy to make and great to keep on hand for when you want to make a quick hot drink. It really warms you up from the inside out in cold weather!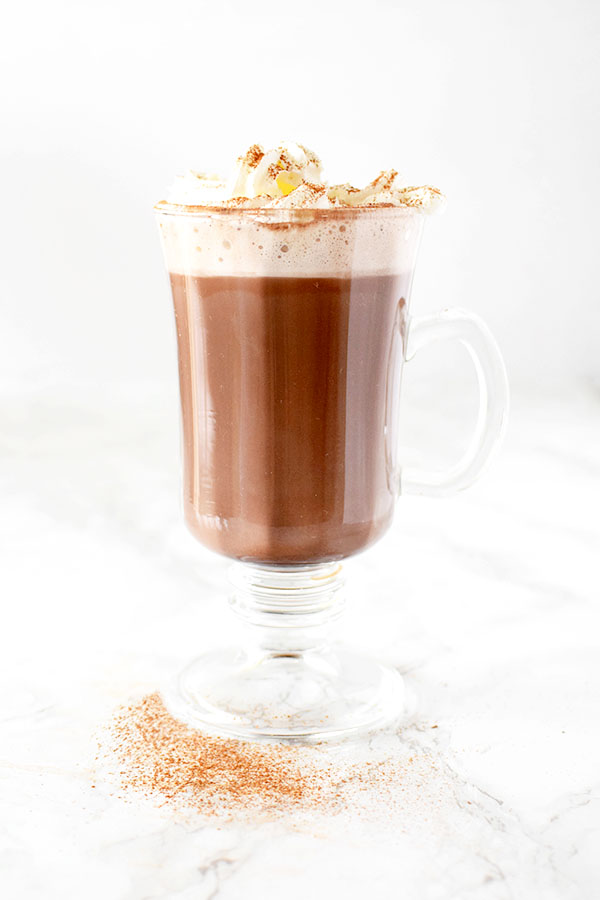 I love hot chocolate! It's my favorite thing to drink in the winter in addition to sachlav.
I'll be honest though, sometimes I get lazy and don't want to make it from scratch. That's where this dairy free hot chocolate mix comes in!
Does hot chocolate mix have dairy?
Hot chocolate mix usually includes milk powder to give the water added to it a more creamy texture.
Why Use Cornstarch?
Most hot chocolate mixes are thinner than if you made hot chocolate from scratch. Cornstarch is a thickener and is a good addition if you'd like you're hot chocolate creamer.
Cornstarch vs Cornflour
Cornstarch and cornflour are the same thing. Cornstarch is a term used in America where cornflour is more common in Europe.
WHICH TYPE OF COCOA TO USE
When a recipe calls for cocoa, always use unsweetened cocoa powder, unless specified otherwise.
This allows you to have better control of the sweetness of what you're making.
There are three basic forms of unsweetened cocoa powder.
NATURAL COCOA POWDER
Natural cocoa powder comes from roasted cocoa beans. It's bitter, with a very strong and concentrated chocolate flavor.
This cocoa powder is acidic and is often used in recipes calling for baking soda, because the two react with each other to allow your baked good to rise.
This is most commonly used, and should be used, in recipes that simply say "cocoa powder."
DUTCH-PROCESS COCOA POWDER
Dutch-process cocoa powder starts with cocoa beans that have been washed in potassium carbonate which neutralizes their acidity.
Since Dutch-process cocoa powder is neutral, it does not react with baking soda.
When baking, Dutch-process cocoa is often paired with baking powder.
Dutch-process cocoa powder can also be used in place of natural cocoa powder in recipes that don't require leavening.
These include sauces, hot cocoa, frostings, ice cream, pudding, etc.
If you only have Dutch-processed cocoa powder on hand, you can substitute it for neutral cocoa powder.
Just make sure to add 1/8 teaspoon of cream of tartar, white vinegar, or lemon juice for every 3 tablespoons of cocoa powder called for in the recipe.
RAW CACAO POWDER
Raw cacao powder is different from natural and Dutch-process unsweetened cocoa powder.
It's pure powder from the cacao bean and isn't nearly as processed as both natural and Dutch-process.
You can use raw cacao powder in recipes that don't specify Dutch-process cocoa powder.
However, Raw cacao powder and natural cocoa powder taste very different from Dutch-process and will change the flavor of the recipe.
Understanding Sugar
Sugar may seem very basic if you've baked before, but I've been asked about it before, so I'm explaining.
There are many different types of sugar, including white sugar, brown sugar, vanilla sugar, powdered sugar, turbinado sugar, and demerara sugar.
When a recipe – any recipe, not just mine – says "sugar" without specifying anything else, it is regular white sugar.
White Sugar
White sugar (sometimes called granulated sugar, table sugar, or white granulated sugar) is made of either beet sugar or cane sugar, which has undergone a refining process.
It is the easiest to find and most commonly used.
Brown Sugar
Brown sugar is white sugar with molasses added to it.
It is commonly used in chocolate chip cookie recipes, and it's rare for a recipe that calls for brown sugar not to also call for white sugar as well.
When a recipe calls for "brown sugar" but doesn't specify what type (light or dark), it is referring to light brown sugar.
In my recipes, you can use whatever type of brown sugar you have on hand whether it is dark brown sugar, light brown sugar, or demerara sugar – which is very common in Israel.
Just keep in mind that the flavor and color will be slightly different depending on what you choose to use.
Turbinado Sugar
Turbinado sugar is better known as "raw sugar". But, despite this name, the sugar is not really "raw."
Instead, it's partially refined sugar that retains some of the original molasses.
The term "raw sugar" may also give off the impression that it is somehow healthier.
In reality, turbinado sugar is nutritionally similar to white sugar.
Demerara Sugar
Demerara sugar is very popular in Israel and is especially delicious in tea but is also used for baking.
Unlike white sugar, demerara sugar undergoes minimal processing and retains some vitamins and mineral.
However, it is still not much healthier than white sugar.
Vanilla Sugar
Vanilla sugar is not very common in the States. However, it is common in Israel and parts of Europe.
This is sugar that sat for an extended period of time with vanilla beans, giving it a vanilla flavor.
Caster Sugar
This type of sugar is common in the United Kingdom.
It has a finer grain than white (granulated) sugar and larger than powdered sugar.
Caster sugar is often called for in recipes for delicate baked goods like meringues, souffles, and sponge cakes.
You can use a 1:1 conversion rate between caster sugar and white (granulated) sugar.
Powdered sugar
Powdered sugar, sometimes known as confectioners' sugar, is a sugar with a powdered texture.
This sugar is rarely, if ever, used for baking. Instead, it is used for dusting desserts and making frosting and icings.
In some countries, you can also find powdered vanilla sugar.
It is made the exact same way regular vanilla sugar is made. However, the sugar used is powdered instead of granulated.
Vanilla Extract vs Vanilla sugar
In my recipes, I don't specify what kind of vanilla to use.
The reason for this is that in the States, vanilla extract is exclusively used.
Meanwhile in Israel, along with many European countries, vanilla sugar is common.
In most, if not all recipes, both vanilla extract and vanilla sugar can be used.
In recipes where vanilla sugar can be used instead of extract, you can replace them 1:1.
Can I use powdered sugar instead of white sugar?
Yes. You can feel free to use powdered sugar instead of white sugar. Use 1 cup minus 2 tablespoons of powdered sugar to replace the 1/2 cup of sugar.
Can I use brown sugar instead of white sugar?
You can, however it will give your hot chocolate a different flavor.
Light brown sugar has a more mild flavor than dark brown sugar because it is made with less molasses. If you want to use brown sugar it's preferable to use 1:1 ratio of light brown sugar to white sugar.
Can I use vanilla sugar?
Technically, however it's probably not going to make a noticeable difference. So, in my opinion it's not worth it.
Other additions
The one other addition I'd recommend 1 teaspoon of cinnamon. I think it warms up the hot chocolate a little.
WHICH DAIRY FREE MILK TO USE
I can't speak for all oat milks because I know creaminess can vary between them. I've used Oatly with very good results as a milk alternative.
It is creamy and has little to noticeable flavor alteration. It also reacts well to heat which is why baristas really like using it.
Do I have to use dairy free milk powder?
No. Most hot chocolate mixes have milk powder in them to make them a little creamier.
However, if you are planning on using a dairy free milk base, there really isn't any need for it.
Instructions
Add 3 or 4 tablespoons of the Hot Chocolate mix to 8 ounces of dairy free milk or water into a saucepan and stir.
Simmer on medium/low heat for about 2 minutes.