Sahlab, A.K.A. sachlav, is a favorite cold weather drink in Israel. As soon as the air begins to turn crisp, you can find it petty much anywhere.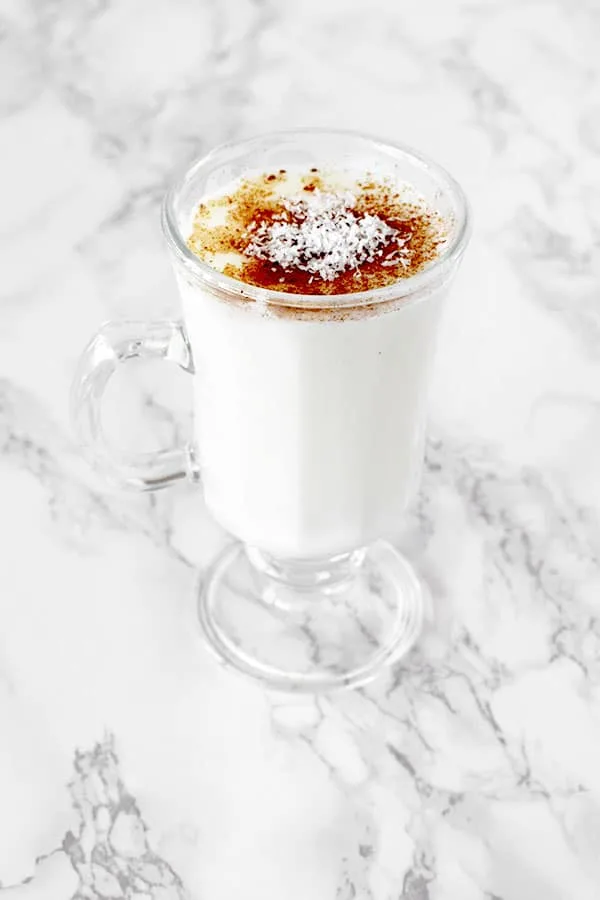 Traditionally, sahlab is made from the flour made from orchid tubers.
However, since these tubers are becoming endangered, it's common to use artificial flavoring or rose water.
The first time I had sachlav was with a good friend visiting from the States.
Like me, he is bi-cultural and grew up moving up and back between Israel and the States.
He is one of the few people I can connect to on this level. One of the biggest challenges in my life was feeling like I didn't fully belong anywhere due to belonging to two cultures and countries.
However, despite moving to Israel the same year, he is four years older than me, and we grew up in different parts and subcultures of the country.
So, we are always sharing different perspectives and experiences.
Sachlav is a good example of this.
Sachlav is more popular in Tel Aviv – where he grew up – so I'd never tried it before.
One December, when he was visiting, we were walking around Yafo and he got some.
The smell was intoxicating and he offered it to me, but I had a bite of shawarma an hour earlier.
I decided on the spot that my goal for the next day, which we were spending in Jerusalem, I was going to have some sachlav.
I fell in love with the drink right away. We got cup after cup as we walked around the Jewish Quarter of Old City.
Now I get it half the time I pass buy a place that sells warm drinks (the other half of the time, I get hot chocolate).
History
The Ancient Romans used ground orchid bulbs to make drinks. However, it became particularly popular in the Ottoman Empire.
It also became common in England and Germany before the rise of coffee and tea.
In England, the drink was known as saloop and was flavored with orange flower or rose water.
Saloop was popular in the 1600s and 1700s. It was sold in coffee houses as a cheaper alternative to tea and coffee.
However, its popularity declined when it started to be used as a treatment for STDs. So, drinking it in public became shameful.
Originally, sahlab was prepared much like tea and coffee.
The orchid powder was added to water until thickened, next it would be sweetened, and then milk was added to it.
Today, warm milk is exclusively used instead of water, or it is made by steaming milk.
Also, since the orchids have become endangered due to over harvesting, artificial flavoring or rose water are used instead of orchid powder.
Toppings
Sachlav is usually topped with cinnamon, coconut shavings, and nuts.
In cheap coffee stands, you'll usually find cinnamon and coconut shavings. However, in cafes it will usually be served with chopped peanuts or pistachios.