This Gluten Free Béchamel Sauce or White Sauce is a dairy free version of the French classic sauce and is a key ingredient for many dishes.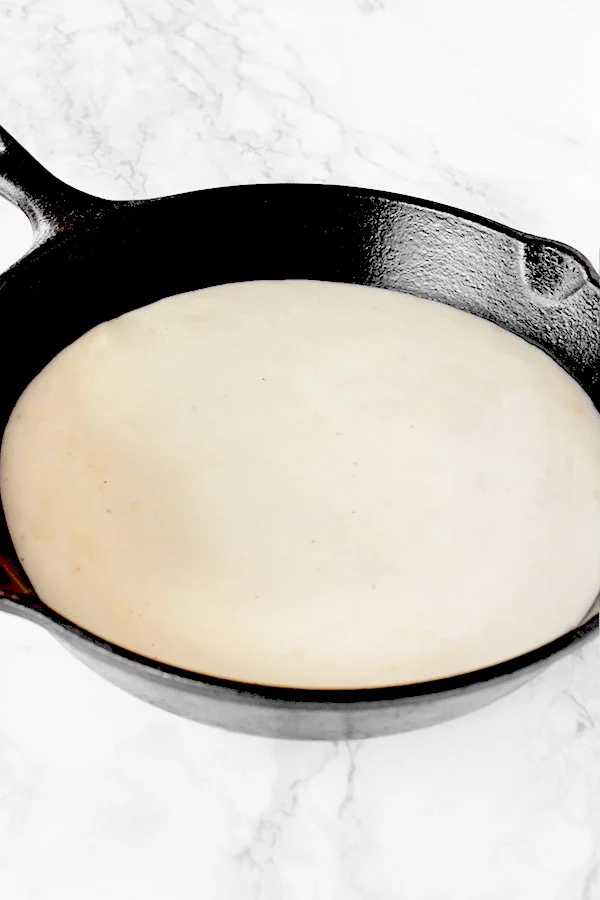 Gluten Free Béchamel Sauce or White Sauce is a must for dishes such as Gluten Free Scalloped Potatoes.
The French term for this medium-thick white sauce is béchamel and it is important as a base for soufflés.
Typically, this sauce is made with a roux.
However, since a roux is flour and fat cooked together until it reaches a specific color, it is not gluten free friendly.
So, this recipe uses a slurry instead.
Slurries are commonly used in Asian cooking and Chinese-American cuisine. It is used to make sauces needed for recipes like Beef Broccoli and Pepper Steak.
A slurry, like a roux, is used to thicken gravies, sauces, stews, and soups. However, unlike a roux, it is added at the end of the recipe.
It is a combination between corn starch or potato starch and water and provides a silky texture.
While it is less common, slurries can be made out of flour, but obviously we won't be doing that here.
Both cornstarch and potato starch can be used to make sauces and gravy.
However, just like a roux, using a slurry helps avoid clumping. In fact, it does so even more easily.
CORNSTARCH VS CORNFLOUR
Cornstarch and cornflour are the same thing. In North America, cornstarch is the term commonly used, whereas in Europe it is referred to as cornflour.
POTATO STARCH AND OTHER STARCHES
This recipe calls for cornstarch just because it is the most common. However, you can use potato starch or any other starch you have on hand.
POTATO STARCH VS POTATO FLOUR
Potato flour is made from whole peeled potatoes, cooked, dried, and ground into a fine, beige-colored powder.
Potato starch, on the other hand, is "washed" out of crushed potatoes, then dried to a fine, bright-white powder.
Potato flour is great for adding moisture and flavor to breads, while potato starch is the right choice for sauces and gravies.
CAN IT BE MADE AHEAD OF TIME?
Yes. You can make this gravy a day or two before and simply reheat it shortly before you're ready to serve.
Let sauce cool completely, cover it with wax paper or pour a film of milk over it to prevent a skin from forming.
HOW TO STORE
Once the sauce has cooled, place it in an airtight container. Keep up to 5 days in the refrigerator.
HOW TO FREEZE
Once the sauce has cooled, place it in an airtight container or a resealable freezer bag.
You can freeze sauce for up to 5 months. After that, it is still safe to eat, but the quality begins to degrade.
How to Reheat
Gravy will thicken as it cools. When you reheat it, add dairy free milk or water until it is smooth and reaches your desired consistency again.