Israeli red rice is a delicious side that you will only find made in homes. Add it to your table for a burst of color and delicious flavor. Serve alongside chicken or meat.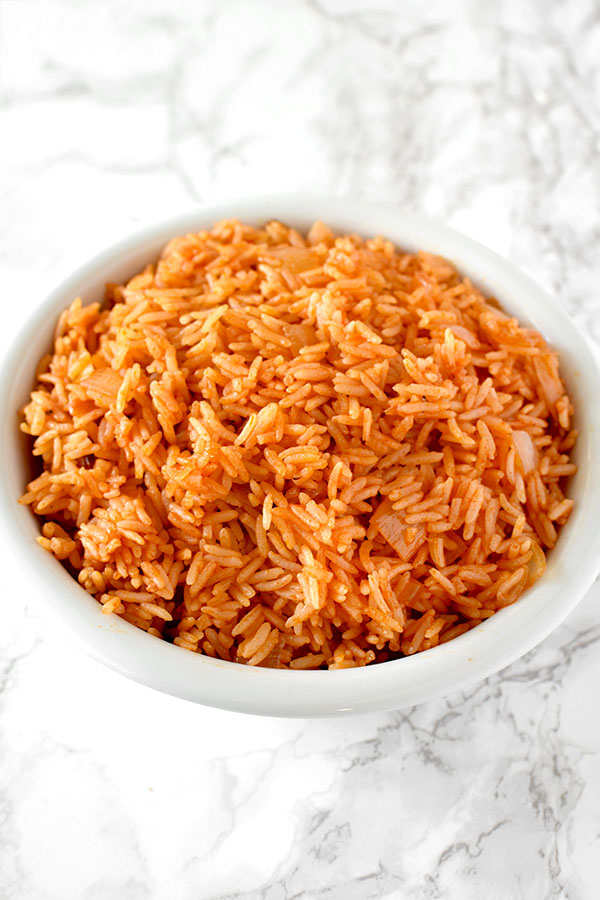 The first time I ate Israeli red rice was at my great aunt Chana's house during a summer I spent in Israel.
I was in my early twenties and it was my first time traveling anywhere outside of New York City and Long Island on my own.
I hadn't been to Israel or seen Doda (aunt) Chana since I moved when was eleven.
My Hebrew was rusty and my aunt doesn't speak a word of English. On top of that, we were practically strangers.
Still, Doda Chana invited me to stay with her and my Dod (uncle) Shlomo for my visit, and I accepted.
I quickly learned that Doda Chana is a classic Sphardic grandmother.
By that, I mean she is tough, loving, and tries to force feed you food even after you've had three helpings.
The evening of the second day I was staying with them was the 9th of Av fast and Doda Chana had been cooking for hours to prepare for the pre-fast meal.
When at least half a dozen plates filled with food were set out and when I asked who else from the family will be joining, she said no one.
The food was all for me.
I stared at the plates in both shock and horror as I tried to imagine eating all that food.
Somehow, I managed to find room for the kubbe, Israeli paprika chicken, Israeli white rice, and everything else.
I leaned back in my chair hardly able to breath when just then Doda Chana came out with a plate with a mountain of red rice which she only makes on special occasions.
Doda Chana took my empty plate, placing the rice in front of me saying with a heavy Sfardic accent "This isn't your plate. This is your plate."
I don't know how I managed it, but I ate the red rice too.
By the time I was done, I was grateful to be fasting an entire day.
WHY SORT RICE
Sorting rice is useful because I've actually found bugs in rice before, especially with already opened bags of rice.
To be sure the rice is clean, measure out how much rice you need, then pour some of it out onto a white plate.
Sift through the rice to make sure there are no bugs – some of which look like small worms.
When done, pour the sorted rice into a pot and repeat with the remaining rice.
As a secondary step, I then fill the pot with water and agitate the rice with my fingers. This helps get anything that may have been missed to float to the top.
Pour out the water, and if you found anything, repeat until nothing comes up.
HOW TO STORE REMAINING DRY RICE
Store the remaining dry rice by placing it in an air tight container or a resalable plastic bag.
Doing so will protect the rice from bugs.
WHY WASH RICE
There are two benefits to rinsing rice. Firstly, it removes any debris.
Secondly, and most importantly, it is to remove surface starch. If the starch is not removed, it can cause rice to clump together and get gummy as it cooks.
Some say to rinse the rice repeatedly until the water runs clear. This isn't necessary.
Instead, rinse the rice thoroughly a few times. After that, most of the starch should be removed and the water should be only slightly cloudy.
The way I like to wash rice is by putting it in a large bowl or a pot and filling it with water. Then, I shape my hand into a claw and use it to agitate the rice.
This brings up both debris and bugs that may have been missed during sorting.
WHY TOAST RICE
Toasting rice is a step some recipes require where you first lightly fry the uncooked rice. This step is usually done with rice that has not been rinsed.
As with toasting spices and nuts, toasting grains before cooking can enhance their flavor.
Rice is no exception, as it gains a nutty depth which adds extra layer of flavor to a final dish.
Another benefit is that by toasting the rice first, you are cooking the starches.
This, like washing rice, helps prevent the rice from being sticky. Instead, each grain cooks separately.
RATIO WATER TO RICE
There are many different types of rice. Most popular types require two cups of water for one cup of rice. Some however, need less water:
Short Grained Rice needs 1 and 1/8 cups water.
Basmati Rice needs 1 and 1/4 cups water
American Long Grained Rice needs 1 and 1/2 cups water
Jasmine Rice needs 1 and 3/4 cups water.
Also, when multiplying the recipe, rice often needs less water than you'd think. For example, with American long grain rice:
1 cup rice needs 1 and 1/2 cups water
2 cups rice need 2 and 3/4 cups water
3 cups rice need 3 and 1/2 cups water
HOW TO STORE
Transfer the cooled, cooked rice into an airtight storage container or a resealable plastic bag. Make sure to remove as much air from the bag as possible before sealing it.
Store in the refrigerator for 3 to 5 days.
HOW TO FREEZE
Transfer the cooled, cooked rice into a resealable freezer bag making sure to remove as much air from the bag as possible before sealing.
Store for up to 3 months. After that, it is still safe to eat but the quality begins to degrade.
REHEATING
FRIDGE
When reheating, place the rice in a pot, sprinkle a teaspoon of water over the top to help loosen stuck, dried grains, then place.
Heat over medium heat, stirring constantly to keep the grains moving, but be careful not to mash them.
FREEZER
Frozen grains can be added directly to hot dishes like stir-fries. If you're planning on eating it on its own, follow the steps above.
Israeli Red Rice Tip:
This rice is ridiculously easy to make and doesn't take long at all.
However, if you're in a rush, after cooking the onions you can throw everything in the pot and cook it together.
Or if you have even less time than that, you can skip the onions and cook everything together.
Do make sure to put in a little oil though, so the rice doesn't stick together.