Latkes are potato pancakes traditionally eaten on Hanukkah. Serve it with a dollop of sour cream, with apple sauce or cottage cheese spooned over, or sprinkled with sugar.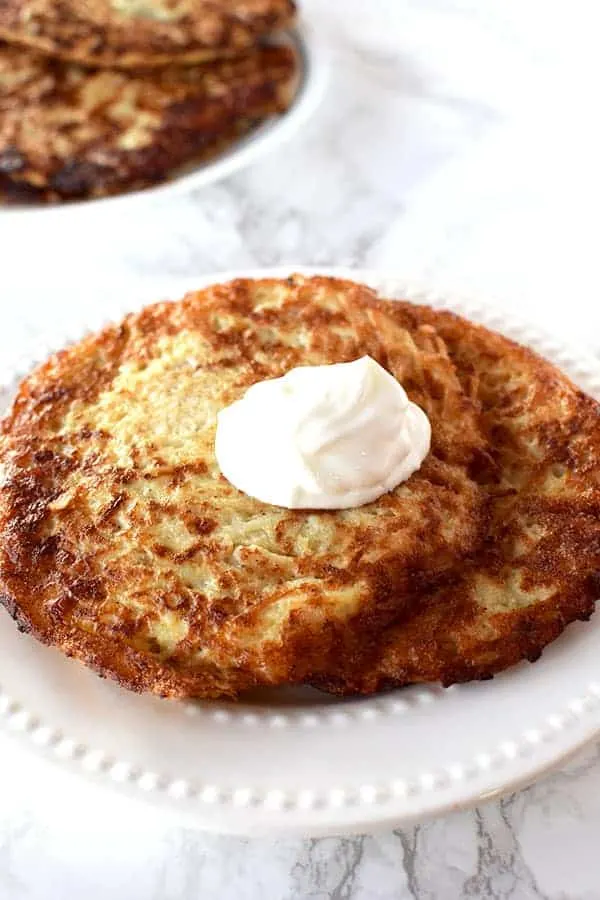 Many cultures have potato pancakes as part of their cousin.
The Irish have boxty, the Russians eat draniki, and Koreans make gamja-jeon just to name a few.
For most cultures potato pancakes are year round.
However, for Jews, latkes are eaten primarily once a year.

Latkes, or levivot in Hebrew, are the most eaten Chanukah food outside of Israel, which prefers sufganiyot.
The tradition of eating latkes during this eight day holiday is an old one.
It is actually derived from tradition of eating fried foods over all as part of the celebration

In case you don't already know, Chanukah celebrates a miracle that happened in Israel over 2,000 years ago.
The Jewish temple was desecrated, looted, and an altar dedicated to Zeus was ordered to be erected by Antiochus a Hellenistic king.

This sparked a revolt which lasted two years. At the end of which the temple was reclaimed.
When the priests came to rededicate it, they found that there was only one untainted container of ritual olive oil to light the menorah.
The oil was enough to last only one day, however, it lasted eight days, the same amount of time it took to press and make ready new oil.
How do you like your latkes?
Everyone has their own preference with how they like their latkes. Trust me I know.
To this day, all eight of us (my parents, brothers, and I) each like our latkes differently.
Some like their latkes grated into strips, others like theirs grated into mush. Some like chunks of onions, others like grated strips, and still others like it grated into mush.
Then there are the toppings.
There are three traditional toppings – at least to my knowledge. These are: sour cream, cottage cheese, and applesauce.
My family also puts on sugar – I don't know where that came from.
I've always said, when it comes time that I throw a family Chanukah party, there will be dozen options for latkes and four toppings.
Personally, I like mine with the potatoes grated into strips, my onions in large chunks, and I sprinkle mine with sugar. I have a sweet tooth, what can I say.

Equipment
Grater or food processor
Cheese cloth
Large bowl
Frying pan
Spatula
Latkes Tip:
If you don't have a cheesecloth you can simply let the potatoes release their moisture. Then remove the liquid and press or pat the potatoes dry.
If you try this recipe, let me know! Leave a comment, rate it, and don't forget to hashtag a photo #thetasteofkosher on Instagram.