These Passover chocolate crepes are gluten free but have the same flavor and texture regular crepes. They are rich in flavor so serve them for breakfast or dessert with something light and sweet.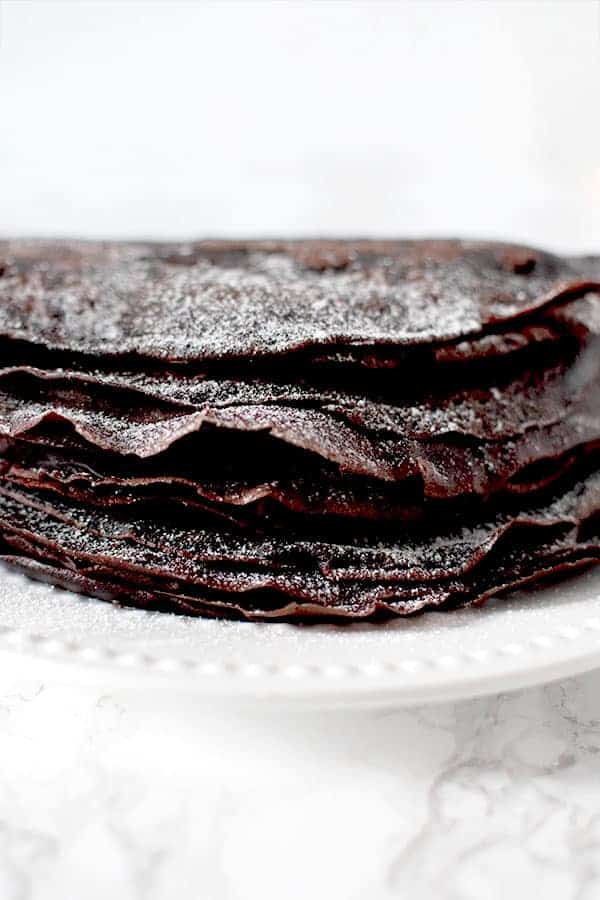 Normally I like to stick to culturally authentic foods but turn them dairy free like these dairy free French crepes.
However, Passover brings restrictions and limitations that demands culinary creativity.
As a result, I present to you chocolate crepes a concept that is pretty much unheard of in France (I checked!).
Being that this recipe calls for potato starch instead of regular flour cocoa seemed like a flavorful option.
Orange juice adds a nice flavor but can easily be replace with black coffee or water depending on your preference.
Between you and me, I haven't tried the crepes with coffee or water yet, but coffee works incredibly in my Passover chocolate cake and I use water in most of my recipes without any negative impact on taste.
These chocolate crepes have a very rich flavor so I'd recommend eating them with something light and sweet. P
owdered sugar is nice, but whipped cream or sweet fruit are also very enjoyable options.
Traditionally, sweet crepes are usually served as a dessert.
These crepes would work very nicely as a dessert, but can also be served as a tasty breakfast treat.
When I have them for breakfast I get the feeling of eating dessert for breakfast, which I really enjoy on lazy days.
If you're looking for other Passover breakfast ideas, try my Passover pancakes!
Passover Chocolate Crepe Tip:
I like to spray a light coat of oil before every crepe. It makes it easier to remove them from the pan and you don't risk using too much oil when you use spray.