This ranch dressing with almond milk is creamy, tangy, and oh so delicious! It's perfect as a dressing on salads, wraps, burgers, or as a dip for veggies, fries, chicken wings, onion rings, chicken fingers, hushpuppies, and more.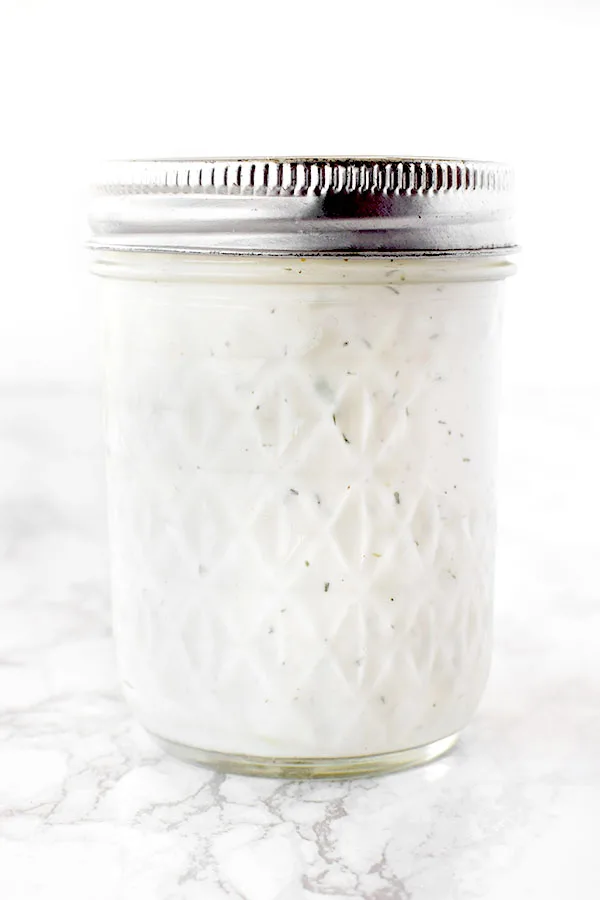 While this ranch dressing with almond milk is dairy free, it is just as creamy as the original!
While you could use fresh herbs if you'd like, I recommend using dried. Dried herbs last longer than fresh herbs, allowing for the dressing to last longer too.
This recipe makes only one cup of dressing because I find it to be a much more manageable amount.
I rarely need more than that, even when serving a number of people.
However, it can be easily doubled, tripled, or even quadrupled, if desired.
History of Ranch Dressing
Ranch dressing was originally created by a man named Steve Henson while spending a few years in Alaska.
Then, in 1954, he and his wife opened a dude ranch in California named Hidden Valley Ranch.
There, they served it to customers and it became so popular, they began selling the dressing and seasoning mix for customers to take home and add their own buttermilk and mayonnaise.
Eventually, they began mass producing their dressing. By the early 1990s, it was America's best selling dressing.
How do You make dairy free buttermilk?
Making dairy free buttermilk is easy.
All you need is 1 cup of dairy free milk and 1 tablespoon vinegar or lemon juice. Then, let it sit for 5 to 10 minutes while the milk sours and curdles a bit.
Voilà, dairy free buttermilk!
Does the mayonnaise change the flavor?
Nope! Not at all.
First of all, the original ranch dressing included mayonnaise in it, so if anything, this is actually more authentic than using sour cream.
Also, I've used mayonnaise in all kinds of recipes, including for grilling, and I've never found it to give a taste.