This dairy free stuffing, or dairy free dressing if you prefer, is a delicious Thanksgiving side dish and a perfect addition to any Dairy Free Thanksgiving table!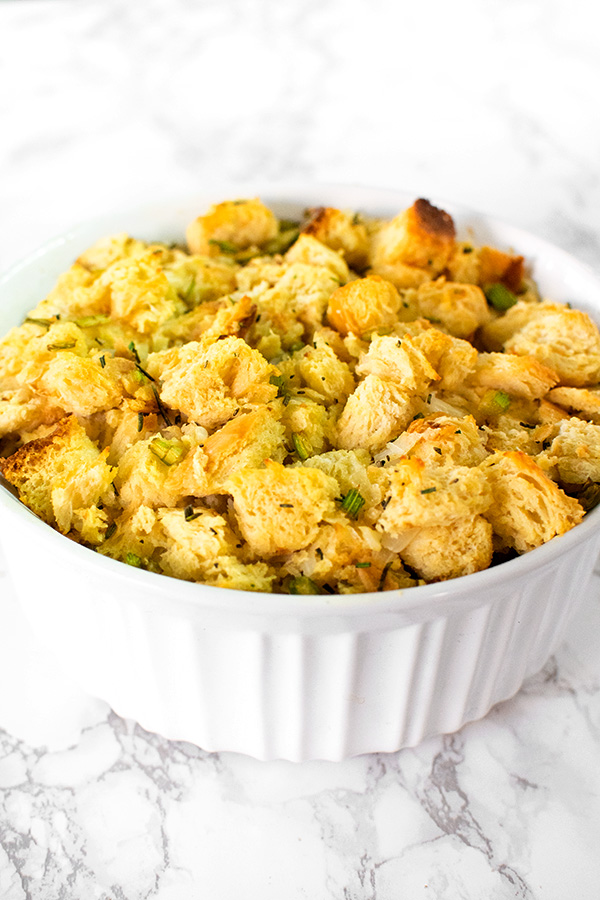 If you're wondering what this difference between stuffing and dressing is, there are two differences actually.
Dressing is cooked outside of the bird and served on the side. Stuffing on the other hand is actually stuffed into the cavity and everything is cooked together.
Northerners tend to favor the term stuffing, no matter how it was cooked, while Southerners prefer the term dressing.
Technically speaking, this is a dairy free dressing because it is cooked in a casserole dish but I'm from the North and everything is stuffing to me.
However, this recipe actually works as a dairy free stuffing too since all you have to do is put it in the dairy free turkey instead of a casserole dish and cook them together.
The choice is yours!
Stuffing fell out of vogue when the same people who tell you not to eat raw cookie dough, crossed stuffing off their Thanksgiving menu.
The concern was food safety because of potential bacteria build up.
To avoid this, the FDA recommends filling the turkey to 3/4 cup stuffing per pound of turkey.
The CDC also recommends put the stuffing in the turkey just before cooking and to make sure the stuffing's center reaches 165°F.
Personally, I like cooking it in a casserole dish because it makes me so happy to see my Thanksgiving table full of dishes.
Do I need to dry my own bread cubes?
You don't need to but it does make a better stuffing than store-bought bread cubes and they are very easy to make.
For homemade bread cubes, cut your favorite type of bread into 1/2″ cubes and lay them out on a baking sheet or in a large bowl.
To dry them out, let them dry out on the counter for about 48 hours or toast them at a very low temperature in the oven (anywhere from 275° to 325°F) until dehydrated.
Stale bread absorbs flavors better than fresh bread and the chicken broth will help moisten them.
What kind of bread should I use?
That is completely up to you, it's really a matter of taste. I always use challah bread because I usually have part if a loaf leftover and it makes for great stuffing.
Do I need to use eggs?
No, it is completely optional.
I do prefer to use egg though because it acts as binder and adds a little body and richness, but it's not essential by any means.
Can I sub poultry seasoning for the fresh herbs?
Absolutely. You can also substitute fresh herbs for dry herbs if you want.
How to make dressing taste even more like stuffing?
If you can get your hands on it, I'd recommend dotting the top of the mixture with schmaltz before baking.
Doing this will add some of the flavor that you'd get if the fat was dripping on the stuffing while in the turkey.