This dairy free cold brew coffee is made with oat milk and is delicious and simple to make! Enjoy it hot or cold all year-round.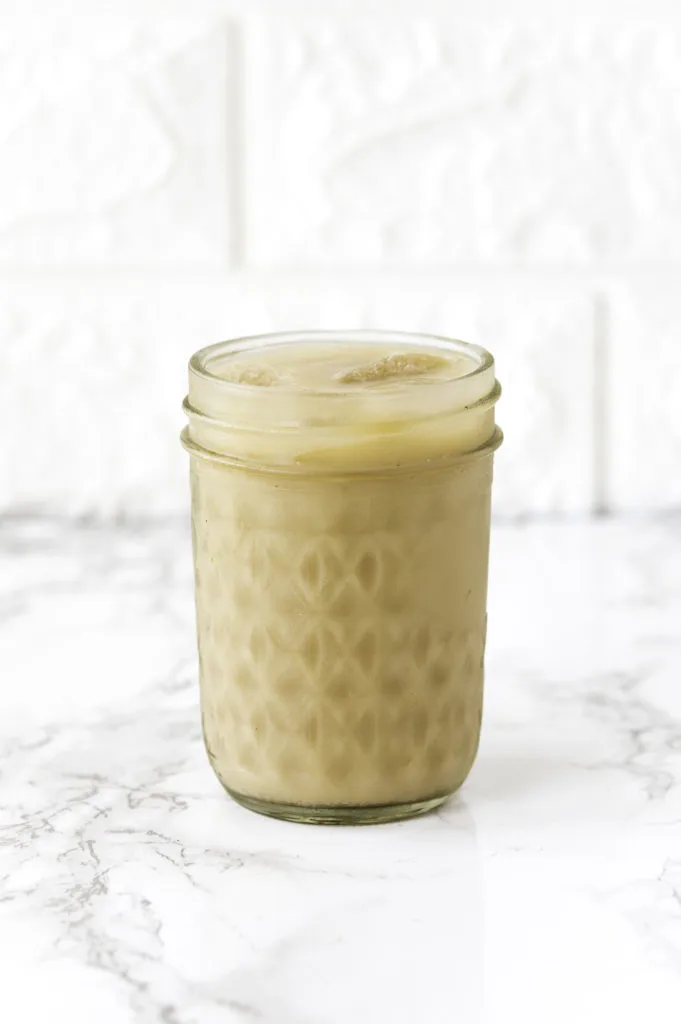 Cold brew coffee with oat milk is easy to make at home.
All you need is coffee grounds, water (preferably filtered), a jar, something to strain the coffee from the grounds, and oat milk. That's it!
I really enjoy having my dairy free cold brew coffee in the summer as an ice coffee, but it also makes a great coffee in the all year round.
Oat milk is one of my favorite dairy free milks, whether it is a hot coffee with oat milk or an iced coffee with oat milk.
So, naturally, my cold brew coffee is often going to have oat milk in it too.
If you enjoy this recipe, you may also enjoy my cold brew coffee with almond milk and my iced coffee with almond milk.
What Kind of Oat Milk should I use?
Personally, I prefer a full fat neutral flavored oat milk like Oatly.
Alpro's Not Milk is also great but a little on the sweet side, so keep that in mind if that is something you care about.
If you don't mind milk in your coffee and your coffee tasting like oatmeal, you can use any oat milk you have on hand.
Is cold brew dairy-free?
Cold brew coffee that is only ground coffee beans and water is dairy free. To keep it dairy free, you need to drink it black or add only dairy free milk products to it.
Is iced coffee dairy-free?
Iced coffee is not inherently dairy free. It is dairy free if you do not add any dairy to it and only use dairy free ingredients to make it.
Should I use filtered water?
If you have it, you should use it because it will give you a sweeter coffee in the end.
However, if you don't have one, it shouldn't stop you from making cold brew coffee.
Can I use a French press?
Actually, you can make cold brew coffee in a French press. You can simply press after leaving overnight.
What if I want to add flavor to my coffee?
If you want to add spices to your coffee, add a 1/2-inch cinnamon stick and 1 clove to the brew.
How do I avoid ice cubes diluting the coffee?
A popular trick to avoid ice cubes diluting your coffee is to make coffee cubes and use them.
What is special about cold brew coffee?
Due to containing less acidity, cold brew is less bitter than regular coffee.
Is cold brew stronger than regular coffee?
Cold brew coffee has more caffeine, but it has a smoother, more mild flavor.