This dairy free cold brew coffee is declious and simple to make! It is also great to have on hand in the summer for a quick ice coffee!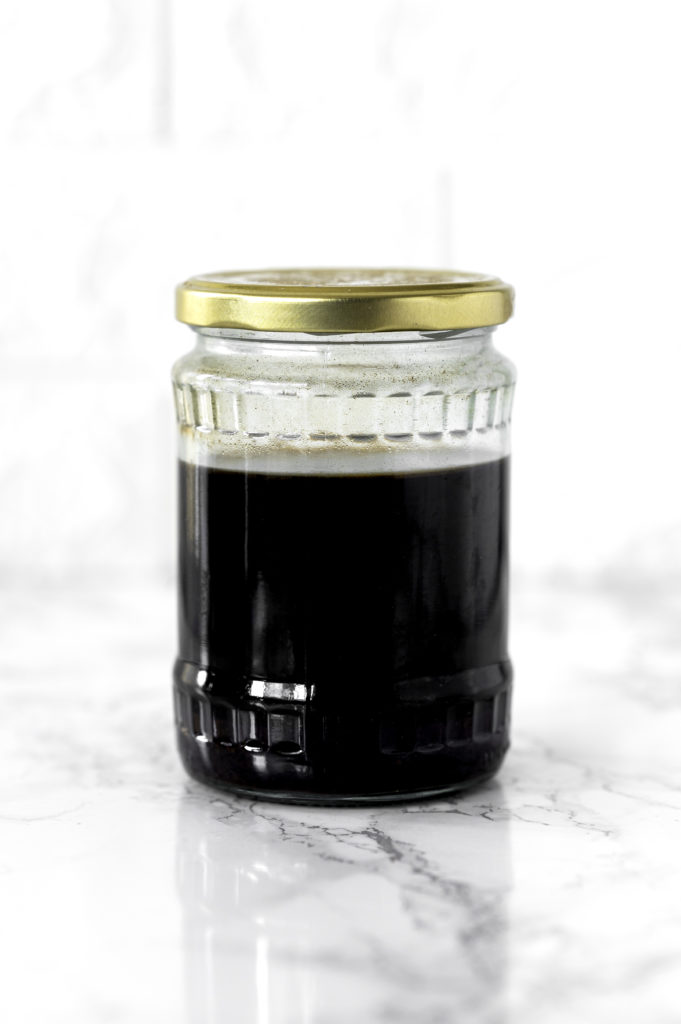 Cold-brewed coffee is really simple to make at home!
All you need is ground coffee, water, a jar and a sieve.
You just add water to coffee, stir or shake, cover it and leave it out on the counter overnight.
Except for the time it sits on the kitchen counter, the whole process takes about five minutes.
Slow brew coffee pulls all the coffee flavor from the beans while leaving behind most of the bitterness giving you a smooth coffee!
It is perfect for iced coffee.
Also, by making your own cold brew coffee, you have complete control over how strong you make your coffee so it's always just right for you.
Personally, I love how this method of coffee allows me to make it ahead of time so I can have iced coffee on demand.
Or if I want that cold brew flavor, I can just heat it up and have a nice hot cup of joe.
For best results use filtered water if possible. This will make your cup of coffee will have a cleaner, sweeter flavor if you use filtered water to make it.
Cold brew coffee at its most basic level is dairy free because all it just coffee and water.
However, if you don't want it black keep your dairy free cold brew that way by adding your favorite dairy free milk to it.
Is cold brew dairy-free?
Cold brew coffee that is only ground coffee beans and water is dairy free. To keep it dairy free, you need to drink it black or add only dairy free milk products to it.
Is iced coffee dairy-free?
Iced coffee is not inherently dairy free. It is dairy free if you do not add any dairy to it and only use dairy free ingredients to make it.
What can I put in my coffee that is dairy-free?
Personally, I love coffee with coconut milk because I really enjoy that coconut flavor.
However, coffee with almond milk and coffee with oat milk are really good too.
For almond milk I recommend a barista version so it is nice and creamy.
For oat milk I recommend a full fat mild flavored oat milk. This way your coffee is nice and creamy and doesn't taste like oatmeal – unless you like your coffee tasting like oat meal that is.
Of course if you prefer a coffee creamer or half and half, you can use a dairy free coffee creamer or dairy free half and half.
Should I use filtered water?
If you have it you should use it because it will give you a sweeter coffee in the end.
However, if you don't have one, it shouldn't stop you from making cold brew coffee.
Can I use a French press?
Actually you can make cold brew coffee in a French press. You can simply press after leaving overnight.
What if I want to add flavor to my coffee?
If you want to add spices to your coffee add a 1/2-inch cinnamon stick and 1 clove to the brew.
For extra flavor, add a splash of coconut milk before drinking.
How do I avoid ice cubes diluting the coffee?
A popular tick to avoid iced cubes diluting coffee is to make coffee cubes and use them instead.