Some of the links below are affiliate links, which means that if you choose to make a purchase, I will earn a small commission at no additional cost to you. 10% of all profits are donated to charity.
Cooking and baking can be a lot easier if you have the right tools at hand. Luckily, you don't need all that much to have all of the essentials!
Whisk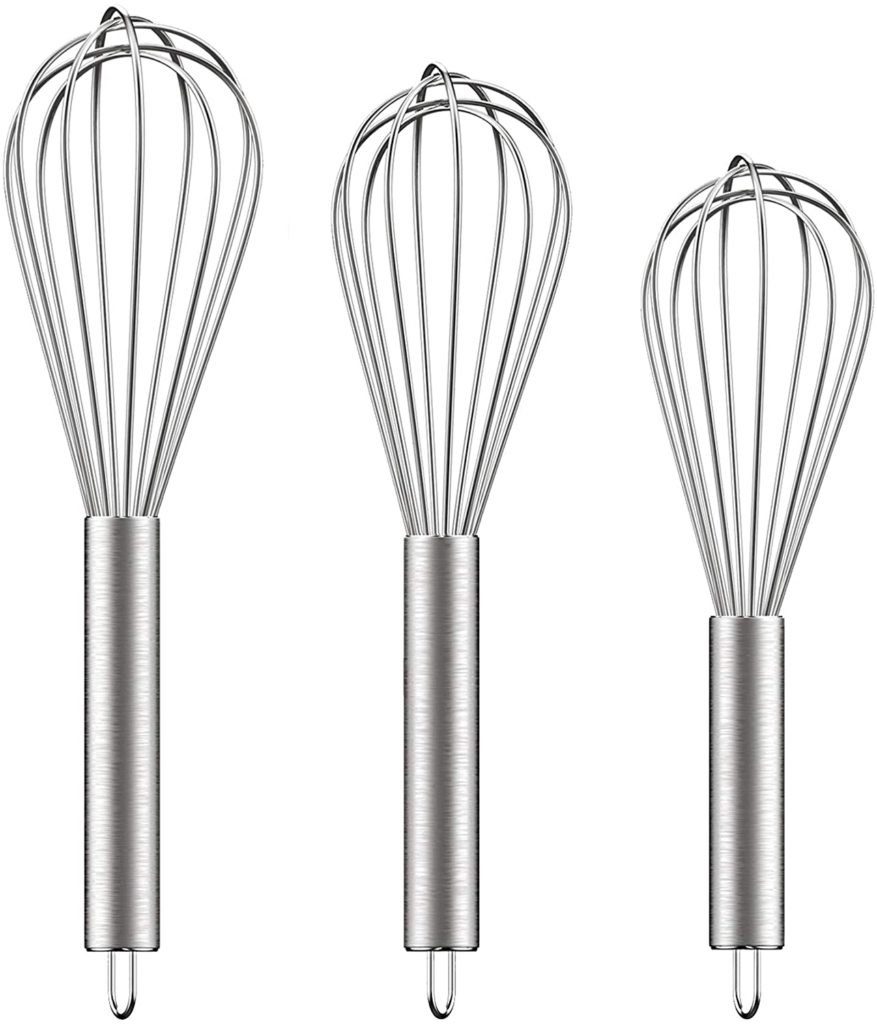 While I grew up with my Mom using a fork or spoon for just about everything, as an adult who spends a lot of time in the kitchen, I learned how useful a whisk can be.
In my opinion, a whisk is a must when making cakes and sauces. It simply makes things so much easier!
I also love having whisk in different sizes so I have the right one for the amount of space work in. It is no fun trying to use a big whisk in a little pot let me tell you.
Silicone Spatula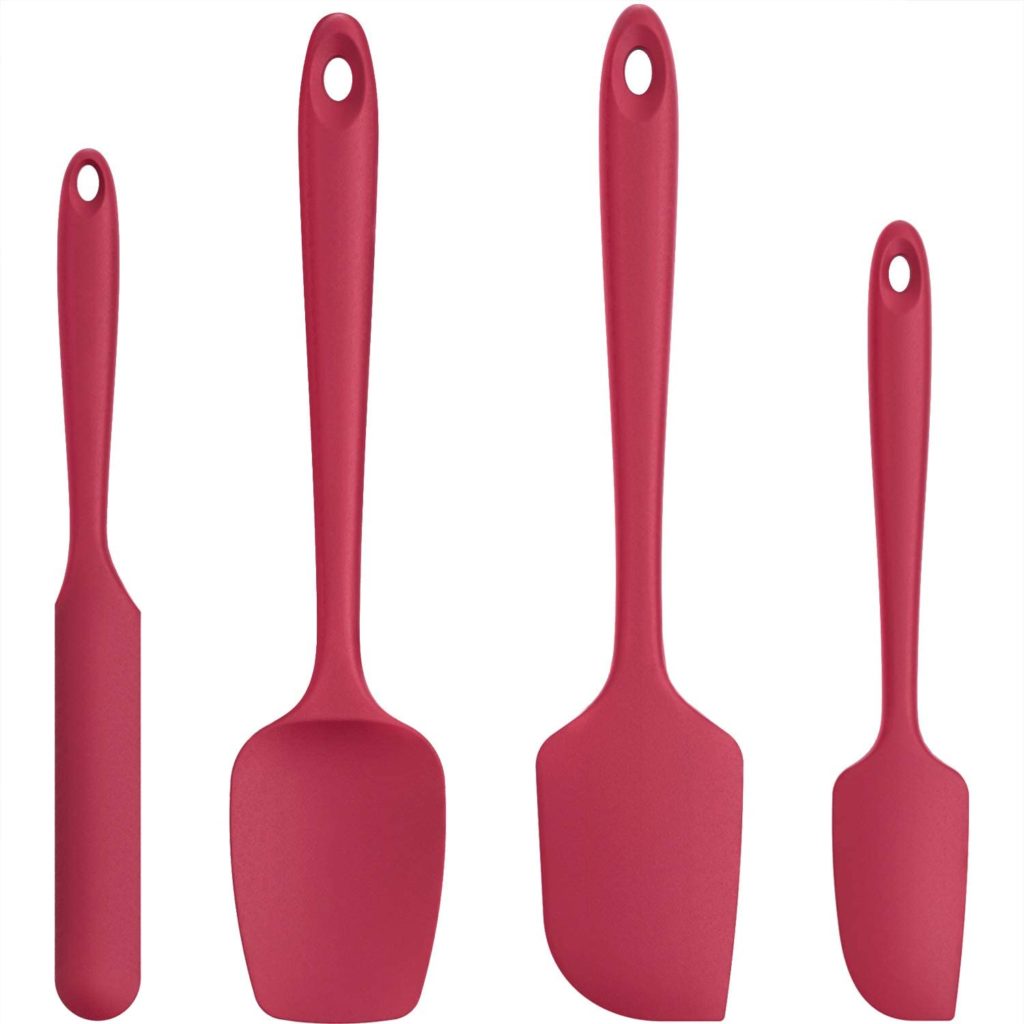 Silicone Spatulas were first recommended to me years ago by a pastry chef friend on mine and I've been using them ever since.
I always used to be annoyed by how much dough and batter ended up wasted stuck to the sides of the mixing bowl. Now I wipe them clean with a silicone spatula which also makes clean up so much easier!
Mixing Bowls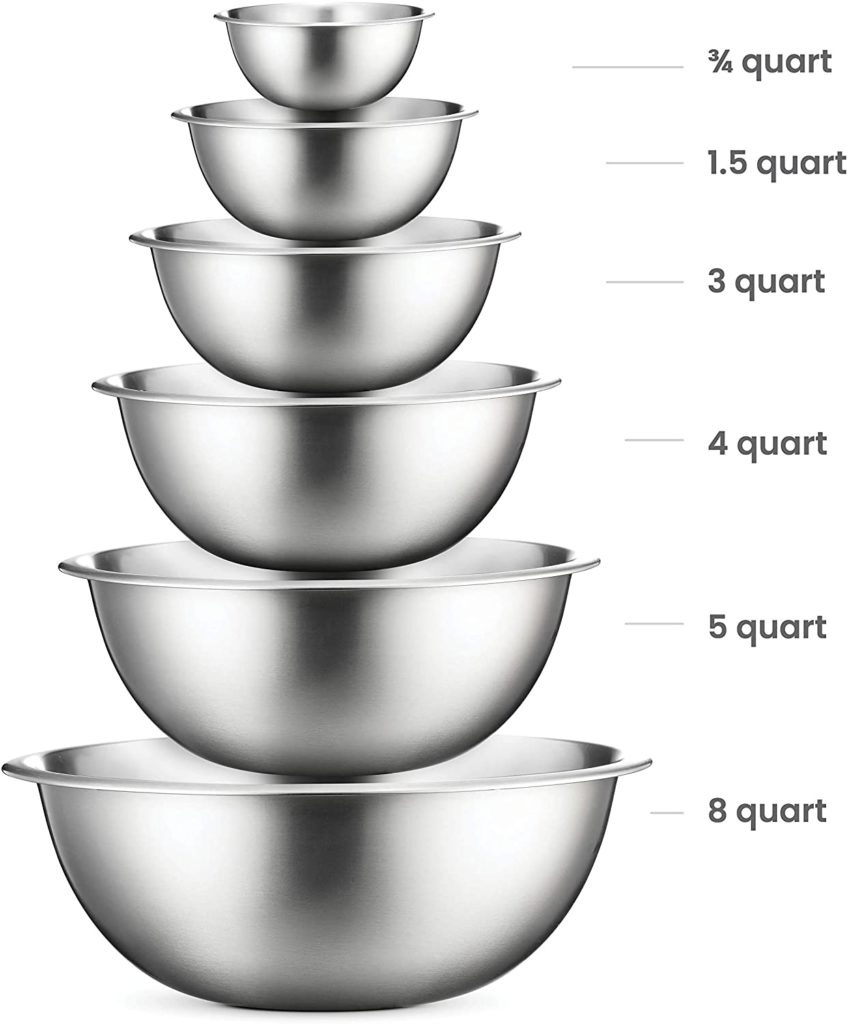 Liquid Measuring Cup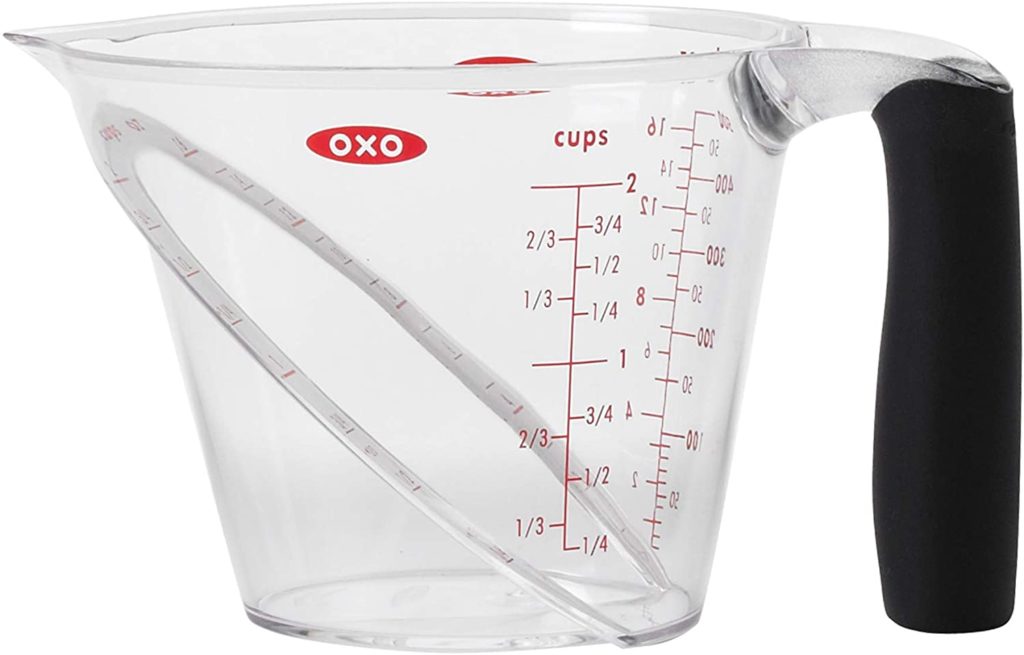 Growing up, my Mom used measuring cups that looked just like this for everything and the individual measuring cups that were labeled with their size were left collecting dust.
When I grew up and started cooking and baking I got curious and looked up what the difference was.
As it turned out, this measuring cup is used to measure liquids and should not be used to measure dry ingredients like flour. Who knew?
Dry Measuring Cups and Measuring Spoons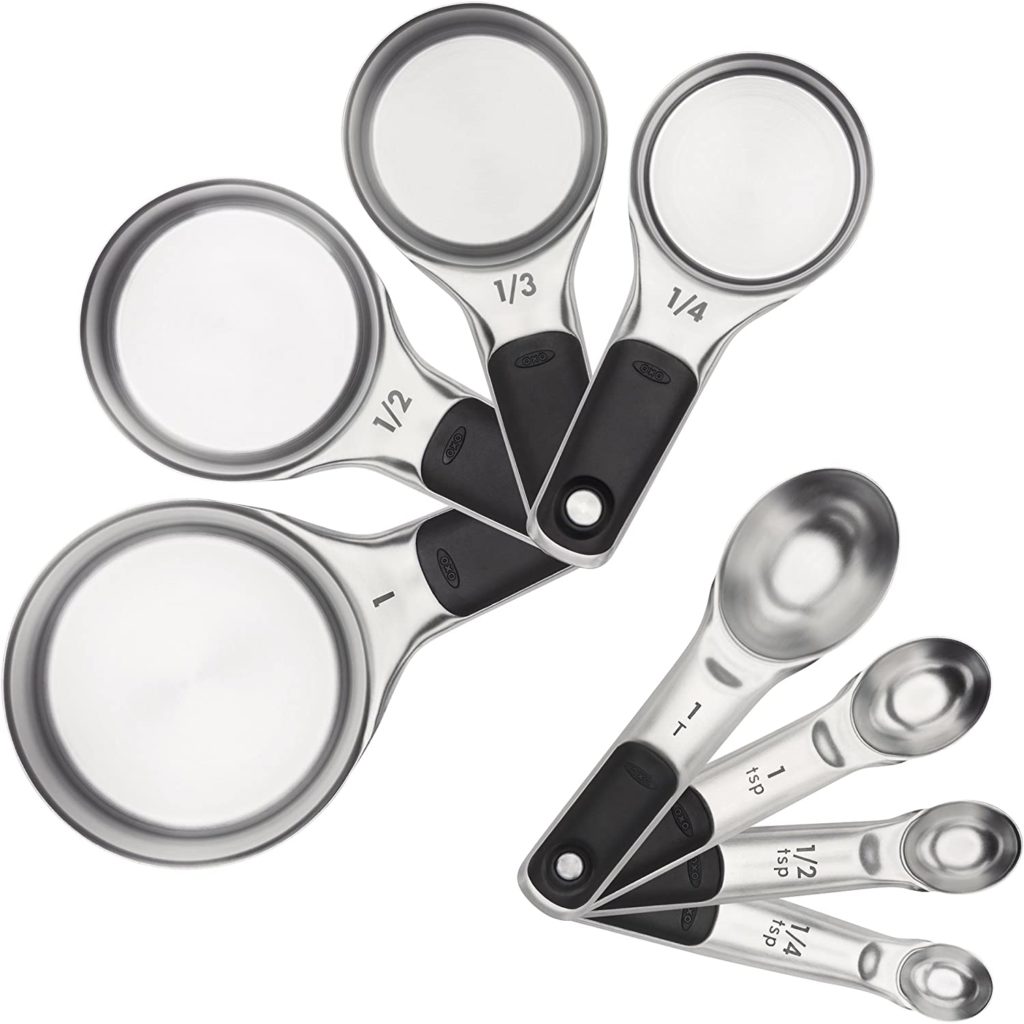 Dry measuring cups are a must for baking (along with measuring spoons of course).
If you use a liquid measuring cup to measure dry ingredients you will likely shake the cup to level out the ingredient. This causes the dry ingredient to settle and you end up with more than you need.
This why if you want to get more of something in a jar, you shake it make room.
A friend of mine didn't believe me and when I measured out the flour she had in the bowl she ended up with at least half a cup more than the recipe called for.
Cake Pan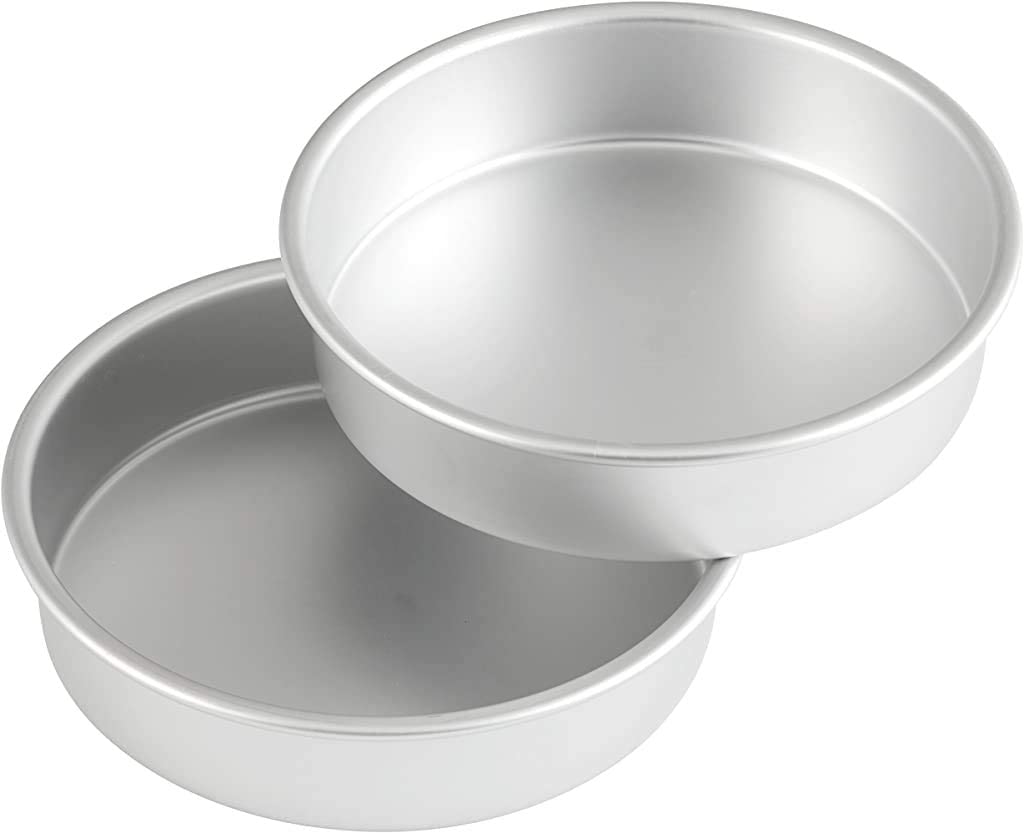 Making multi-layered round cakes instead of sheet cakes can be pretty intimidating and frustrating if you don't have the right cake pans.
Most cake pans you can find are tapered at the sides so you can save room when storing them by nesting them in each other.
The problem with this is, when you stack your cakes they end up uneven and frustrating to decorate.
Because of this reason, you want traditional styled straight sided cake pans which will make cake creation a breeze!
Even Baking Cake Strips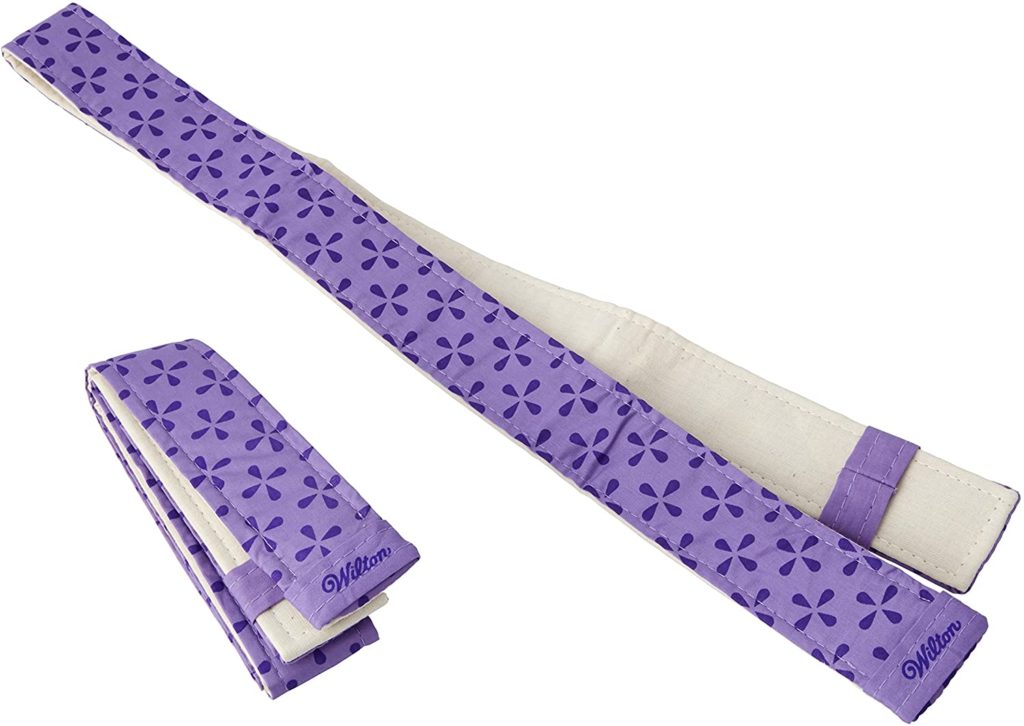 While we are on the topic of cakes, another thing that makes things so much easier are cake strips.
These trips are wrapped around the cake wet and allow for even baking preventing (or at least reducing) your cakes from becoming domed.
Flat cakes allow you to skip a step by not needing to level out the top. If you cakes still come out slightly domed, which can happen, then it these strips ended up preventing waste by limiting how much needs to be cut off.
Chefs Knife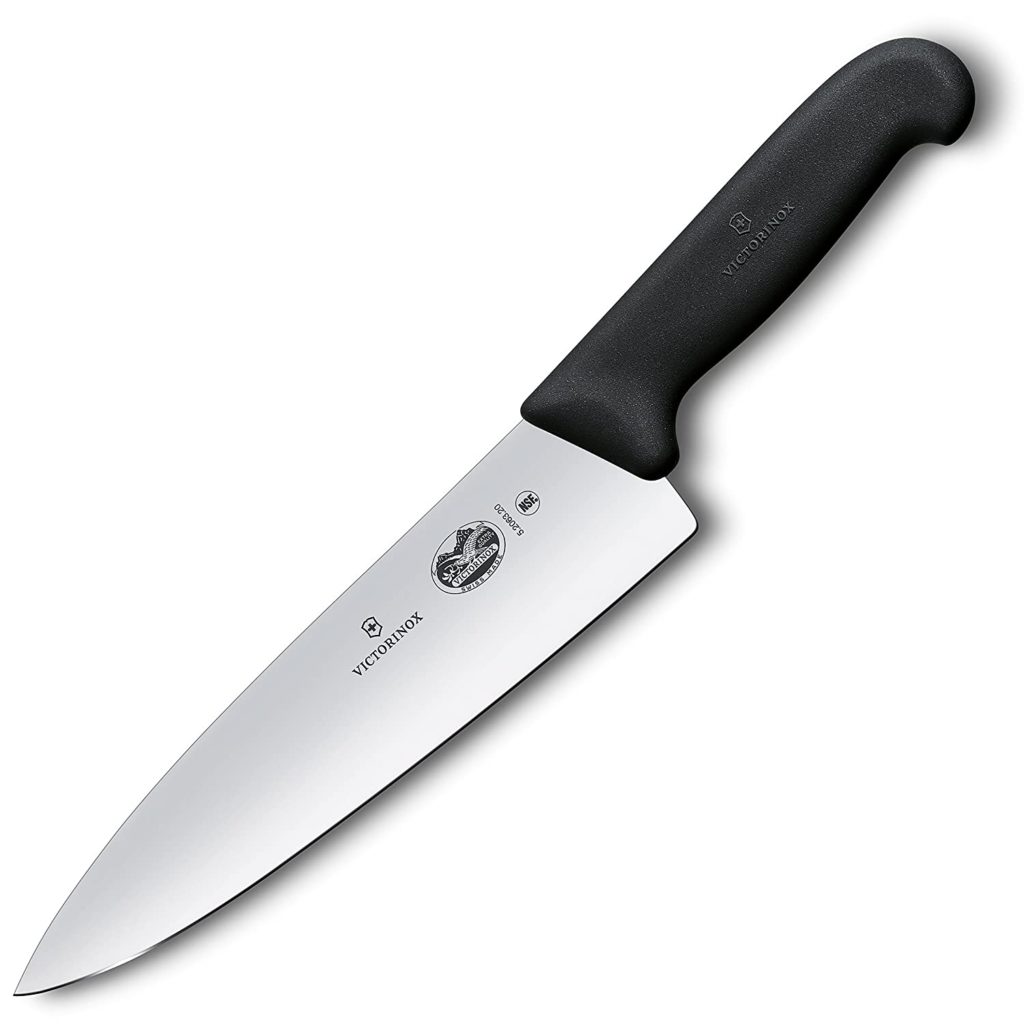 Anyone whose seen me cook knows that the main knife I use is a chefs knife.
You can use a chefs knife to slice, chip, and dice veggies, to cut a whole chicken into pieces or debone parts, and to slice and/or cube meat.
Really there is little you can't do with a good chefs knife. It is my kitchen Swiss Army Knife.
Honing Steel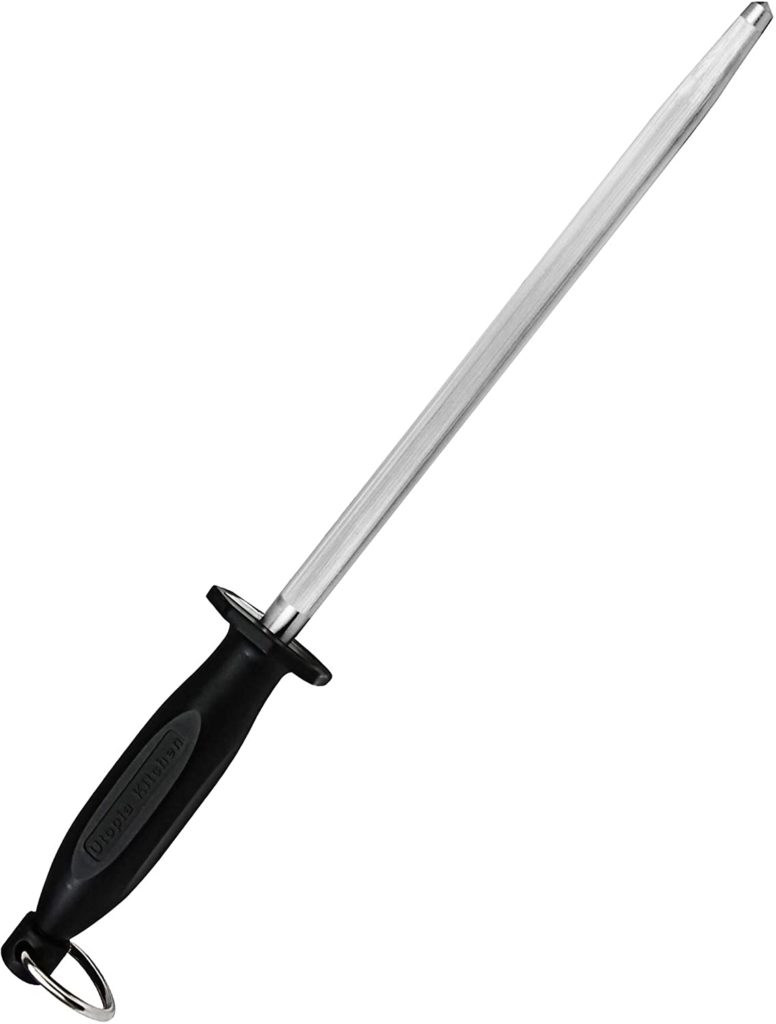 I used to know someone who always said a dull knife is more dangerous than a sharp knifed it's true. You're more likely to hurt yourself fighting to cut something with a dull knife.
A honing steel is your chefs knifes best friend because it keeps your knife nice and sharp so it can cut through pretty much anything like butter.
I hone the blade with a honing steel every time I use my chefs knife and often again if I'm making a bunch of dishes.
Cutting Board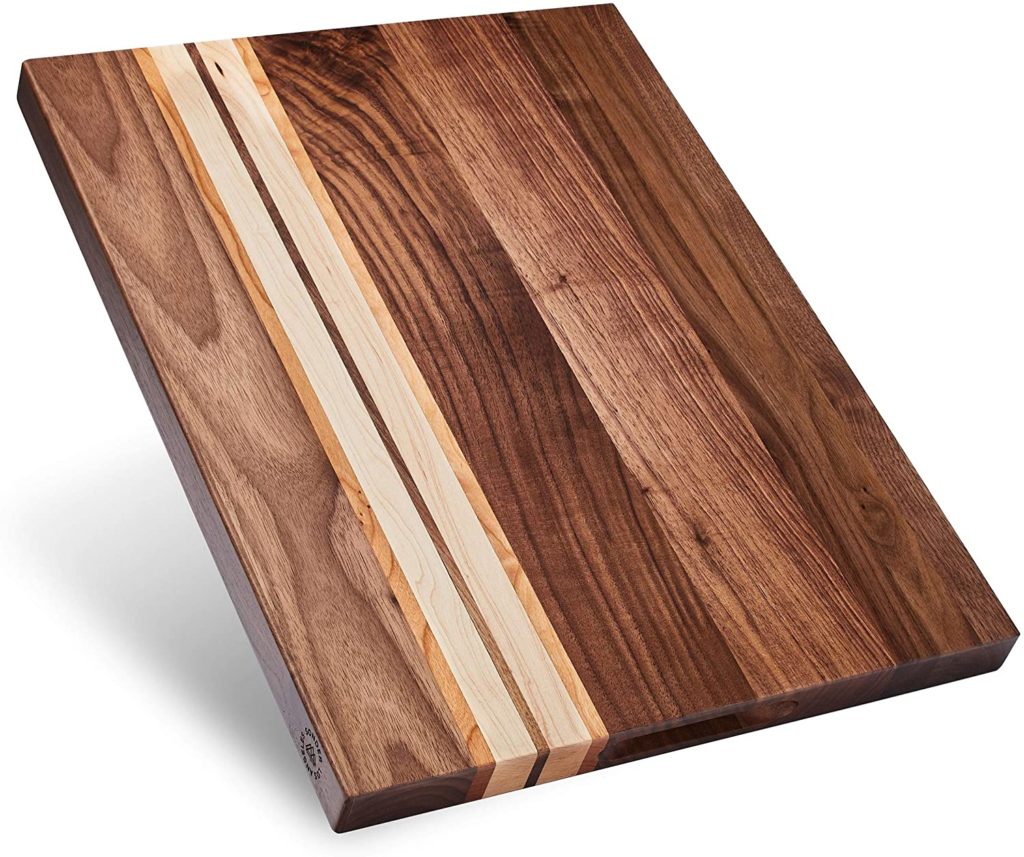 Just as important as a good chefs knife and a honing steel is a good cutting board.
A good cutting board requires the right type of wood. Wood that is too hard or bamboo can blunt knife much faster than a board made of soft wood.
Wood or Bamboo Spatulas

I can't say exactly what is that makes using a wooden spatula just so good for sautéing and stir frying but something about it is so much more comfortable.
Maybe it's the shape that gives better control when cooking, who knows? But it is a much better experience than anything else I've used and I highly recommend having one (or five!) in your drawer.
Scissor Tongs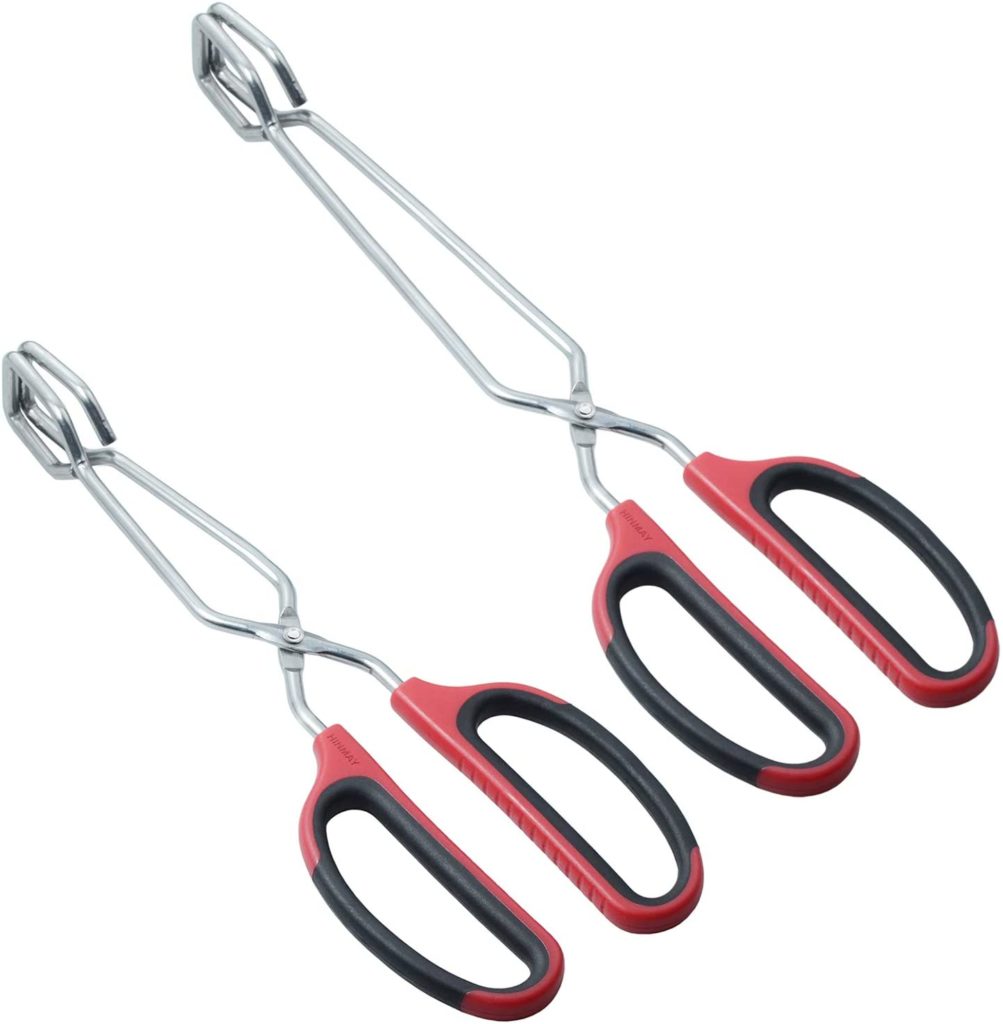 Have you ever met someone you wish you hadn't except for the fact that you learned one useful thing from them?
One such person gifted me with what would develop into a long held love for scissor tongs.
Scissor tongs are give a you a lot more control than other types of tongs. You can easily pluck out a small onion skin that somehow made it into your pan, use it to turnover chicken cutlets, or remove a piece fried chicken from the heat and set it aside to cool.
Cooling Racks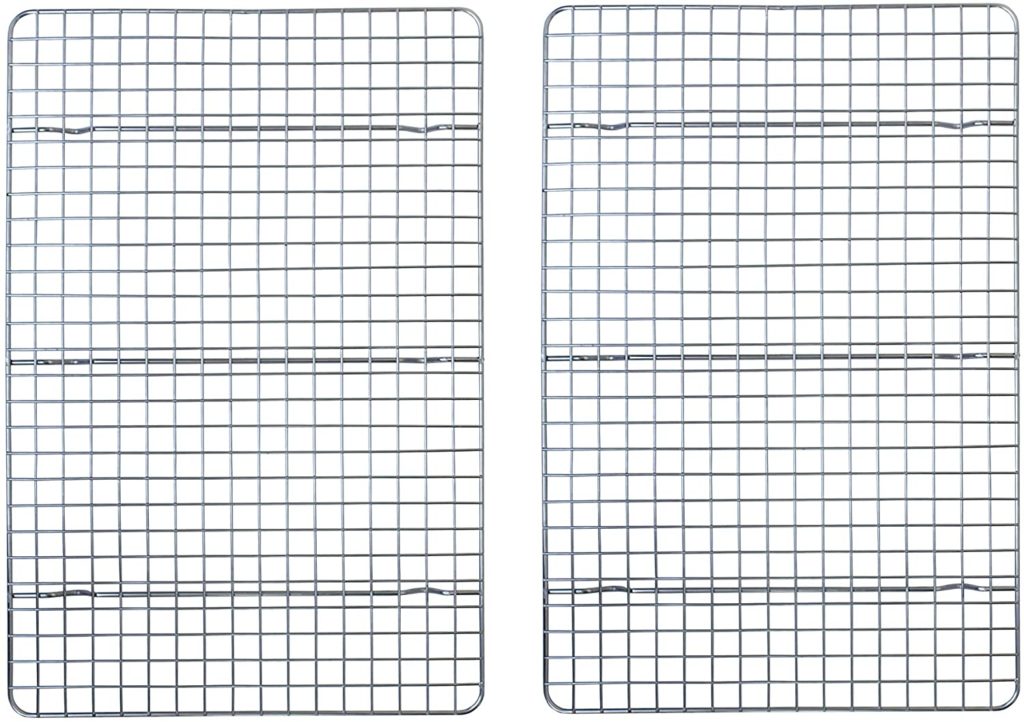 Cooling racks are extremely useful when making cakes, cookies, and even fried chicken to let them cool.
However, wire racks can also be used inside a roasting pan to roast turkey, make baked Buffalo wings, and more.
Having these racks has been a real game changer for me.
Baking Sheets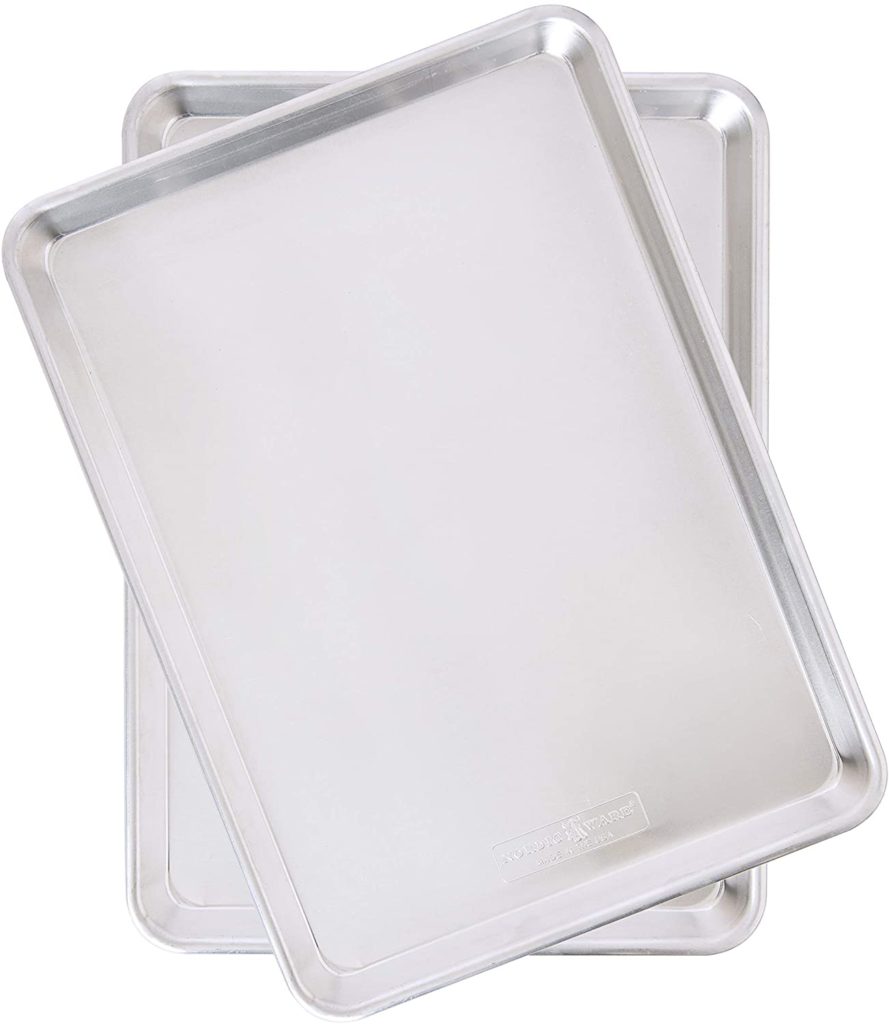 Baking Sheets are a must if you bake cookies or roast vegetables!
Square Cake Pan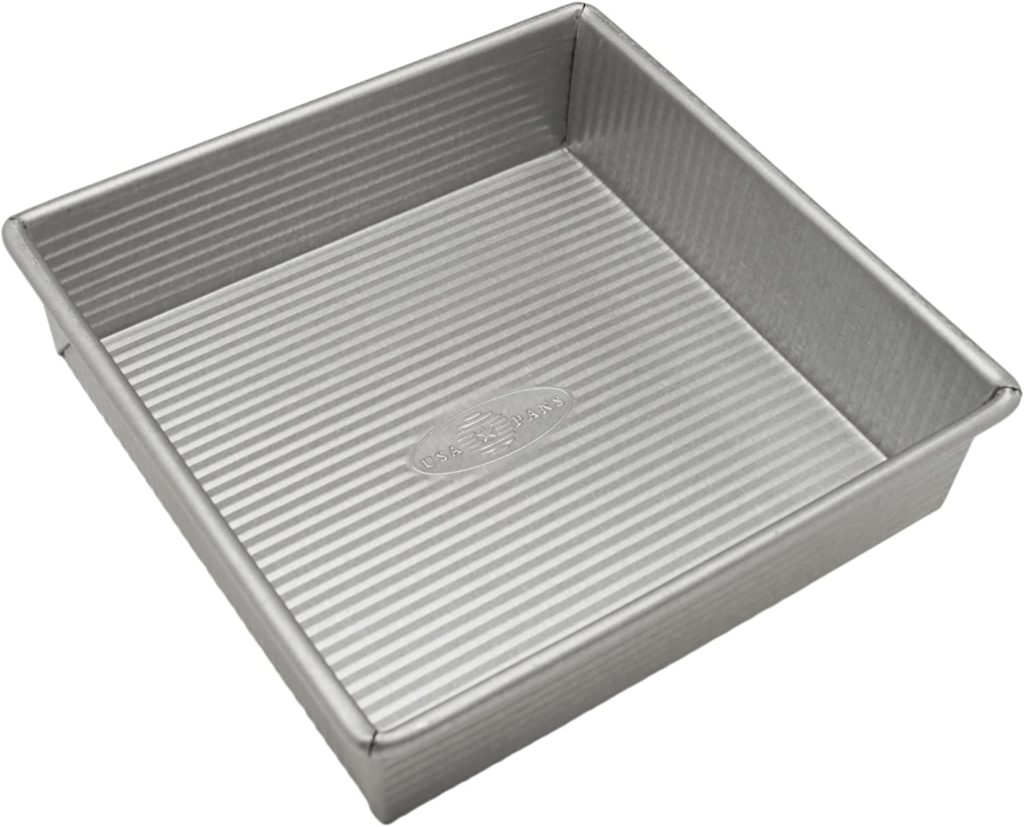 If you love brownies, blondies, lemon bars, and such you likely need a square cake pan.
These are also great if for baking, roasting, and reheating in the oven when you amount calls for a relatively small pan. I have like six pans this size.
Final Thoughts
Depending on your needs there are always other great additions to any kitchen such as loaf pans, muffin pan, pie pans, and more. Tell me in the comments what your kitchen must haves are!