Cucumber salad is a wonderfully refreshing, slightly sweet, slightly tangy dish. It is the perfect addition to have at a picnic, cookout, or simply for lunch.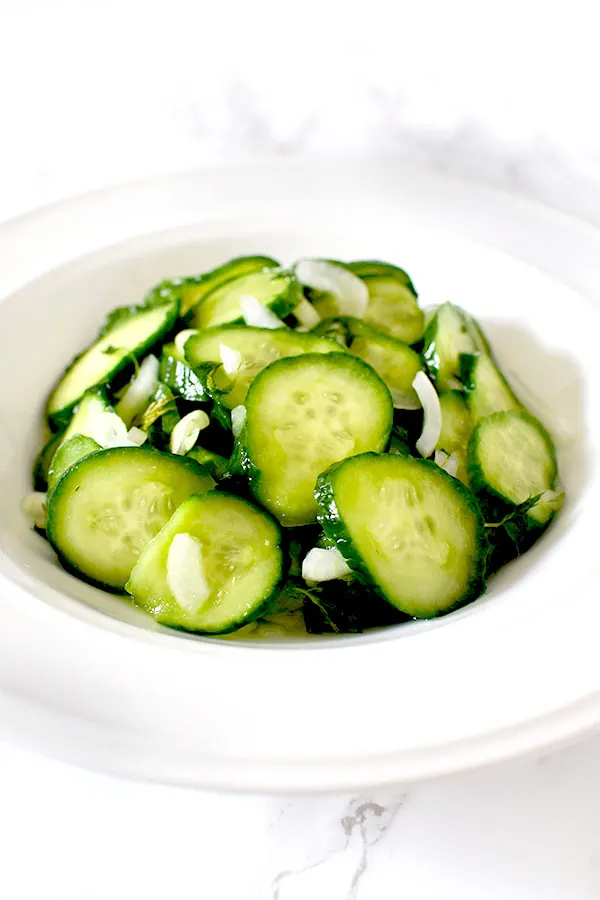 Summer is a time for salads. I often lean towards salads popular in Israel such as Israeli salad and Israeli red cabbage salad.
However, I also enjoy American salads I grew up with such as potato salad, coleslaw, broccoli salad, and of course, cucumber salad.
Many cucumber salad recipes have taken to using red or white wine vinegar instead of regular white vinegar.
While I do understand the appeal of wine vinegar, I've decided to stay with white vinegar.
I've done this for the very simple reason of it being something most people have on hand.
This holds even more true to those who keep kosher, especially if they don't live in a big city.
The reason for this is because wine has very strict rules which apply to its vinegar as well.
While it is not terribly hard to find kosher wine, wine vinegar is less common.
As for the cucumbers, I personally like using small Persian cucumbers because of their superior taste. Also, if you live in Israel it's also pretty much the only thing you can find.
However, you can really use any cucumbers you have easy access to since most of the flavor will come from the sugar and vinegar anyway.
What you need
Knife
Cutting board
Medium size bowl
Measuring spoons
Kitchen scale