This easy fried rice is great for using leftovers! Just fry eggs, carrots, rice, your choice of peas or green onions and you're done.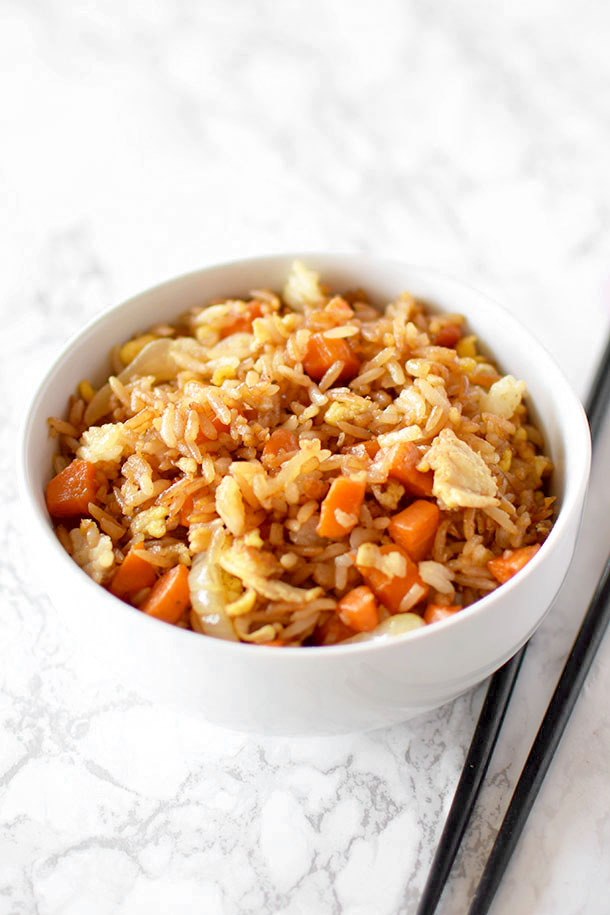 It's believed that fried rice was created about 1,500 years ago in the Sui Dynasty as a way of reusing leftover white rice.
Today it is also a popular street food throughout Asia and different variations of fried rice have been developed all over the world.
This type of fried rice is based off of Yangzhou fried rice, A.K.A. Yeung Chow fried rice.
This style of fried rice was created over 200 years ago and traditionally contains pork and seafood.
However, today many Western Chinese restaurants serve vegetarian fried rice like this one.
The dish also inspired chicken fried rice and beef fried rice.
What I like most about fried rice is that it is a great way to use up leftover rice.
The process is really quick and simple. I also keep my ingredients to a minimum to keep things easy yet tasty.
The outcome?
Fried rice that tastes just like what I used to get in New York.
While I love living in Israel, the Chinese food just isn't the same.
Of course, American "Chinese" food isn't the same as real Chinese food either.
On my first trip back to the East Coast I refused to go back without eating some fried rice and beef and broccoli.
So, on one of my last days before returning to Israel, my fried Shevi pulled out a delivery menu.
We spent that rainy October day watching movies surrounded by takeout boxes and fortune cookies.
To this day that is one of my favorite memories and the moment I tasted this rice it sent me right back there.
WHY SORT RICE
Sorting rice is useful because I've actually found bugs in rice before, especially with already opened bags of rice.
To be sure the rice is clean, measure out how much rice you need, then pour some of it out onto a white plate.
Sift through the rice to make sure there are no bugs – some of which look like small worms.
When done, pour the sorted rice into a pot and repeat with the remaining rice.
As a secondary step, I then fill the pot with water and agitate the rice with my fingers. This helps get anything that may have been missed to float to the top.
Pour out the water, and if you found anything, repeat until nothing comes up.
HOW TO STORE REMAINING DRY RICE
Store the remaining dry rice by placing it in an air tight container or a resalable plastic bag.
Doing so will protect the rice from bugs.
WHY WASH RICE
There are two benefits to rinsing rice. Firstly, it removes any debris.
Secondly, and most importantly, it is to remove surface starch. If the starch is not removed, it can cause rice to clump together and get gummy as it cooks.
Some say to rinse the rice repeatedly until the water runs clear. This isn't necessary.
Instead, rinse the rice thoroughly a few times. After that, most of the starch should be removed and the water should be only slightly cloudy.
The way I like to wash rice is by putting it in a large bowl or a pot and filling it with water. Then, I shape my hand into a claw and use it to agitate the rice.
This brings up both debris and bugs that may have been missed during sorting.
WHY TOAST RICE
Toasting rice is a step some recipes require where you first lightly fry the uncooked rice. This step is usually done with rice that has not been rinsed.
As with toasting spices and nuts, toasting grains before cooking can enhance their flavor.
Rice is no exception, as it gains a nutty depth which adds extra layer of flavor to a final dish.
Another benefit is that by toasting the rice first, you are cooking the starches.
This, like washing rice, helps prevent the rice from being sticky. Instead, each grain cooks separately.
RATIO WATER TO RICE
There are many different types of rice. Most popular types require two cups of water for one cup of rice. Some however, need less water:
Short Grained Rice needs 1 and 1/8 cups water.
Basmati Rice needs 1 and 1/4 cups water
American Long Grained Rice needs 1 and 1/2 cups water
Jasmine Rice needs 1 and 3/4 cups water.
Also, when multiplying the recipe, rice often needs less water than you'd think. For example, with American long grain rice:
1 cup rice needs 1 and 1/2 cups water
2 cups rice need 2 and 3/4 cups water
3 cups rice need 3 and 1/2 cups water
HOW TO STORE
Transfer the cooled, cooked rice into an airtight storage container or a resealable plastic bag. Make sure to remove as much air from the bag as possible before sealing it.
Store in the refrigerator for 3 to 5 days.
HOW TO FREEZE
Transfer the cooled, cooked rice into a resealable freezer bag making sure to remove as much air from the bag as possible before sealing.
Store for up to 3 months. After that, it is still safe to eat but the quality begins to degrade.
REHEATING
FRIDGE
When reheating, place the rice in a pot, sprinkle a teaspoon of water over the top to help loosen stuck, dried grains, then place.
Heat over medium heat, stirring constantly to keep the grains moving, but be careful not to mash them.
FREEZER
Frozen grains can be added directly to hot dishes like stir-fries. If you're planning on eating it on its own, follow the steps above.