Challah croutons are a great and easy way to upcycle leftover challah bread from Shabbos. Just cut them into pieces, sauté, and serve over soup or salad.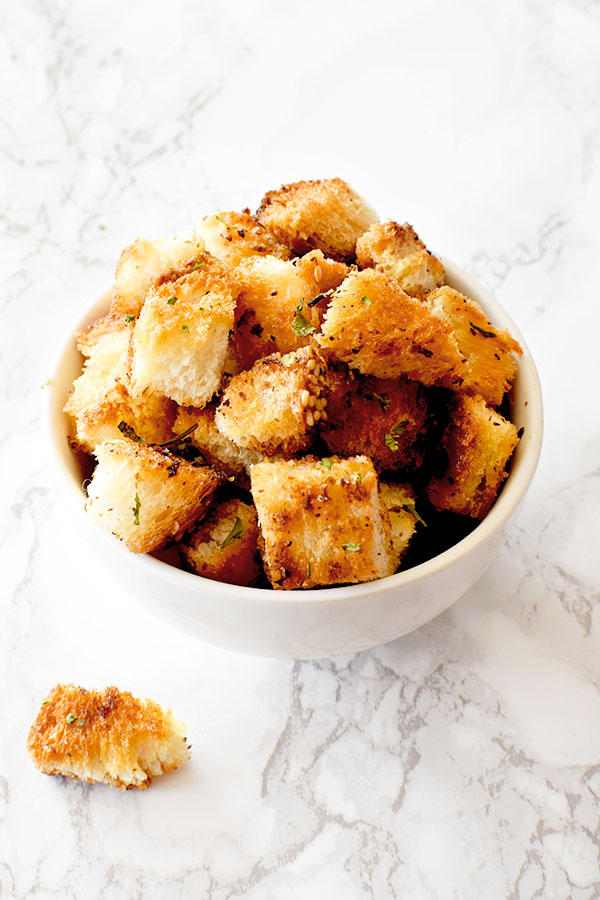 I'm always on the hunt for new ways to re-purpose leftovers.
My newest way to give new life to old challah is by making challah croutons.
They are great over salad and soup. I especially like them with caesar salad and homemade tomato soup.
I often make challah french toast or challah egg in a hole Sunday mornings as a way to use challah left over from shabbos.
However, when I'd rather have pancakes or shakshuka instead, these croutons come in very handy.
Especially since croutons last a lot longer than bread before going stale.
Croutons can be made in the oven, which is a great semi hands off way to do it.
However, you still need to mix it so they don't burn.
I hate mixing things in the oven because I always burn myself.
Also, when you mix things in the oven your prone to have some pieces that are overdone on some sides and under-cooked on others.
So for perfect croutons I sauté in a frying pan.
What's nice about sautéing on the stove top rather than bake in the oven is the control you have.
If you see that a piece needs to be toasted more on one side, you just flip it over. If you see that some pieces are drier than others, just give them a little extra oil.
Another option when making croutons is whether you use butter or oil.
I like to use oil since it is dairy free making it more versatile and doesn't burn as easily.
However buttered croutons are nicer in soup.
Croutons can be any size and with or without crust.
You can cube them, tear them into chunks for a more rustic look, or make French croutons.
One last thing to think about is flavor.
Do you want to use olive oil for flavor or a neutral oil to keep it simple? Do you want to add herbs like garlic, thyme, oregano, basil, rosemary?
I like olive oil and rosemary.
Crouton Tip:
I find that the more stale the bread is, the easier it is to cut into cubes. To make your bread stale more quickly slice and let sit out for a hour to a day.