Drying mint leaves for tea is a perfect way to store it until and through the winter. When your ready place the leaves at the bottom of a cup or in a tea ball and add hot water to bring it back to life.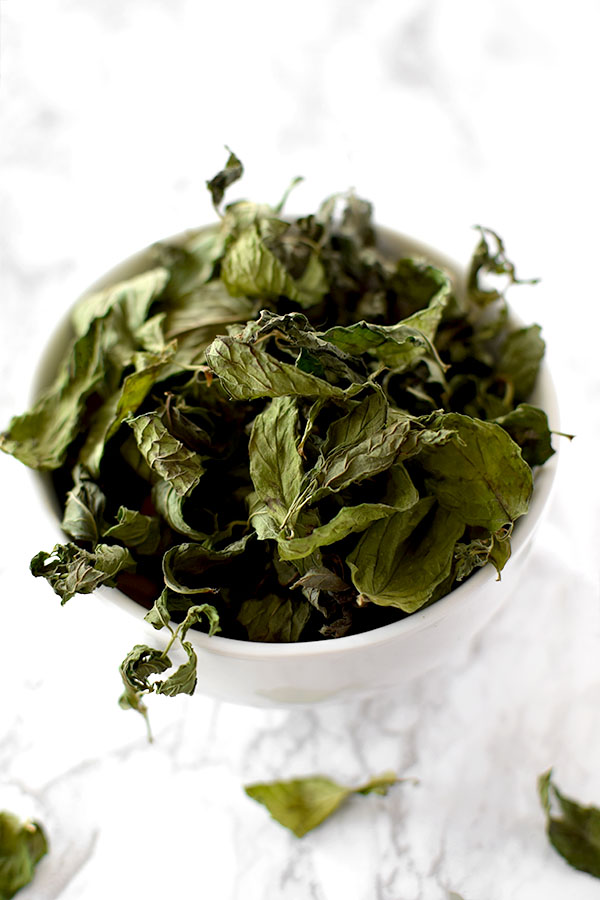 I started making mint leaves for tea shortly after moving to Israel.
My first time tasting good mint tea was when I spend a Rosh Hashanah lunch with an Israeli couple.
After the meal fresh mint leaves were set on the table alongside a pot of hot water and demerara sugar.
I'd never seen any tea made with fresh leaves before, and I admit I was surprised, but after the first sip I was hooked!
As the weather cooled I started buying fresh mint from the grocery store and making the tea regularly.
One day, I washed the mint and left it on the counter to dry before storing it in the fridge. However, I got busy and forgot it sitting in the sunlight for a couple of days.
When I noticed the mint again it had dried completely.
At first I was worried I had ruined them.
Then I thought of loose tea and decided to try them hoping the flavorful oils were still there.
I was happy to find that they tasted just as good tea made from fresh mint.
After that I took to drying mint regularly and storing it to have on hand.
This became especially nice after my family moved to Israel after me and started growing mint in their yard.
It turns out mint is extremely easy to grow and I take trimmings regularly to dry for tea or to make mint extract.
These tea leaves can be used alone or combined with other ingredients to make tea blends. It can also be used to make Moroccan tea.
What is mint exactly?
Mint is a family of many plants that includes much more than just what we call mint teas. In fact, the whole mint family includes over 7000 plants.
Peppermint and spearmint, two of the most popular mint teas, both belong to mentha genus, and both contain menthol which gives that cool feeling.
However, some other herbs, such as sage or lemon balm, also belong to the mint family but don't contain menthol.
Mentha
Mentha genus contains 25 different plants, all of them with a specific minty scent and flavor.
The most popular ones, peppermint and spearmint, are widely used for making tea.
However, others like filed mint or water mint may also be included in different mint blends.
Types of Mint to Grow and Use
While peppermint and spearmint are the most popular, there are literally hundreds of mint plant varieties and far too many to name here.
However, a number of these mint types are commonly used in tea.
Peppermint
Peppermint tea is the most consumed herbal tea in the world.
it is a crossbreed of spearmint and water mint and peppermint oil may have anywhere between 33-60% of menthol.
This is also the main ingredient of Moroccan Mint tea, so it is no surprise that Morocco is the largest producer of peppermint in the world – 92.7% of the total world production.
Peppermint has anti oxidative properties, may aiding digestion, and may help with some types of flu.
Spearmint
Spearmint is less sharp and more sweet.
This is because the menthol content is much lower than in peppermint and some spearmint plants it may lack it completely.
Peppermint may have anti oxidant, antiviral, antimicrobial, and may improving memory, respiratory system, relieving pain, and dealing with allergies.
Other types of mint
Field mint, water mint, chocolate mint, apple mint, and more.
Lemon Balm and Sage
Both lemon balm and sage also belong to a mint family.
While the flavor of lemon balm may seem slightly similar to regular mint teas, sage does not.
However, they both share the most important health benefits with real mint teas.
They may be used for digestive problems and dealing with stress.
Benefits of Mint Tea
Mint is high in antioxidants. It is also a good source of vitamin A and also contains fiber, iron, maganese, and folates.
Peppermint may relieve digestive symptoms, such as gas, bloating and indigestion.
It also acts as a muscle relaxant and pain reliever, it may diminish certain types of headaches and may relieve menstrual cramps.
Mint has antibacterial, antiviral and anti-inflammatory properties. Because of this, peppermint tea may fight clogged sinuses due to infections, the common cold and allergies.
Also, research shows that menthol — one of the active compounds in peppermint — improves the airflow in your nasal cavity.
So, steam from peppermint tea may help you feel as though your breathing is easier.
Not to mention, vapors from hot drinks and soups been shown to temporarily improve symptoms of sinus congestion.
Mint tea may improve energy levels and reduce daytime fatigue since natural compounds in peppermint may have beneficial effects on energy.
While there are no studies on the antibacterial effects of peppermint tea, peppermint oil has been shown to effectively kill bacteria.
Peppermint tea is a good choice before bed, as it's naturally caffeine-free and relaxes your muscle so it may help you relax before bedtime.
It also is good for allergies because it contains rosmarinic acid which is linked to reduced symptoms for runny nose, itchy eyes, and asthma.
Drinking peppermint tea may help improve your ability to concentrate and focus.
How to dry mint in the oven
You can dry mint by baking it at 170°F or 75°C for two or three hours.
Mint Tea Leaves Tip:
Don't let the leaves sit in water. It will degrade their flavor. So will over cooking them if you choose to bake it in the oven.