This Dairy Free Sausage Gravy is made with almond milk and is perfect for Southern dishes like biscuits and gravy with almond milk.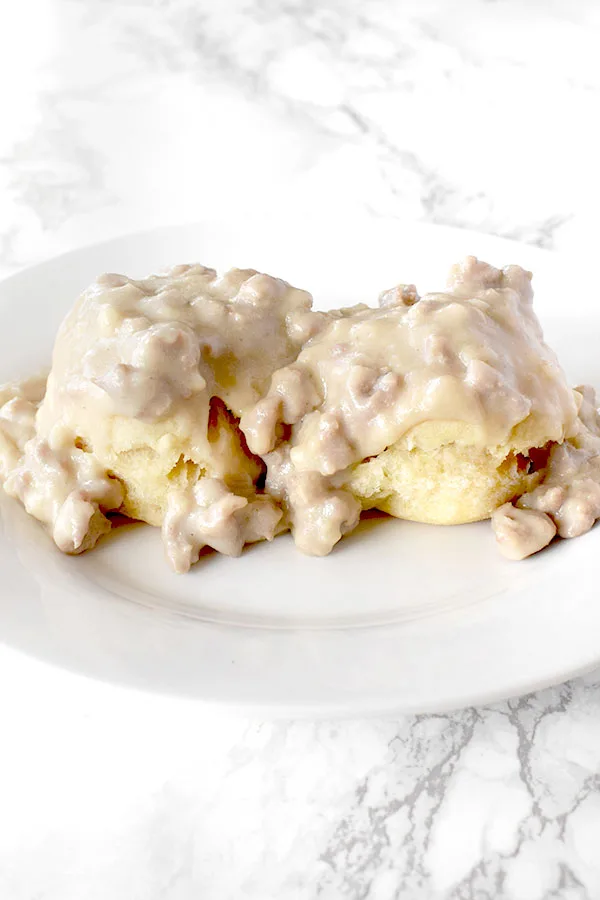 This dairy free sausage gravy is made with almond milk. And, as long as you use a mild flavored almond milk, it tastes just like your classic southern sausage gravy.
Sausage gravy is usually served over biscuits for biscuits and gravy, which is a popular Southern breakfast.
You can use whatever sausage you want for this recipe including beef and turkey. Also, if you don't have sausages, you can use ground beef instead.
What Kind of Almond Milk Should I use?
I don't have a specific brand of almond milk that I'd recommend above the others. However, I do recommend to make sure that the almond flavor is mild and the milk is unsweetened.
If you have almond cooking milk that will work and add extra creaminess. I also generally prefer to work with a barista version of almond milk because they are a little creamier than regular almond milk.
Don't fret about it too much though, because I've even made sausage gravy using water instead of milk and it came out just fine.
WHAT IS A ROUX
A roux is made by cooking flour and fat together until it reaches a specific color.
It is used as a thickening agent for gravy, sauces, soups, and stews and has been used in French cooking for hundreds of years to thicken sauce.
The flour is added to the melted fat or oil on the stove top, blended until smooth, and cooked to the desired color.
A roux can be white and used for white sauce, blond for classic gravies, or brown and used in gumbo and jambalaya.
The lighter the roux, the more thickening power it has.
Once the roux is the desired color, liquids like stock are added.
BROWNING FLOUR
People often see instructions like "brown the flour" and avoid this step because they aren't making brown gravy.
Browning flour means you're cooking the flour. This removes the flour flavor so it won't ruin the taste of your gravy.
WHY USE FLOUR TO THICKEN GRAVY
I use flour to thicken gravy because it gives the gravy that classic opaque, slightly pale look.
Many people don't like using flour because if it isn't cooked long enough, it can give a floury flavor to the gravy. Also, if not made properly, it can become clumpy.
The good news is, making a smooth creamy gravy is a snap if you turn it into a roux first.
Another benefit some people see with gravy made with flour is that it keeps better in the fridge. This means it can be made ahead of time or used for leftovers.
HOW TO STORE
Once cooled, place in an airtight container and refrigerate. Store for 3 to 4 days.
HOW TO FREEZE
Freeze leftovers within 3-4 days. Place in an airtight container or resealable freezer bag.
Freeze for up to 6 months. After that, it is safe to eat. However, the quality begins to degrade.
HOW TO REHEAT
Gravy will thicken as it cools. When you reheat it, add dairy free milk or water until it is smooth and reaches your desired consistency again.